Solange Knowles swings at Jay Z in elevator fight caught on video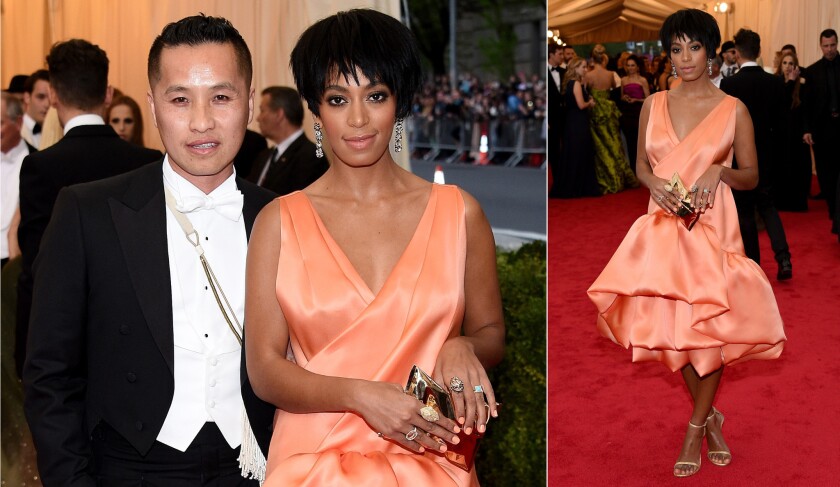 Solange Knowles, sister of Beyonce, appears to have gone off physically on brother-in-law Jay Z in an elevator on the night of the Met Gala in New York City. The incident was captured on surveillance video that went public Monday.
Solange can be seen swinging and kicking at her in-law in the silent, black-and-white footage released by TMZ. The celebs' attire on tape matches that shown in pictures taken before and after the May 5 incident.
In the video, Beyonce can be seen entering the elevator first, followed by Solange and then Jay Z. A large man who appears to be a bodyguard enters the elevator cab last and hits a button. Solange immediately gets up in her brother-in-law's face, then starts swinging wildly at him.
The apparent bodyguard struggles to restrain a wild Solange and hold her back from the rapper. While she's restrained, Jay Z can be seen stepping forward and saying something to her. When the unidentified man reaches out with his right hand to push another elevator button -- perhaps the "stop," to get a moment of privacy for the group -- she breaks free long enough to send a major kick in Jay Z's direction. Her foot winds up in his hand.
Beyonce, for the most part, appears to stay out of it, though she does step forward between the two after the kick. Solange, still restrained, can be seen yelling in the couple's direction right up until the tape cuts off.
The three had been attending a party at the Standard hotel in New York after the Metropolitan Museum of Art's Costume Institute Gala, held May 5 in Manhattan. In pictures taken as they exited the elevator and left the hotel, Solange looks seriously ticked off, Jay Z looks stunned and Beyonce has her polite face on. According to TMZ, they left in separate cars, with the two women riding together.
Several of Beyonce's Instagram images were quickly populated Monday with comments reacting to the video, some criticizing the pop diva for staying out of it, others criticizing Solange for disrespecting her sister and still more wondering if perhaps Solange was rushing to her sister's defense over something.
Going by the video alone, it's impossible to say what set off the run-in. Of course, soon after the video hit the Internet, the hashtag #WhatJayZSaid came to life on Twitter with a load of jokey punch lines.
One user made a serious point, however: "Does it matter?" asked attorney @MidwinCharles. "If the roles were reversed, the question would never be asked."
---
From the Oscars to the Emmys.
Get the Envelope newsletter for exclusive awards season coverage, behind-the-scenes stories from the Envelope podcast and columnist Glenn Whipp's must-read analysis.
You may occasionally receive promotional content from the Los Angeles Times.