Taylor Swift fans treated to '1989' listening party at singer's home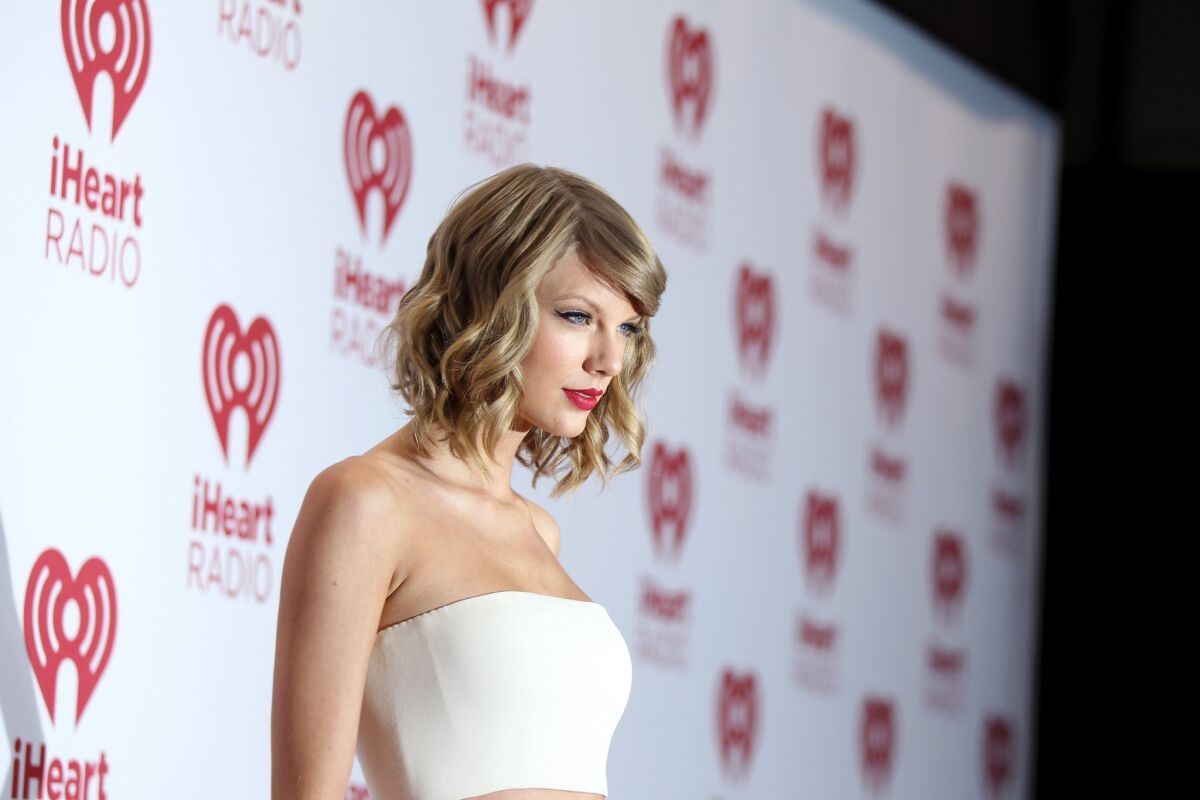 Taylor Swift totally had a secret listening party for fans ahead of the release of her upcoming album "1989."
As if people needed another reason to want to be her best friend.
The party took place at the country crooner's home in Los Angeles, according to fan posts on Twitter. Aside from meeting the 24-year-old and getting to eavesdrop on the album, due in October, Swift's special guests got to meet and carry one of her cats, Olivia Benson, and get up close and personal with her various American Music Awards and Grammy Awards.
Swift reportedly made her guests pumpkin chocolate-chip cookies and had a dance party too.
Oh, yeah, no big deal.
Numerous stories about the event and fan reviews of the album popped up on Twitter under #1989secretsessions. Granted, many of them included photos of Polaroid shots, suggesting fans weren't allowed to have their phones at the event.
That was verified by Swift blogger Sammie Carter, who detailed the goings-on leading to the party on her Tumblr account and explained how she scored a top-secret invite.
"I received a private message via Twitter from Taylor Nation," Carter wrote. "I was offered an exclusive, once-in-a-lifetime opportunity, but was sworn to secrecy. If I was interested (IF?!?!), I was to reply with my full name and phone number. When they finally called me, I was told I needed to be available the following Saturday. I was given a meeting place, a time to meet, a password to provide when I get there and exactly ZERO other details. I had absolutely no idea what I was getting myself into."
About 30 fans were invited to the listening party, according to Carter. Swift had guests shuttled by bus to her home, where a big lunch spread was set up in the backyard. After lunch, guests flowed into her living room for the main event.
"That's when Taylor herself walked into the room and we all lost it," Carter wrote. "There were a ton of tears, laughter and hugging. Tissues were passed around. Taylor was so happy to see us and so excited that we were so excited. She told us that she had been planning this for months and had been looking at all her fan's social media accounts to find the ones she wanted to invite. She thought it was so weird to see our photos on the internet and then to see us in real life. Yeah, ditto, Taylor."
The "Shake It Off" crooner told her fans that the reason she hosted the party was to play them her unreleased album, Carter wrote.
"She said the only thing she asked of us is that we keep the song titles and lyrics to ourselves. She went through each song and described the song-writing process and inspiration behind each one. If I chose one word to describe the album, it would be SASSY."
After the listening session, Swift invited her fans one at a time to take photos with her — photos that they could set up themselves. Enter the cats, Grammys and a boatload of other TSwift swag.
It should be noted that Swift has shrouded the music on the upcoming album as best as she could, telling Rolling Stone that she was worried about spies and recording devices before the release of "Shake It Off" in August.
At the time of that interview, the only way to hear the album was to listen to it on her personal iPhone — with headphones, because she feared wiretaps.
"Don't even get me started on wiretaps," the singer said. "It's not a good thing for me to talk about socially. I freak out."
She even named the janitor as a potential double agent. "The janitor who's being paid by TMZ. This is gonna sound like I'm a crazy person — but we don't even know. I have to stop myself from thinking about how many aspects of technology I don't understand ... Like speakers. Speakers put sound out ... so can't they take sound in? Or they can turn this [cellphone] on, right? I'm just saying. We don't even know."
Seems like those days are long gone ...
A rep for Swift did not immediately respond to a request for comment.
For more celebrity news, follow me on Twitter @NardineSaad.
---
Get our L.A. Goes Out newsletter, with the week's best events, to help you explore and experience our city.
You may occasionally receive promotional content from the Los Angeles Times.