Commentary: Accusations versus accountability: Hollywood's complicated relationship with Johnny Depp
What is it about Johnny Depp that makes him so Teflon to accusations of bad behavior?
As Hollywood enters a new age of accountability, Depp's erratic — and allegedly violent — behavior continues to exist in its own reality with no obvious consequences.
Until now. Maybe.
On Monday, Variety reported that Depp's upcoming crime thriller, "City of Lies," was yanked from the calendar just a month before its Sept. 7 premiere date.
This time last month, Depp and the film were making headlines, thanks to a lawsuit filed by a location manager who alleged that Depp had berated and punched him while on set.
It's possible that the movie's last-minute scheduling issues are just a coincidence and have nothing to do with the civil suit. But it wouldn't be the first time that Depp has avoided real-life consequences for potentially abhorrent behavior.
Travel with me, if you will, back to 1989, when Depp was a fledgling actor on the TV series "21 Jump Street," when he was arrested on suspicion of assault on a security guard in Vancouver, Canada.
Or to 1994, when Depp was arrested on criminal mischief charges after inflicting nearly $10,000 worth of damage to a hotel room.
And then, in 1999, Depp was arrested after threatening paparazzi with a wooden plank while in London.
And that's just the 20th century.
None of those things derailed Depp's career, if his paychecks and three Academy Award nominations are any indication.
Then again, Hollywood has always been forgiving of its bad boys. Mel Gibson scored an Oscar nomination in 2017, 10 years after his racist, abusive meltdown. Roman Polanski won an Oscar for direction in 2003 while still on the lam after his conviction of unlawful sex with a minor decades prior. And the less said about the fate of the former host of NBC's "The Apprentice," the better.
Depp's persistent immunity to bad press is even stranger, given the good company he seems to keep.
J.K. Rowling, "Harry Potter" scribe and vocal proponent of feminism and equality, described herself as "genuinely happy" that Depp had been cast as the lead in the upcoming franchise film "Fantastic Beasts: The Crimes of Grindelwald."
She even went out of her way to justify why she didn't hold Depp to the same standards as Harvey Weinstein or even Donald Trump.
"Based on our understanding of the circumstances," Rowling said, alluding to accusations of abuse levied against Depp by ex-wife Amber Heard in 2016, "the filmmakers and I are not only comfortable sticking with our original casting, but genuinely happy to have Johnny playing a major character in the movies."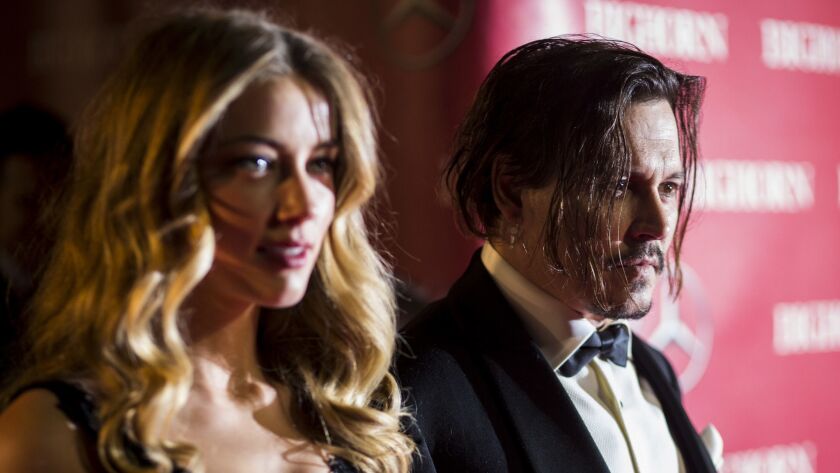 Heard and Depp settled their contentious divorce, but not before a restraining order was issued and photographs of a bruised Heard cycled through the internet.
"Our relationship was intensely passionate and at times volatile, but always bound by love," the pair said in a statement, with neither confirming nor denying any abuse accusations. "Neither party has made false accusations for financial gain. There was never any intent of physical or emotional harm."
So here we are in 2018 and Depp is coming up on nearly 30 years of volatility and alleged violence. Surely, some employer will take a stand, right? Maybe a company that just fired a director for tweets made nearly a decade ago?
There was lots of fanfare last month when Disney stripped James Gunn of his directorial duties on "Guardians of the Galaxy Vol. 3," a strong stance from a company that values wholesome family fun.
Yet on Monday, rumors surfaced that Disney is moving ahead with plans for "Pirates of the Caribbean 6," launching speculation about Depp's potential involvement.
Why wouldn't he? In the last 15 years, Depp has starred in nine Disney titles, including "Pirates of the Caribbean: Dead Men Tell No Tales," which was released after the actor's divorce from Heard.
In fairness, Depp has never been convicted of anything, despite a history of violence shadowing him at every turn.
Perhaps the lawsuit spurred by "City of Lies" will end up as water off his back, at which point Depp can pitch Disney on a gritty, Tim Burton reboot of "Howard the Duck."
Depp is good at ducking, after all.
---
Get our daily Entertainment newsletter
Get the day's top stories on Hollywood, film, television, music, arts, culture and more.
You may occasionally receive promotional content from the Los Angeles Times.