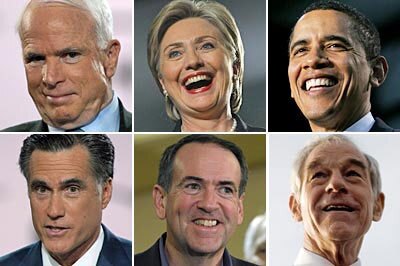 7 Images
Pop culture candidates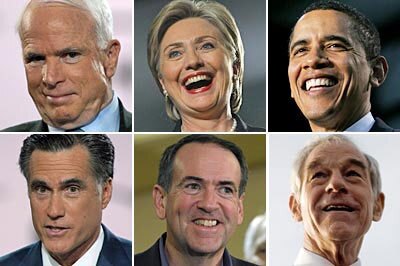 By Los Angeles Times Staff Writers
It's coming down to the wire. On Tuesday roughly half of all the delegates for both political parties will be selected in that blow-out primary election fiesta known as Super Tuesday. As the clock ticks down, the candidates are trying desperately to get their message out and make sure people know their particular stand on the issues.
But with all this talk of Iraq, recession and health care, it's easy to lose sight of what's really important: the candidates' pop cultural tastes. So to aid in your decision-making process, we've assembled this snapshot of the candidates and their preferences. Because how can you really trust a world leader until you know what's on his or her iPod?
(Getty Images, AP, EPA)
John McCain
Campaign soundtrack:
"Gonna Fly Now (Theme From 'Rocky')", ABBA's "Take a Chance on Me" and "Johnny B. Goode" by Chuck Berry
Celebrity entourage:
Wilford Brimley, Sylvester Stallone, Arnold Schwarzenegger
Favorite TV show:
"Prison Break"
On the iPod:
"I have an iPod with Beach Boys, Roy Orbison – I have a varied taste in music between very good music and not-so-good music, but most of my advancement in music appreciation stopped the day I was shot down in October of 1967."
Techcrunch.com
On Hollywood:
(Defending his appearance in nudity-filled "Wedding Crashers") "In Washington, I work with boobs every day."
Celebrity moment:
Cameo appearance in "Wedding Crashers."
(Robert Sullivan / EPA)
Hillary Clinton
Campaign soundtrack:
Celine Dion's "You and I"
Celebrity entourage:
Bill Clinton, Maya Angelou, Ron Burkle, Barbra Streisand, Kimora Lee Simmons
Favorite TV show
: "American Idol," "Grey's Anatomy," "Dancing With the Stars," and HGTV makeover shows
On iPod
: Clinton
told the Associated Press
in the spring of 2006 that she received her iPod as a gift from her husband. At that time, songs included Aretha Franklin's "Respect," the Beatles' "Hey Jude" and "Take it to the Limit" by The Eagles.
On Hollywood:
"The Internet, without a doubt, offers an infinite world of opportunity for children to learn about the world around them. But when unmonitored kids access the Internet, it can also be an enormously dangerous instrument. The best solution, in my view, is to empower parents with tools to protect their children, to make it easier for parents to choose age-appropriate material for their children, and to do a better job of cracking down on online sex offenders. One tool that I believe can be highly effective in blocking some inappropriate content is parental controls or filters. Today, this technology is underutilized by parents, and I think that more parents should be encouraged and taught to use it."
(www.commonsensemedia.org)
Celebrity moment:
Hillary was been a favorite of David Letterman's, and will appear on his show for the ninth time on Feb. 5, Super Tuesday.
(Richard Sheinwald / Bloomberg News)
Mitt Romney
Campaign soundtrack:
Elvis Presley's "A Little Less Conversation"
Favorite TV show:
"Lost"
Celebrity entourage:
Donny and Marie Osmond
On the iPod:
"What I typically download is country music as well as 1960s music. I'm a baby boomer so The Beatles and The Stones and some of the old groups from the '60s are my favorites; I listen to them. And I also listen to country. I have some inspirational music as well, but those are the highlights for me."
Techcrunch.com
On Hollywood:
"I'm deeply troubled about the culture that surrounds our kids today. Following the Columbine shootings, Peggy Noonan described our world as 'the ocean in which our children now swim.' She described a cesspool of violence, and sex, and drugs, and indolence, and perversions. She said that the boys who did the shooting had 'inhaled too deeply in the oceans in which they swam.' I'd like to see us clean up the water in which our kids are swimming. I'd like to keep pornography from coming up on their computers. I'd like to keep drugs off the streets. I'd like to see less violence and sex on TV and in video games and in movies."
Celebrity moment:
Romney is still all over the tube. He was the first candidate to air 10,000 political ads this election cycle.
(Susan Goldman / Bloomberg News)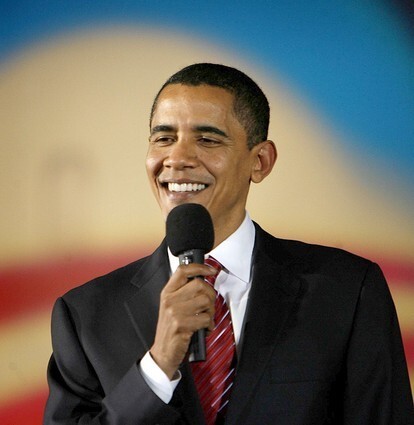 Barack Obama
Campaign soundtrack:
John Mayer's "Waiting on the World to Change," Ben Harper's "Better Way"
Favorite TV show:
HBO's "The Wire" and Sportscenter
Celebrity entourage:
Oprah Winfrey, Sen. Ted Kennedy, Ben Harper, Toni Morrison, Gov. Janet Napolitano (Arizona), Sen. Claire McCaskill (Missouri), Hulk Hogan
On the iPod:
"I won't let Apple release the new and improved iPod the day after you bought the previous model." (From "Top Ten Campaign Promises" as read by David Letterman on the "Late Show.")
On Hollywood:
"I would call upon the video game industry to give parents better information about programs and video games by improving the voluntary rating system we currently have. Broadcasters and video game producers should take it upon themselves to improve this system to include easier to find and easier to understand descriptions of exactly what kind of content is included. But if the industry fails to act, then my administration would." (
www.commonsensemedia.org
)
Celebrity moment:
The candidate opened the Nov. 3 episode of "Saturday Night Live" appearing at a Halloween party hosted by Hillary Rodham Clinton, taking off a Barack Obama mask to reveal himself as the guest. He then got to deliver the signature "Live from New York!" line.
FOR THE RECORD An earlier version incorrectly said Barack Obama wore a Hillary Clinton mask during his appearance on "Saturday Night Live."
(Rick Loomis / Los Angeles Times)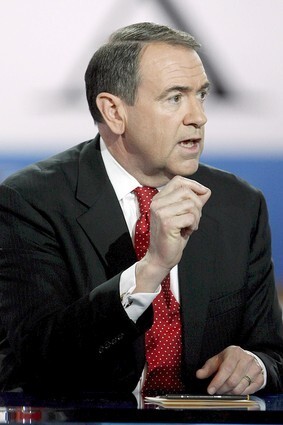 Mike Huckabee
Campaign soundtrack:
Anything by the Rolling Stones
Celebrity entourage:
Chuck Norris
Favorite movies:
"The Godfather," "Casablanca," "To Kill a Mockingbird" and "Citizen Kane "
Favorite TV shows:
"The Colbert Report," "The Sopranos"
On Hollywood:
"I support the writers, by the way. Unequivocally, absolutely. They're dead right on this one. And they ought to get royalties off the residuals and the long-term contracts."
United Hollywood
On the iPod:
"My iPod has a variety, but mostly classic rock like Stones, Led Zeppelin, Mellencamp, and a good mix of modern country like Brooks and Dunn and Alabama." (
The National Review
)
Celebrity trivia:
He pardoned Keith Richards for a traffic ticket in Arkansas.
(EPA)
Ron Paul
Campaign soundtrack:
Despite a fanatical following, Ron Paul hasn't won anything, so that winning soundtrack hasn't been widely documented. But, after finishing up in Nevada, a Ron Paul campaign song and video created by The Violets, a New York-based band, made the rounds and has now seen over 50,000 views on YouTube.
Favorite movie/TV show:
TV Guide is going to release info on the candidates' favorite shows. Paul hasn't been forthcoming with the info, but being a Libertarian, maybe he likes reruns of "Gilligan's Island." They were pretty free, except that they couldn't get off the island and could mainly drink only coconut juice.
Celebrity entourage
: WWE wrestler Kane, ex-"Baywatch" babe Donna D'Errico, and "Buffy the Vampire Slayer" cast member Emma Caulfield.
On Hollywood
: "[I trust] some of [the media.] But I trust the Internet a lot more, and I trust the freedom of expression. And that's why we should never interfere with the Internet."
Celebrity moment:
While on "The Tonight Show," Jay Leno mentioned that Paul was a gynecologist, then joked, "Ron Paul was the only person running to have said 'Take off your clothes' to more women than Bill Clinton."
(Gabriel Bouys / AFP/Getty Images)