29 Images
Johnny Depp: Man of many styles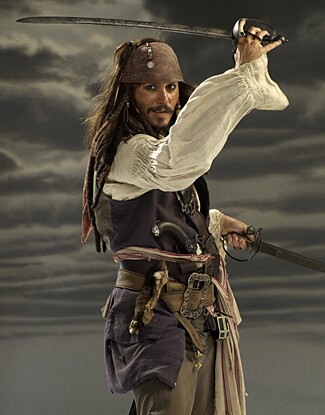 By Elizabeth Snead,
Los Angeles Times Staff Writer
There's a lot of great larger-than-life actors playing superheroes these days, but we still miss sexiest man alive Johnny Depp as good old Capt. Jack Sparrow, that swaggering, swashbuckling pirate who's been a regular for the last few years (2003, 2006, 2007) in the "Pirates of the Caribbean" franchise.
With a possible fourth "Pirates" on the horizon and a definite turn as "Alice in Wonderland's" Mad Hatter, let's take a look back at the loves (
Winona Ryder
,
Ellen Barkin
[?], Kate Moss, Vanessa Paradis), the lads (
Keith Richards
,
Marilyn Manson
) and the looks (Edwardian, Victorian, rock star, pirate, French gangster, homeless dude) of the eternally quirky Johnny Depp.
(Andrew Eccles / Disney Enterprises)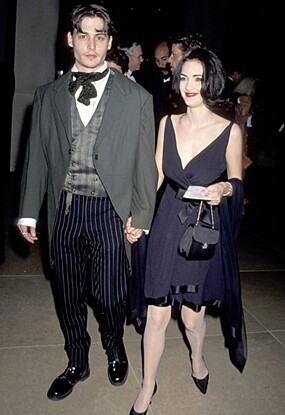 Cutting edge
Long before "Sweeney Todd," Johnny Depp -- with then-sweetheart Winona Ryder -- was doing the Victorian frock coat, striped pegged britches, pinstriped vest and ribbon necktie routine at the 1991Golden Globes. All that's missing are the sharpened barber blades.
(WireImage.com)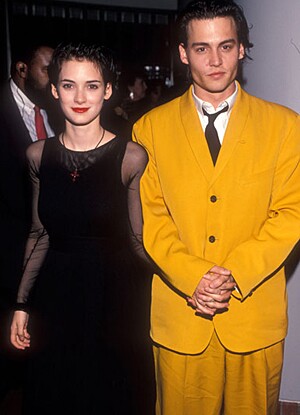 Yellow alert
Not many men could pull off a bright yellow mustard David Byrne-size big suit. But Johnny can. Winona looks her waifish best in a sheer-sleeved black gown with a crucifix to ward off you-know-whats.
(WireImage.com)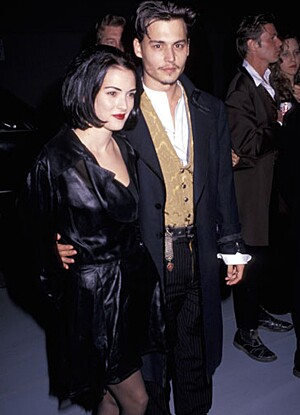 Gothic romance
At the premiere of "Edward Scissorhands," Winona was Goth in black satin while Johnny was equally eclectic with a military coat, gold satin vest, Nehru-collar shirt and a tapestry pendant strung from his belt.
(WireImage.com)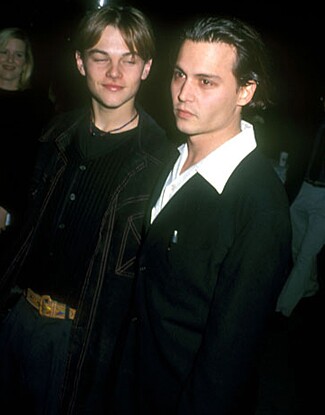 Euro-fash
At the 1993 "What's Eating Gilbert Grape" premiere, co-star Leonardo DiCaprio, looking about 12, admires Depp's suave slick hair and wide-open collar. Was he already warming up for "Don Juan DeMarco"?
(WireImage.com)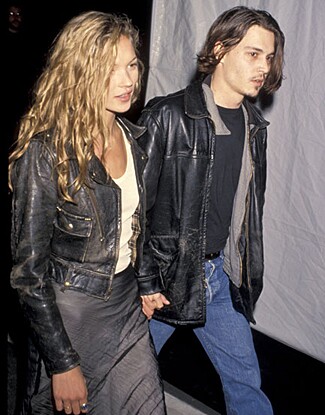 Twin set
At a benefit in 1994, a long-haired, leather-clad Depp was a perfect match for tousle-haired, leather-wearing supermodel Kate Moss.
(WireImage.com)
Cougar country safari
What's this? Did Depp have a brief cougar moment with Ellen Barkin, a good nine years older than the young actor? And it was pretty public too. They were together at the 1994 Oscars, for crying out loud.
(WireImage.com)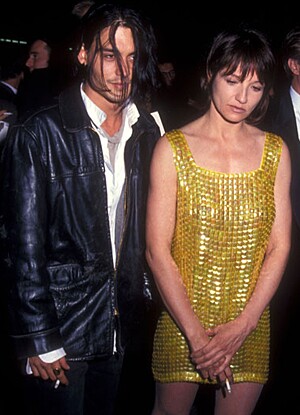 The princess and the pauper
Again in 1994, Depp, with a grungy Nirvana hairdo, hung out with his smokin' (literally) older gal pal Barkin in a bright gold sequin mini dress.
(WireImage.com)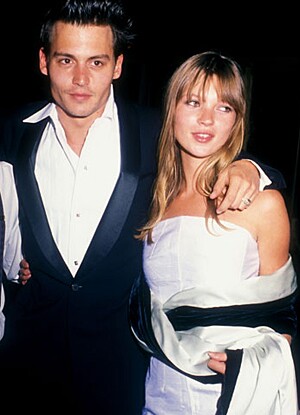 Grease is the word
At the 1995 premiere of "Don Juan DeMarco," Johnny Depp stayed in character with greased-back Euro-trash hair and an open-collar shirt. He's perfectly coordinated with his waif supermodel squeeze, Kate Moss, wearing a classic strapless gown.
(WireImage.com)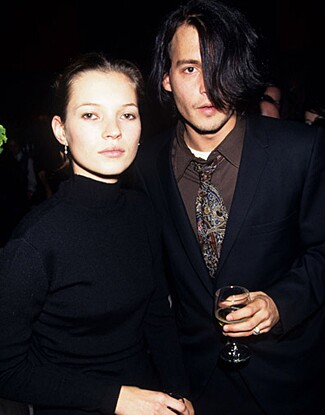 Two face
Kate Moss doesn't seem to mind (or maybe she hasn't noticed) that Johnny Depp is hiding half his face with his dyed black hair.
(WireImage.com)
Gold rush
Johnny Depp and Kate Moss were the golden couple at the 1995 Golden Globes. Johnny's looking remarkably sleek and unadorned. Who could have guessed that in just a few years, he'd be smothered in silver chains, leather wristbands and skull rings, a la Keith Richards.
(WireImage.com)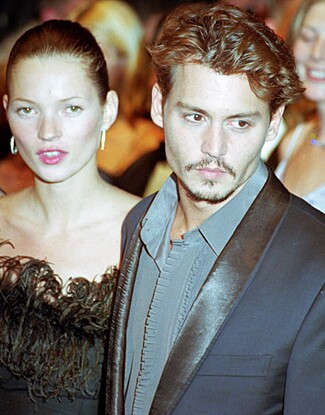 French dressing
At the 1998 Cannes Film Festival, Johnny added a Francophile 'stache and goatee and wore a leather-lapel jacket to go with Kate Moss' feathered French haute couture gown.
(WireImage.com)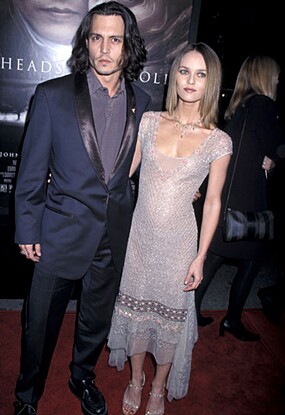 Johnny's got a type
At the 1999 "Sleepy Hollow" premiere, Johnny Depp brought new lady love Vanessa Paradis, a French singer-model. She's tiny and slender, with a Kewpie doll face, kind of a saucy French version of Kate Moss. And look, Johnny's wearing the same leather-lapel jacket he wore to Cannes with Kate. Guess he's found his type and his style!
(WireImage.com)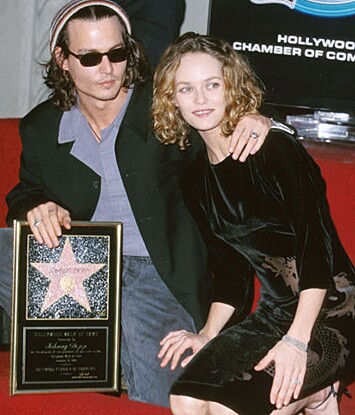 Stocking filler
Who wears a stocking cap to get a star on the Hollywood Walk of Fame? Only Johnny Depp. And that's why we love him.
(WireImage.com)
Out of time
Johnny Depp's style -- Edwardian layers and long, anachronistic hair -- doesn't really go with the sparkly modern gown worn by his "From Hell" co-star Heather Graham. Not a match made in fashion heaven.
(WireImage.com)
Dumpster chic
Johnny Depp started showing up at premieres -- here at "Blow" in 2001-- looking like a homeless person, with tattered and torn jackets and hats with holes. But wait, it gets worse ...
(WireImage.com)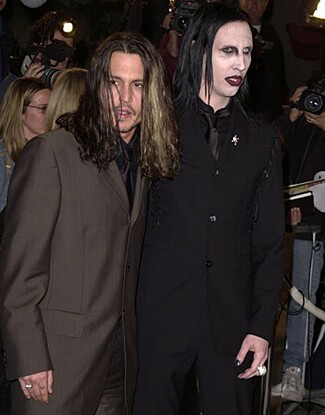 Horror movie
Goth Rocker Marilyn Manson also had a big -- but not lasting -- effect on Johnny Depp's evolving look. At the 2001 "Blow" premiere, Depp was seriously starting to look like Manson's younger sister. Thank heavens he didn't go the blood-red lipstick and creepy-contact-lens route.
(WireImage.com)
A pirate's life
In torn jeans and a white billowy pirate's shirt, Johnny Depp floated into the Venice Film Festival in 2003, sporting his now-trademark leather and chain necklaces, and felt fedora.
(WireImage.com)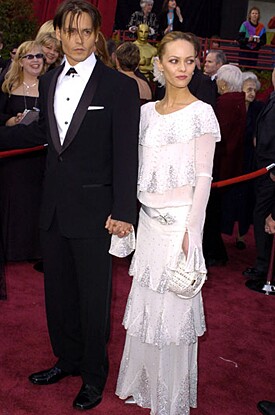 Hair line
Johnny Depp put on a tuxedo to escort Vanessa Paradis to the Oscars in 2004. But couldn't he have brushed his hair? Doesn't he have people for that?
(WireImage.com)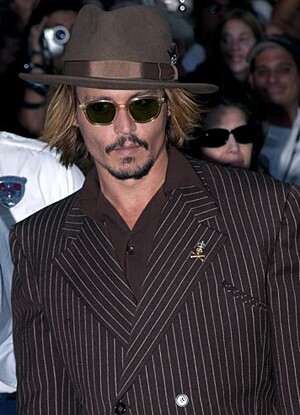 Public enemy
At a "Pirates" premiere in 2003, Depp went gangsta, French Riviera-style, in a double-breasted pinstriped suit, skull lapel pin, brown fedora (without holes!), goatee and tortoise-shell shades.
(WireImage.com)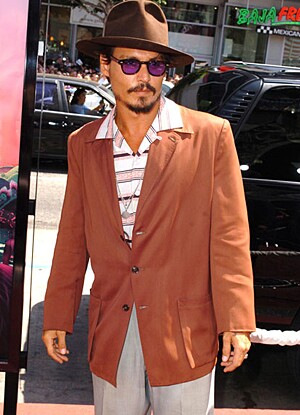 Thrift shopper
At the "Charlie and the Chocolate Factory" L.A. premiere in 2005, Johnny Depp kept his favorite brown fedora on and added a rust-colored jacket, gray trousers, striped shirt and purple-tinted shades. Pretty cool color combo, Johnny.
(WireImage.com)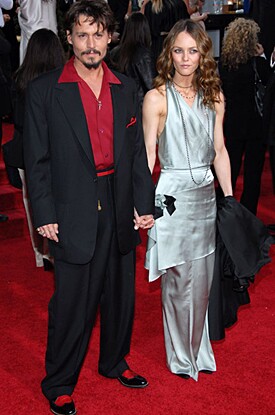 Dance fever
Johnny Depp looks like he's ready for "Dancing With the Stars" at the 2006 Golden Globes. He could do a mean tango in that red-and-black ensemble. Check out those dancing shoes! And Vanessa Paradis would be a perfect waltz partner in her silver satin gown.
(WireImage.com)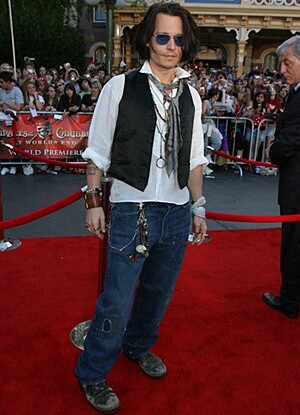 Rolling Stoned
Johnny Depp had gone totally Keith Richards at the 2007 "Pirates" premiere. He could seriously open an accessory boutique on Melrose, selling all these wristbands, bracelets, scarves, chains, necklaces, watch, beads and bangles hanging from his belt loop. Check out the security guard, staring at the actor's scuffed boots. But all this just makes us want to take Johnny home and clean him up a bit.
(WireImage.com)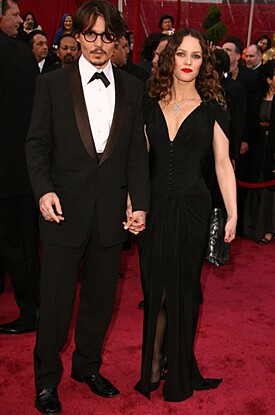 Children of the night
At this year's Academy Awards, Johnny Depp and Vanessa Paradis looked a bit like an updated Gomez and Morticia Addams. You rang?
(WireImage.com)
Wanted-poster boy
At the 2008 MTV Movie Awards, Johnny Depp showed off his John Dillinger haircut, shorn on the sides, long on top. And check out those buff arm muscles. Has he been pumping up to play one of America's most wanted in "Public Enemies"? And does he need someone to spot while he lifts?
(WireImage.com)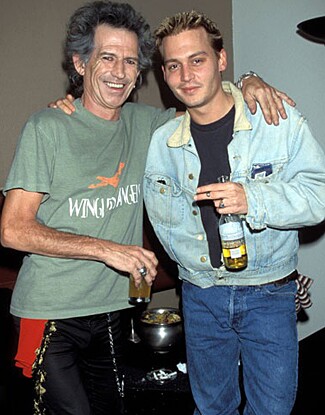 Steal this look
Johnny Depp hangs with Rolling Stone Keith Richards backstage at the Joint in 1998. Wearing spiky hair with Ryan Seacrest-esque highlights, mismatched dark jeans and faded denim jacket, Johnny was light-years away from finding his true style. Thank God he met mode mentor Keith, who was already sporting the ratty T, skull ring and belt loop chains Johnny would later "adopt" as his own. "Steal" is just too harsh a word.
(WireImage.com)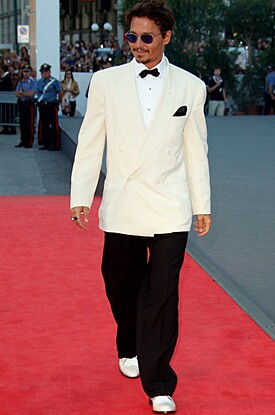 Dapper Depp
It took Tim Burton getting a lifetime achievement award at the Venice Film Festival for Johnny Depp to get this duded up. Love the white double-breasted jacket, white dress shoes, small bow tie, matching black pocket square and, as always, his quirky lavender shades.
(WireImage.com)