The CW has found its Batwoman. But how and where will she fit into the Arrowverse?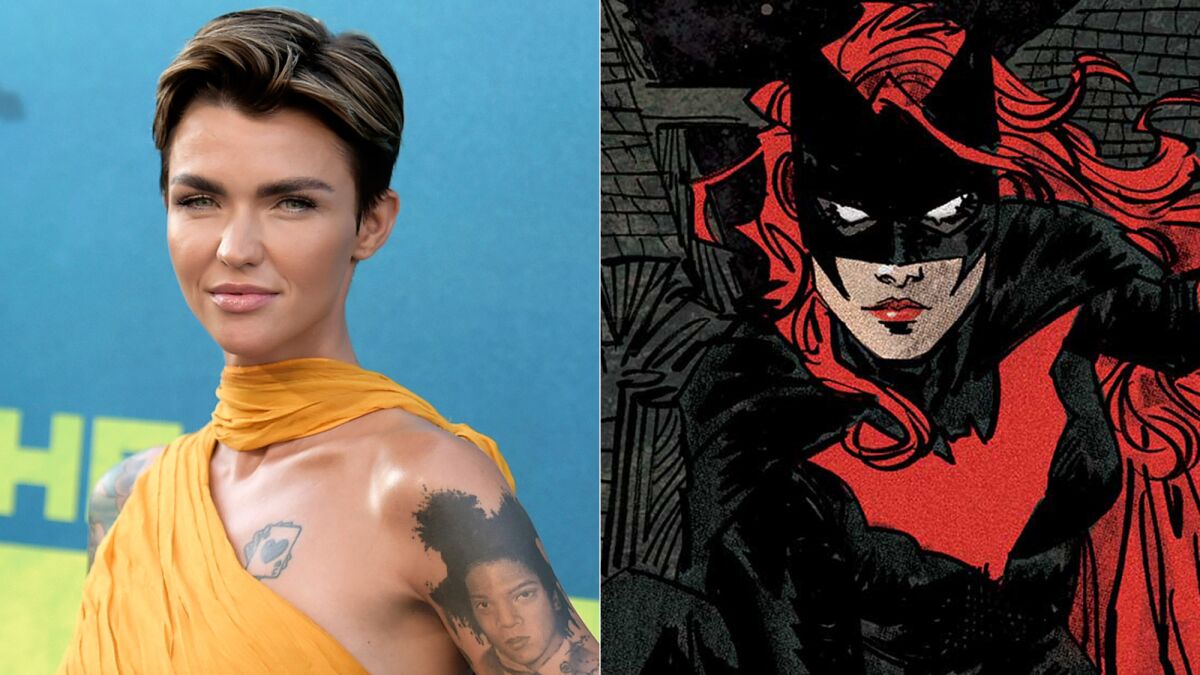 When the CW first announced its plans to introduce Batwoman during the next Arrowverse crossover event, most fans wondered three things: Who will play her? What about Batman? And how will she fit into the network's DC superhero universe?
On Tuesday, news was out that "Orange Is the New Black" and "The Meg" actress Ruby Rose has been tapped to play Batwoman, a.k.a. Kate Kane, one of DC Comics' highest-profile queer superheroes. The modern comic-book iteration of Batwoman is an out lesbian of Jewish descent (and Bruce Wayne's cousin).
Rose's Batwoman is slated to appear in this season's Arrowverse crossover before jumping over to headline her own series, which is in the early stages of development for the 2019-2020 season.
The Arrowverse now includes the CW's DC Comics-based superhero shows "Arrow," "The Flash," "Supergirl" and "Legends of Tomorrow," and traditionally characters from the various shows have teamed up for crossover episodes each season.
The reaction to the casting news has been mixed across social media, but Rose received a stamp of approval from writer Greg Rucka, one of the co-creators of the new version of Kane introduced in 2006.
"Not that anyone asked me, nor does it matter, but I quite like Ruby Rose. Her Kate will be down to what the writers do," Rucka wrote in a tweet.
Rose's casting is notable because she is an out lesbian (and gender-fluid) actress cast to play an out lesbian character. The choice follows "Supergirl's" July reveal that the show added trans actress and activist Nicole Maines to the cast to play trans superhero Dreamer for its upcoming fourth season.
While the CW features a number of recurring and main LGBTQ characters on its superhero shows — including Alex Danvers ("Supergirl"), Sara Lance ("Legends of Tomorrow"), Curtis Holt ("Arrow"), David Singh ("The Flash") and John Constantine ("Legends of Tomorrow"), as well as Anissa Pierce a.k.a. Thunder on "Black Lightning" — Batwoman would be the first lesbian superhero to headline her own series.
But little is known about Batwoman (both the character and the show) outside of CW's previously released official description: "Armed with a passion for social justice and a flair for speaking her mind, Kate Kane soars onto the streets of Gotham as Batwoman, an out lesbian and highly trained street fighter primed to snuff out the failing city's criminal resurgence. But don't call her a hero yet. In a city desperate for a savior, Kate must overcome her own demons before embracing the call to be Gotham's symbol of hope."
Fans of the CW's superhero shows know that the Arrowverse is a multiverse — that is, there are a number of parallel universes that exist in the shows' established canon. "Arrow," "The Flash" and "Legends of Tomorrow" take place on Earth-1, while "Supergirl's" Earth is known as Earth-38 (there is no Supergirl in Earth-1). Viewers have gotten glimpses of other Earths, including in last year's Arrowverse crossover that involved Earth-X.
And if "Black Lightning" were to ever become a part of the Arrowverse, there's a chance it will be revealed that the show is either set in Earth-38 (because the show has previously mentioned Supergirl) or a completely different Earth to help explain why none of the characters have ever crossed paths before.
So even though Batwoman will be a part of the Arrowverse, there is no telling from what part of the multiverse (or even when, considering "Legends" is about a team of time-traveling heroes) Kate Kane will hail.
But here are some reasons why Batwoman should be from Earth-38.
In the official "Batwoman" description, Gotham is described as a "failing city" with a "criminal resurgence" and is "desperate for a savior." That implies that the city might be unexpectedly short on superheroes for some reason.
That makes sense because, as CW president Mark Pedowitz reportedly mentioned, there are no plans for Batman to appear on "Batwoman" or any other Arrowverse show even though he exists in the universe.
"Arrow" fans already know Bruce Wayne exists on Earth-1 because Oliver Queen has mentioned him by name on the show. Wayne Tech has also been referenced in "The Flash." "Supergirl," on the other hand, has mentioned Gotham City and referenced a "vigilante" Kara Danvers' cousin Clark Kent has previously worked with.
Batwoman's comic-book origin story partly involves being influenced by an encounter with Batman. While there's no guarantee that any of Kane's existing backstory will play into the live-action version of her character, our vote goes to the Earth that has hinted at the existence of more than just the super-wealthy CEO. We'll leave it up to the writers to come up with why the caped crusader is out of the picture, leaving a space only Batwoman can step into.
Also from the comics, Kate Kane has had two prominent romantic partners over the years. The first was Renee Montoya (a version of the character was introduced in the first season of Fox's "Gotham") and the second is Maggie Sawyer.
In fact, Batwoman even proposed to Sawyer in a 2013 comics storyline, so it would be nice to see Kate in a world where Maggie exists.
It just so happens a live-action version of Maggie Sawyer has already been introduced in "Supergirl." The lesbian detective helped Supergirl's sister Alex Danvers realize that she too was a lesbian before the pair became girlfriends and eventually were engaged (they have since broken up).
Maggie's existence and history in Earth-38 sets up plenty of potential storylines for any interactions between Alex and Kate — like discovering your new friend was also once engaged to your former fiancé.
Speaking of Alex, the genius scientist and skilled field agent was promoted to director of the D.E.O., or the Department of Extra-Normal Operations, during the Season 3 finale of "Supergirl." The covert government organization has been a part of "Supergirl" since the beginning.
Batwoman has a history with a version of the D.E.O. in the comic books (although she didn't necessarily trust them), so it's not unrealistic to have her hail from an Earth where the organization is more prominent and active.
Finally, having "Batwoman" set in Earth-38 also means Supergirl could potentially have another superhero ally who's easier to reach than across dimensions. Perhaps they can develop a relationship that's a bit friendlier than what seems to exist between their cousins.
Twitter: @tracycbrown
Get our L.A. Goes Out newsletter, with the week's best events, to help you explore and experience our city.
You may occasionally receive promotional content from the Los Angeles Times.