Reporting from San Diego —
The CW's Arrowverse family of shows -- "Supergirl," "DC's Legends of Tomorrow," "Arrow" and "The Flash" -- were busy with casting news, new characters and lots of talk of diverse representation in front of and behind the camera in their three-hour block of programming presented in Ballroom 20 at Comic-Con 2018 on Saturday.
"Supergirl" started things off by revealing that real-life transgender activist Nicole Maines will join the cast this coming season as Nia Nal, a new addition to the CatCo reporting team. She plays a transgender woman driven to protect others, and looks to fulfill her destiny as the superhero Dreamer.

April Parker Jones will also join the ensemble as ultra-dedicated military woman Col. Haley. DC Comics fans will recognize David Ajala's Manchester Black, a dark character with a dark past who, as it's said in the official character description, "is the type of guy who brings a knife to a gunfight and still walks away the winner."
The panel highlight was probably when a teeny Supergirl came to the mic during the Q&A to ask star Melissa Benoist how it felt to be her role model. The "awwws" in the crowd and on the stage were almost tear-inducing, as was the genuine emotion Benoist felt answering the question.
FULL COVERAGE: San Diego Comic-Con 2018 »
Another question was about how Alex and Cassandra Cain -- the newly announced Batwoman who will be in the show's big crossover special in December -- will interact. Chyler Leigh was quick to add that her character and Cain would hit it off. "Strong women like each other."
"Legends of Tomorrow" was next, announcing that Ramona Young and Tom Wilson (aka Biff Tannen from "Back to the Future") will join the cast as Alaska Yu and Hank Heywood, respectively. Young's Yu is described as something of an expert in the world of the magical creatures, while Wilson's Heywood has spent a lifetime in the military and Department of Defense as part of a long line of Heywoods to serve the country. He also doesn't know his son is a legend.
Highlights of the panel also included Tala Ashe showing her solidarity and happiness at portraying a Muslim American.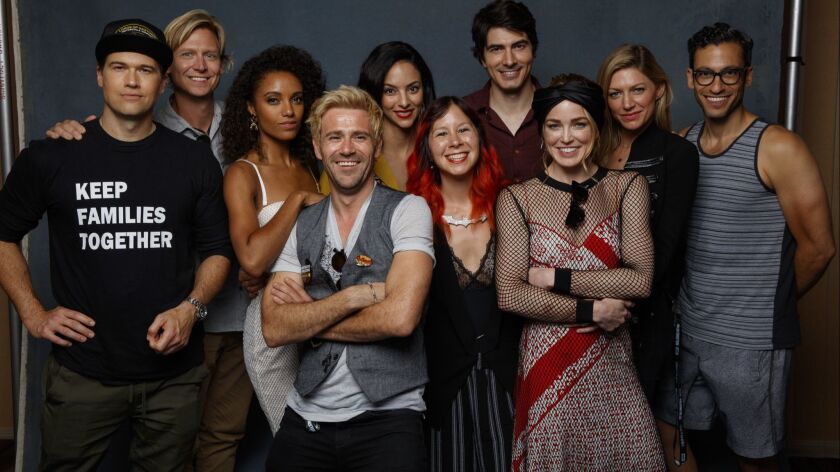 A look into the Los Angeles Times' Comic-Con photo studio »
The biggest news from "Arrow" is about all the people that will be seemingly out to get Oliver while he is in prison, a cadre from the past that includes Ben Turner/Bronze Tiger (Michael Jai White), Derek Sampson (Cody Runnels) and Danny "Brick" Brickwell (Vinnie Jones). And those are just the three most identifiable individuals.
His friends on the outside are not in much better shape as they are pursued by the Longbow Hunters, a legendary group of assassins recruited by Ricardo Diaz (Kirk Acevedo). This trio of villains consists of Red Dart (Holly Elissa), Kodiak (Michael Jonsson) and Silencer (Miranda Edwards).
The panel also put a spotlight on Beth Schwartz and what her sensibilities as the new showrunner would add to the series. Green arrow himself Stephen Amell was quick to chime in that her energy and vibe, as a woman, brought something extra. However, Schwartz was also quick to note she's been working on the show for several seasons. "It's not going to be a different show, but I am definitely going to put my spin on it," she said.
They didn't mention Batwoman because, as Schwartz said, "we're still working on the first half of the season." (Batwoman is set to be introduced in the second half.)
On "The Flash," Chris Klein joins the cast as a series regular to play this coming season's big bad, Cicada. He's described as "a grizzled, blue-collar everyman whose family has been torn apart by metahumans." Simply put? He wants revenge.
For the group's fifth Comic-Con panel, most of the talk centered on Danielle Nicolet's character Nora Allen, who happens to be the daughter of Grant Gustin's Allen and Candice Patton's West-Allen and is a speedster from the future.
Showrunner Todd Helbing pointed out the uncanny resemblance between Nicolet and Patton (adding in a touch of Gustin) and said that it even caught the cast by surprise.
The audience's most vocal reaction happened during the video presentation that preceded the panel. In a quick scene, Barry doesn't have his suit and Nora gives him the iconic Flash ring that houses his suit --- that has yet to be seen in the show — saying, "I always have a spare."
Like "Arrow," "The Flash" will also have a bigger female presence behind the scenes this season. Star Danielle Panabaker will direct an episode, and will be the first woman to direct an episode in the Arrowverse. Although there were no other castings to announce at the panel, "The Flash" promised to soon follow in the footsteps of its sister series and add an LGBTQ character later this season.
---