Comic-Con: MTV unveils first look at 'The Shannara Chronicles'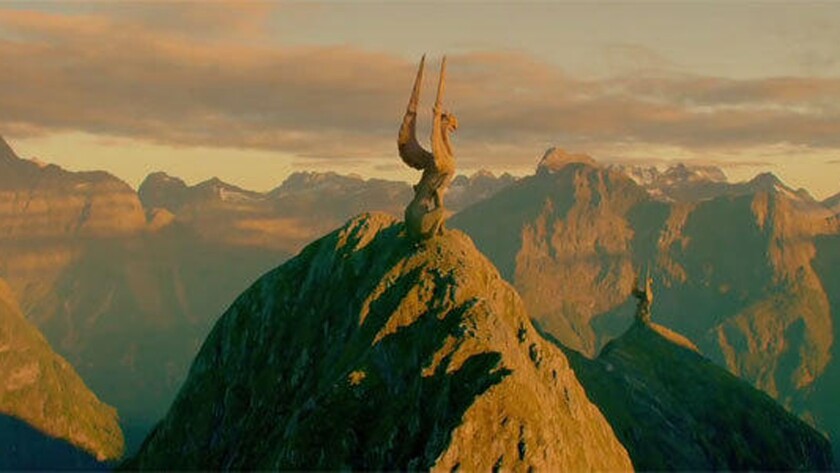 Get ready for more elves on television.
MTV on Friday revealed that its fantasy series "The Shannara Chronicles" will debut in January. The announcement came on the second full day of San Diego Comic-Con, which will wrap on Sunday, and it was accompanied by a first look at the series.
"There's young love. There's loss. There's tragedy. There's rising to challenges," Jon Favreau, an executive producer on the series, said in a nearly three-minute preview clip shown in San Diego.
The Shannara Chronicles | Official First Look | MTVIT HAS BEGUN. Watch an exclusive first look at The Shannara Chronicles, coming to MTV in January 2016.Posted by The Shannara Chronicles on Friday, July 10, 2015
https://www.facebook.com/theshannarachronicles/videos/879020768800792/
"The Shannara Chronicles" comes from the mind of fantasy author Terry Brooks, who in 1977 began the "Lord of the Rings"-inspired series with "The Sword of Shannara." The MTV series takes its inspiration from the second book in the series, "The Elfstones of Shannara."
The series stars Poppy Drayton as Amberle Elessedil, Austin Butler as Wil Ohmsford and "Arrow" veteran Manu Bennett as the Gandolf-like druid Allanon. John Rhys-Davies, perhaps best known for his role as Sallah in the "Indiana Jones" series, portrays king Eventine Elessedil.
FULL COVERAGE: Comic-Con 2015 |@LATHeroComplex | Special Edition magazine on Flipboard
Loosely speaking, "The Elfstones of Shannara" centers on a quest to restore ancient magic to a world threatened by a demon onslaught. Tonally, expect a more lighthearted take on fantasy than is offered by HBO's "Game of Thrones."
There's plenty of fantasy action and demonic critters in the preview, especially one ghastly looking winged creature near the clip's end. The teaser also offers a look at the famed Elfstones, glowing blue gems, and mossy remnants of our current civilization, including what appears to be a fallen Space Needle-like structure, as the fantasy universe of "Shannara" is set on a future Earth.
But don't expect a post-apocalyptic world, as "The Shannara Chronicles" is lush and vibrant. "I was so overwhelmed. I couldn't believe how beautiful it was," said Drayton of the show's setting. The series was shot in New Zealand.
"This is the ideal place for all of us lunatics who love to live in the world of the imagination," Rhys-Davies said.
---
The complete guide to home viewing
Get Screen Gab for weekly recommendations, analysis, interviews and irreverent discussion of the TV and streaming movies everyone's talking about.
You may occasionally receive promotional content from the Los Angeles Times.