CW's Comic-Con block reveals who's in the pod on 'Supergirl' and teases a new 'Legion of Doom'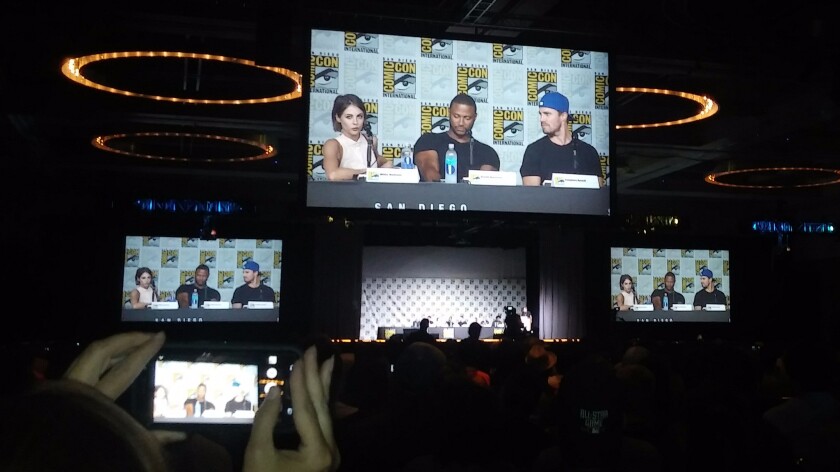 The CW, which has the most impressive TV block of comic book fodder, unleashed back-to-back-to-back-to-back panels late Saturday at Comic-Con for "Supergirl," "Legends of Tomorrow," "The Flash" and "Arrow." Each bright beacon of genre fare brought with it a bit of information, a couple of clips or teases, and a lot of silly.
The "Supergirl" panel was a fan love fest for starring actresses Melissa Benoist, who was called by executive producer Sarah Schechter "a real life super girl playing Supergirl." But there was clearly lots of excitement for the new cast addition Superman played by actor Tyler Hoechlin ("Teen Wolf," "Everybody Wants Some"). This season the two will be together for the first time on television, and the fans were jazzed.
From the show, Benoist was joined by Hoechlin, David Harewood, Chyler Leigh, Mechad Brooks, Jeremy Jordan and Schechter. Highlights included:
- Jordan made goggly eyes at Hoechlin as he swooned over the new Superman, as many in the crowd seemed to do.
- Leigh showered genuine praise on Benoist, saying that watching her taught her the meaning of class. Schechter joined in, saying that she was happy that her daughters had Benoist to look up to.
- Apparently Benoist knows the lyrics to many hardcore '90s rap singles. And, with all of the vocal talent on the stage, the inevitable musical episode was again pitched. Not planned yet, but who knows.
- What's in the mysterious pod that landed in the season finale? We have an answer, it's actor Chris Wood. Who exactly he will be is unknown ... for now.
"Legends of Tomorrow" may be a little bit of the odd man out in terms of popularity among the four shows, but a rabid fan base cheered each announcement. Highlights included:
- They will waste no time getting into the crossover game, touting Stephen Amell as Mayor Oliver Queen in one of the first shows back from hiatus. Damien Darhk (Neal McDonough) and Malcolm Merlyn, played by a panel-crashing John Barrowman, will also be crossing over from sister show "Arrow." Old West hero Jonah Hex will also be joining the heroes again.
- Season 2 "will be much more mysterious," says exec producer Phil Klemmer. Instead of one bad guy, there will be multiples.
- Can't have heroes without villains. Described as the "Legion of Doom," Merlyn and Darhk will be joined by, from "Flash," Matt Letscher as Eobard Thawne/the Reverse Flash and Wentworth Miller returning as Captain Cold.
- Klemmer described the Justice Society of America, a superhero team crossing paths with the show, by saying that "even heroes have heroes, and that's the JSA."
- Brandon Routh was asked if he'd given Hoechlin any advice in terms of playing Superman. He said "No. Just get fit, and it looks like he already has that down."
- Other characters that will be showing up this season: Rex Tyler, Obsidian, Dr. Mid-Nite, Stargirl and Commander Steel.
"Flash" made a splash with a brand new season trailer, revealing all the mess Barry Allen has made by going back in time.
Led by the titular character, actor Grant Gustin, the cast and producers discussed their "Flashpoint" paradox (the pilot episode title taken from the popular comic book story line). Turns out, Barry's actions will also affect "Arrow." The biggest cheers for the reel featuring items from next season were for the appearances of the villain Dr. Alchemy and of Wally West, or Kid Flash. Other panel highlights included:
- One of the two big villains this season will be Dr. Alchemy, a hooded figure that was clearly seen in the the promo reel for next season. The character will be voiced by Tobin Bell.
- Panel member Tom Felton, who played Draco Malfoy in the "Harry Potter" films, had a bit of Comic-Con nostalgia. "Last time I was here I was representing a franchise symbolized by a lightning bolt."
- Crossovers will continue. Felicity Smoak (Emily Bett Rickards) will be coming back over from "Arrow" to help Gustin's Barry Allen with a problem.
- Carlos Valdes' Cisco will be a billionaire in this divergent timeline. "Yeah, he flossin'."
- The cast loved having director Kevin Smith onboard. Tom Cavanagh and Gustin told the story of how Smith first saw Gustin on set in the costume and had to take a moment, tearing up at the sight of the Flash. They took selfies before starting to film anything.
- No plans yet for fans to see Bart Allen on the show.
"Arrow" anchored the block - the first show goes last. Led by star Stephen Amell, the cast bounded onstage after promo video from the coming season teased lots of fighting and the formation of a group of vigilantes by Green Arrow that he was training. Panel highlights include:
- Amell states that Oliver Queen will be getting back to the business of protecting Star City. He's "a garbage mayor" but loves the city. He also says, jokingly we think, that syndication is what most excites him about the upcoming season. "Arrow" will hit its hundredth episode this year.
- Katie Cassidy's absence is felt, but she has signed up to work on "Flash," "Legends" and "Arrow."
- The big bad for the year will be a character named Prometheus (not the comic book character that was able to dial up different powers).
- Barrowman is not a good puncher and bounces on his toes like a dancer instead of gliding like a fighter. It causes a bit of frustration behind the scenes.
- Among the cast, if they could play a Marvel character, Wolverine was named multiple times. Apocalypse, Agent Carter and Storm also came up. Moon Knight or Dark Phoenix were the choices for Ramsey.
- The group put on a singalong, started off by Amell and led by Echo Kellum, who plays Curtis Holt on the show. They sang for a full three minutes or so, including coaxing the audience to sing along.
---
Get our daily Entertainment newsletter
Get the day's top stories on Hollywood, film, television, music, arts, culture and more.
You may occasionally receive promotional content from the Los Angeles Times.