'Doctor Who's' Peter Capaldi feels at home wherever he lands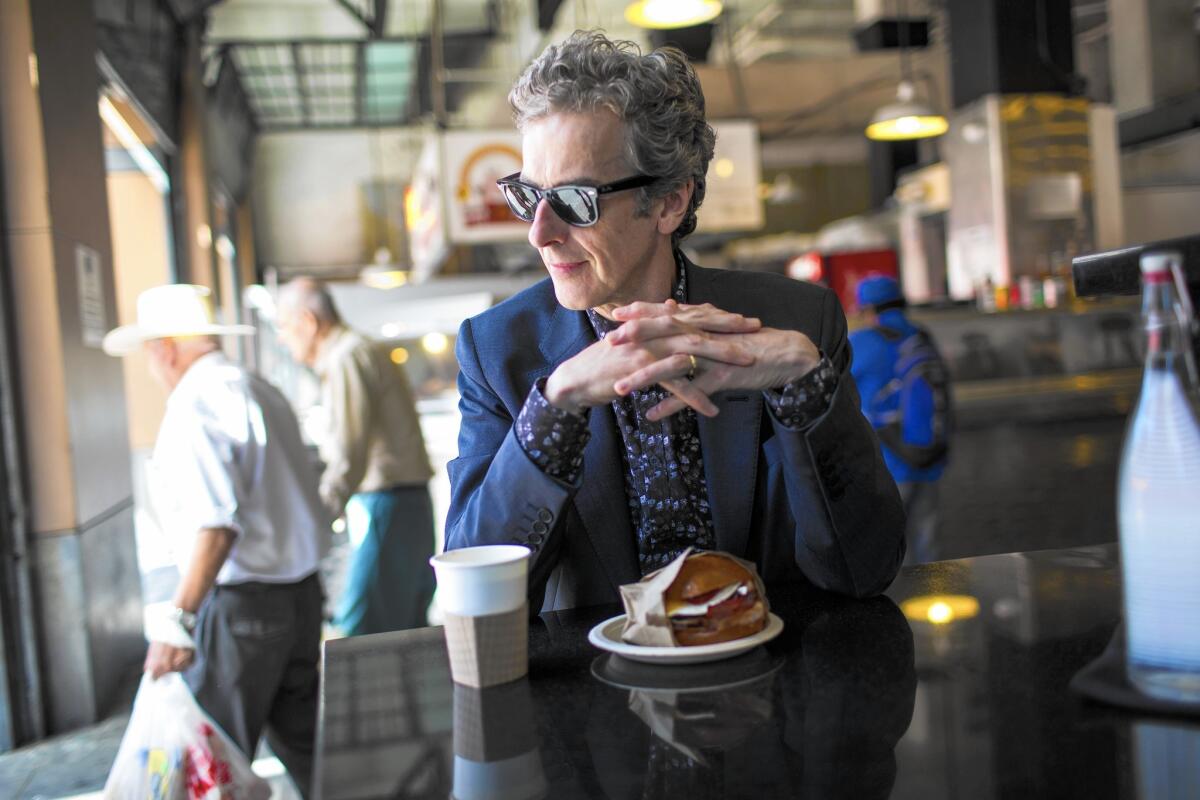 At the base of Los Angeles' Bradbury Building, a slender man in an impossibly clever suit considers the wrought-iron coils of the past that adorned the future of Ridley's Scott's neo-noir film. Tucked behind his Ray-Bans, the eyebrows that launched a thousand GIFs furrow.
Just so we're clear, the 12th Doctor is standing in the "Blade Runner" building. Surely some elaborate don't-cross-the-streams time paradox is readying to crash down through the immaculate structure's glass ceiling. But there is only silence. Actor Peter Capaldi steps through Los Angeles the way his character The Doctor slips in and out of time, seamlessly.
"Fun trivia," Capaldi says, breaking the silence and pointing a finger straight into the air highlighting an imaginary idea lightbulb. "Ridley Scott was supposed to work on the earliest creations of the Daleks."
SIGN UP for the free Indie Focus movies newsletter >>
The two sci-fi worlds threaten to cross yet again.
Moments later Capaldi is across the street, perched counter-side at Grand Central Market's unblushingly named Egg Slut restaurant. "I did a show in New York; I was in Broadway for about four months," he says. "I got very into diner culture. We don't have eggs over easy in the U.K. They're delicious."
He's referring to one of his many stage roles, from David Hare's "The Judas Kiss" to the adaptation of "Ladykillers." Capaldi's enduring stare and austere brows have long been a part of stage and screen. And now, thanks to ravenous Yankee fans hungry for more timey wimey adventures, he's crossing over into American genre culture as the 12th regeneration of the cavalier Time Lord called The Doctor.
Fifty-two years after the BBC premiered "Doctor Who" in 1963, it's Capaldi's turn to disrupt the space-time continuum. The recent revival of the sci-fi series has spread West, peppering the States with blue police boxes modeled on the TARDIS, a.k.a. The Doctor's time-traveling device.
That's how Capaldi has landed here, a brief pause after a long weekend greeting fans at San Diego Comic-Con, and then it's back to Britain to continue shooting "Doctor Who," which on Saturday begins its ninth season on BBC America. He's at home amid the downtown L.A. foot traffic and reverberating noise inside the almost century-old corridor. He blends into the chaos, consuming his slippery egg and bacon sandwich with the delicate grace of a man who's tackled his share of tricky stunts in even fancier ensembles. However, he does wait for the chipotle ketchup to hit: "It hasn't made its presence known yet, ah, there we are. I don't like spice as a surprise. I gotta be ready."
Servers call out orders, passersby shuffle on, but Capaldi remains focused. It's a useful skill with his formidable "Doctor Who" schedule. Thankfully he has the support of past Doctors who have been there before. The 11th Doctor, Matt Smith, kept in touch long after handing over the key to the TARDIS.
"It's a marathon," Capaldi says. "[Matt] knows what it is like, when you're on Episode 10 and you're really sort of dying on your feet. You're thinking, 'I'm not going to be able to learn any more lines, I'm not going to be able to pull anymore faces.' [Matt Smith is] great because I can text him and say, 'This is where I'm at. Can you help or do you remember this?' He has totally been such a huge support. As David [Tennant, the 10th Doctor] has as well."
The last regeneration from baby-faced Smith to the gray-locked Capaldi wasn't just a change in character age, but in tone as well.
"I think The Doctor has become more and more accessible as the show has become more successful, and this sounds bad, but weirdly I want to make him more distant," he says. "I don't want to be so user friendly. I didn't want to go out and say to the audience, 'Love me.' I wanted to be a more spikey character. Hopefully I'm a character that might be uncomfortable to be around. But interesting."
It's true that, unlike the last few regenerations, Capaldi appeared with a Gallifreyan storm brewing in his mind and without a Doctor catchphrase. The change in tone may have been necessary because even the most apprehensive of fans seem to be won over by the more serious of the new Doctors.
"I don't think he's scientific, in the modern sense of the word; I think he's Bohemian," Capaldi says.
"In the old days, pre-18th century, Leonardo da Vinci was a highly skilled, engineer and artist, as was Michelangelo. This differentiation, these guys were interested in how things worked because it gave them new territory for looking and understanding. To draw your face, you must understand what is going on. How does this work? How does that work? This idea that we have that science is separated from creativity is a modern idea."
However, a slightly less-accessible Doctor doesn't mean losing the B-movie monster feel that Capaldi grew up with watching "Doctor Who."
"People always say, 'When did you first feel like Doctor Who?' You know when they throw a rubber spider in your face, and they say, 'You fight it.' You say, 'Well, where's the operator? Where are the cables?' They say, 'Oh, I don't know.' There is no operator. You just fight that spider. And I loved that. I mean, I waited all my life to fight the rubber spider."
A mirrored reflection of Capaldi flashes back a grin in the dark marble under his elbows, creating a Doctor doppelganger, an easy premise to a future BBC episode. He's gone full nostalgic now: "I remember when I was a little kid I used to believe that if you looked hard enough you could find the TARDIS. That one day it would be behind the tree, in the garage, or it might be in the back garden somewhere."
Sitting next to the 12th Doctor and listening his childhood TARDIS yearning it's almost hard not to look around the corner for the whirling blue box.
Twitter: @MdellW
MORE:

'Doctor Who's' latest companion, Jenna Coleman, vacates the TARDIS
First look at Marvel's 'Jessica Jones' shows David Tennant as the Purple Man, sans purple skin
You'd better not pout, you'd better not cry, or the 'Krampus' will kill you
Get our L.A. Goes Out newsletter, with the week's best events, to help you explore and experience our city.
You may occasionally receive promotional content from the Los Angeles Times.