Every single L.A. Times 'Star Wars' movie review from 1977 to 2005
Prepping a "Star Wars" binge this weekend? We've got you covered. Here is every single Los Angeles Times review of every single "Star Wars" movie. Some we liked, others not so much.
We decided to present each review in the series' chronological order, plotwise.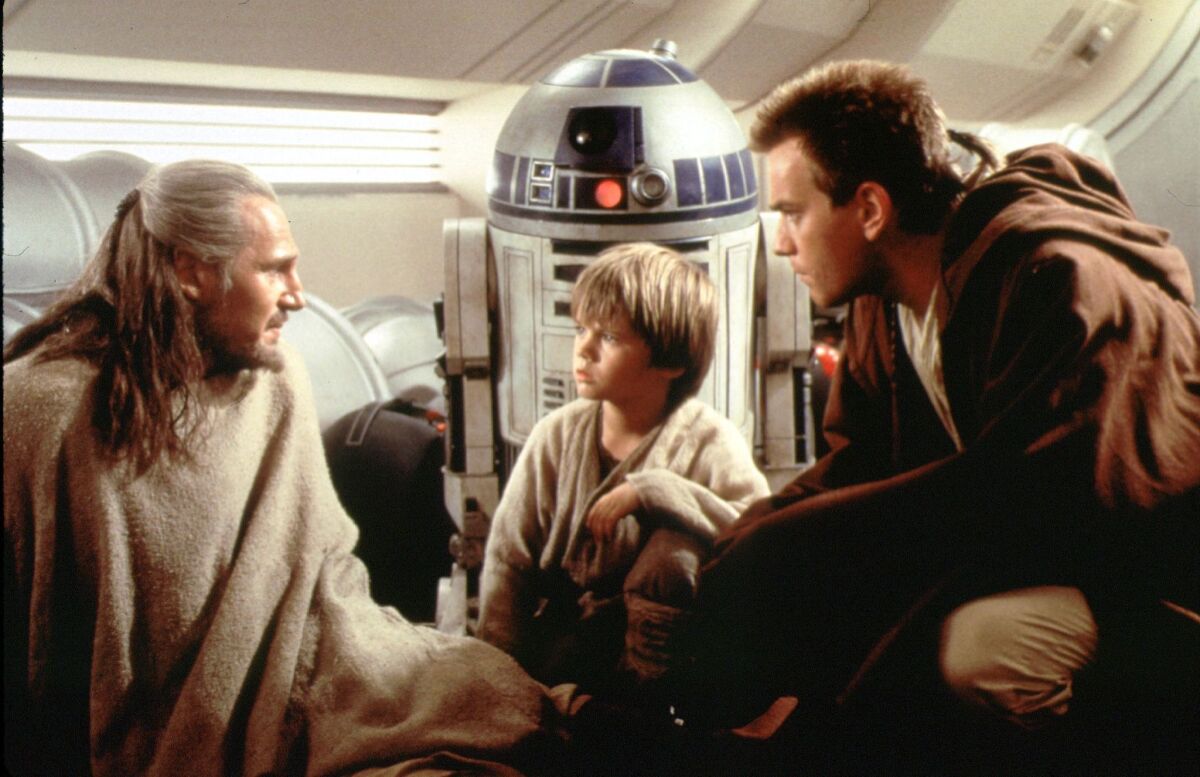 "Star Wars: Episode I -- The Phantom Menace" (1999)
Current L.A. Times critic Kenneth Turan -- who actually reviewed all three prequel films and will also be writing the review of "Star Wars: The Force Awakens" (full circle) -- didn't love "The Phantom Menace." His review said it was obvious that the new addition to the franchise was "aimed at younger audiences" and that it "delivers lots of spectacle but is noticeably lacking in warmth and humor."
Read the review: The prequel has landed
"Star Wars: Episode II -- Attack of the Clones" (2002)
Turan was not feeling newcomer Hayden Christensen and his sulky take on Anakin Skywalker: "Judging by his performance here (perhaps not a wise thing to do), young Canadian actor Hayden Christensen was picked for Anakin strictly on his ability to radiate sullen teen rebellion, something he does a lot. Anakin chafes like a grounded adolescent at the restrictions Obi-Wan places on him, grousing that the master is "overly critical. He never listens. He just doesn't understand. It's not fair."
Turan dubs the relationship between Anakin and his beloved Padme Amidala (Natalie Portman) "High School Confidential in Outer Space" and states that two are less troubled by their forbidden love and more "burdened by a formidable lack of chemistry."
Read the review: "When we last saw our heroes ..."
Star Wars: Episode III -- Revenge of the Sith (2005)
Turan comes in with a stunner of a pun: "'Revenge of the Sith' is a visual stunner, but beware of the talk side." Ha.
Read the review: It looks hot ...
Star Wars: Episode IV -- A New Hope (1977)
The first ever "Star Wars" film from director George Lucas was heralded by Charles Champlin (who reviewed all the original films) as, "the year's most razzle-dazzling family movie, an exuberant and technically astonishing space adventure in which the galactic tomorrows of 'Flash Gordon' are the setting for conflicts and events that carry the suspiciously but splendidly familiar ring of yesterday's westerns, as well as yesterday's 'Flash Gordon' serials."
Read the review: 'Star Wars' hails the once and future space western
Star Wars: Episode V -- The Empire Strikes Back (1980)
Champlin really got into the spirit of the Force, praising both films for their optimism and more: "'Star Wars' and 'The Empire Strikes Back,' like all superior fantasies, have the quality of parable, not only on good and evil but on attitudes toward life and personal deportment and there is something very like a moral imperative in the films' view of hard work, determination, self-improvement, concentration and idealism. It does not take a savant to see that this uplifting tone only a little less than the plot and effects is a central ingredient of the wide outreach of the films."
Read the review: In the 'Star Wars' saga, 'Empire' strikes forward
Star Wars: Episode VI -- Return of the Jedi (1983)
We found someone who loves the Ewoks! Sheila Benson called the final film in the original trilogy "frankly irresistible" and heaped tons of praise on the furry fiends known as the Ewoks.
Read the review: 'Star Wars' continues with an inventive 'Jedi'
------------
For the record, 3:25 p.m. Dec. 15, 2015: An earlier version of this post said that Charles Champlin had called the final film "frankly irresistible." Sheila Benson called it that.
------------
---
Get our L.A. Goes Out newsletter, with the week's best events, to help you explore and experience our city.
You may occasionally receive promotional content from the Los Angeles Times.