Ava DuVernay's 'A Wrinkle in Time' reveals its young adventurer, confirms Winfrey, Witherspoon, Kaling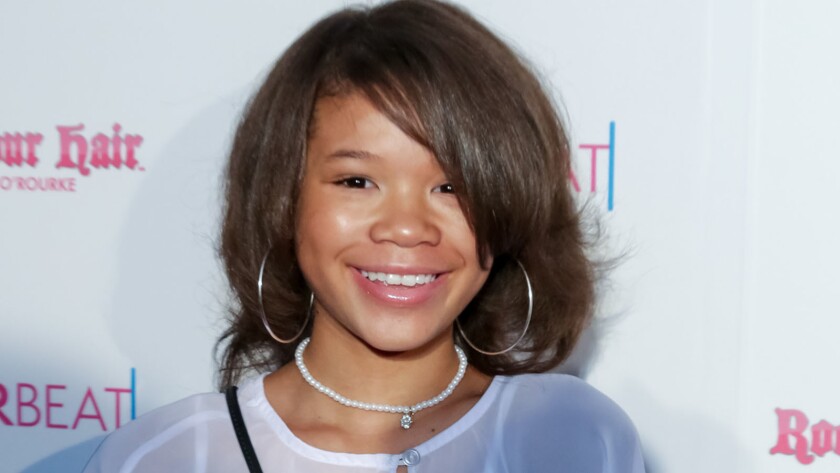 Disney's big-budget adaptation of "A Wrinkle in Time" seems to be in the business of breaking barriers. In casting her lead actress, director Ava DuVernay has done the Hollywood equivalent of folding space and time: She's interpreted the Meg Murry character from Madeleine L'Engle's classic 1963 novel as a modern-day young lady of color.
Storm Reid ("12 Years a Slave") will play Meg in Disney's upcoming big-screen treatment of the widely read, award-winning book for young people, the director announced Monday evening, playing a role that went to a young white actress in the only previous adaptation of "Wrinkle," a 2003 ABC TV movie. Reid joins a diverse cast that will also feature Oprah Winfrey, Reese Witherspoon and Mindy Kaling.
This announcement is just the latest instance of "Wrinkle" pushing the envelope: The $100-million budget DuVernay is working with is the most a female director of color has ever had at her disposal.
On an important level it's par for the "Wrinkle in Time" course. The Newbery Medal-winning book has been defying convention from the very start. According to its late author, that's why the story — which turned 50 in 2013, six years after its author's death — was almost never published.
"It was supposedly too hard for children. … 'A Wrinkle in Time' had a female protagonist in a science fiction book, and that wasn't done," L'Engle wrote in a special message posted on the Random House website. "And it dealt with evil and things that you don't find, or didn't at that time, in children's books."
But times may be changing. In the stage play "Harry Potter and the Cursed Child" in London, a black woman is playing J.K. Rowling creation Hermione Granger — that after some fans grumbled in 2012 when Jennifer Lawrence was cast as the movie version of Katniss Everdeen, a girl first described by "The Hunger Games" author Suzanne Collins as having dark hair, olive skin and gray eyes.
"Storm is a tremendously talented young actress who embodies the hopes, dreams and spirit of a character much loved by audiences worldwide for generations," DuVernay said in a Tuesday statement from Disney Studios confirming the casting.
"I can't wait to work with Storm as we chronicle Meg's epic quest, alongside Oprah Winfrey, Reese Witherspoon and Mindy Kaling as Mrs. Which, Mrs. Whatsit and Mrs. Who. Tesser well!" DuVernay said.
There are still roles left to be cast, of course: DuVernay is reportedly looking to make Meg's family a mixed-race one, another change from the original text. Fitting, given that the tension at the heart of every time-travel story is how change affects both yesterday and tomorrow.
Follow Christie D'Zurilla on Twitter @theCDZ.
ALSO
Everything we know about the new 'Star Trek' series
Joe Manganiello will play Deathstroke in Ben Affleck's Batman movie
How Vasquez Rocks, L.A.'s onetime outlaw hideout, became 'Star Trek's' favorite alien landscape
---
Inside the business of entertainment
The Wide Shot brings you news, analysis and insights on everything from streaming wars to production — and what it all means for the future.
You may occasionally receive promotional content from the Los Angeles Times.