How Vasquez Rocks, L.A.'s onetime outlaw hideout, became 'Star Trek's' favorite alien landscape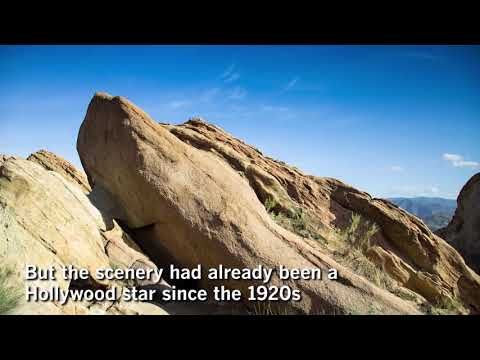 Vasquez Rocks Natural Area Park in Southern California has been used as a location on Hollywood productions dating back to the 1920s.
The mission, from the day "Star Trek" premiered on America's televisions on Sept. 8, 1966, was ambitious: "to explore strange new worlds, to seek out new life and new civilizations, to boldly go where no man has gone before."
Where did Gene Roddenberry's TV series go to find that world?
Often as not, it was a piece of alien-looking geology right here in Southern California — amid the jagged, sandstone boulders of Vasquez Rocks Natural Area Park, a Santa Clarita Valley desertscape of prehistoric waves, frozen in time, that has done star turns in Hollywood productions since the 1920s.
It's where Capt. James T. Kirk famously battled a seemingly indestructible green lizard called a Gorn in the episode titled "Arena," and it represented planet Capella IV, where Kirk and Dr. McCoy helped an Amazon-like Queen give birth to a warrior prince in "Friday's Child."
FULL COVERAGE: The 50th anniversary of 'Star Trek' »
"Star Trek" fans can recall Kirk staring in confused wonder as one of the loves of his life, Ruth, inexplicably emerges among the rocks on planet Omicron Delta, ostensibly many light years from Earth, in "Shore Leave." In the same episode, Kirk engages in a rough-and-tumble brawl around the rocks' distinctive angles and crevasses with a trouble-making upperclassman who used to taunt him at Star Fleet Academy.
Probably equally important as its otherworldly topography, Vasquez Rocks, just off the Antelope Valley Freeway en route to Palmdale, sit just at the edge of what's known as the Thirty Mile Zone, a radius around Hollywood in which union actors and technical crew can report for work before pay premiums kick in and jack up the costs of production.
That has made it a favorite location for film and TV directors for decades, going back to Saturday-morning westerns of the 1920s and '30s — such as "The Texas Ranger" in 1931 and "The Girl and the Bandit" in 1939 — through latter-day productions shot there including the 1994 film version of "The Flintstones" and "The Big Bang Theory."
Roddenberry and the "Star Trek" family quickly zeroed in on Vasquez Rocks — so named for a late-19th century bandit who used the rocks as his hideout, Tiburcio Vasquez (a name tantalizingly close to Capt. James T. Kirk's famous middle name, Tiberius).
The area made its series debut during "Star Trek's" first season in the whimsical "Shore Leave," about a planet where the crew of the U.S.S. Enterprise encounter all sorts of fantastic characters and situations that turn out to be the products of an extraterrestrial amusement park. Call it Deep Space Disneyland.
The appeal of Vasquez Rocks as an alien environment is immediately apparent to anyone who visits the park, just off the Antelope Valley Freeway south of the town of Agua Dulce.
Slabs of rock stretch skyward at steep angles out of the dirt and scrub brush to create dramatic formations seen in more than 200 films and television shows. It's a production set that took shape 25 million years ago with volcanic activity virtually on top of the San Andreas Fault, at the juncture of the North American and Pacific tectonic plates.
The tallest peak among the Vasquez Rocks juts up 150 feet above the canyon floor, but that's just the tip of the tip of this rocky berg, which extends an extra 22,000 feet into the earth below.
A large number of people who visit Vasquez Rocks do ask about 'Star Trek' — people from all over the world.
— Kaye Michelson, of L.A. County Department of Parks and Recreation
Over the last 50 years, the site has also been used for episodes of the TV series "Star Trek: The Next Generation," "Star Trek: Voyager" and "Star Trek: Enterprise" as well as the films, including "Star Trek VI: The Undiscovered Country" and J.J. Abrams' 2009 "Star Trek" reboot, where Vasquez Rocks served as part of the landscape for the planet Vulcan, in homage to the site's recurring use in the original show.
A modest gift shop in the Vasquez Rocks Park Interpretive Center points to the "Star Trek" connection with a Starfleet Command/United Federation of Planets refrigerator magnet and a selection of tunic insignias for the different service positions (command, science, medical).
"A large number of people who visit Vasquez Rocks do ask about 'Star Trek' — people from all over the world," said Kaye Michelson, acting public information officer for the Los Angeles County Department of Parks and Recreation. "The one scene in particular most of them ask about is the scene with Capt. Kirk and the Gorn."
The location's history as a backdrop for so many movie and TV westerns — among them "the Lone Ranger," "Bonanza," "Gunsmoke," "Maverick," "Blazing Saddles," "The Wild, Wild West" and "Kung Fu" — made it a natural fit as a site for "Star Trek," which Roddenberry originally pitched to NBC-TV execs as "'Wagon Train' to the stars."
One irony about Vasquez Rocks as a favorite location for westerns is that some 2,500 years ago, it was home to the Tataviam band of Shoshone Indians, who referred to themselves as "People Facing the Sun." (The last full-blooded Tataviam tribe member, Juan Jose Fustero, died in 1921, about the time the center of the film industry shifted from New York to Hollywood.)
In more recent times, Vasquez Rocks have served as the backdrop in episodes of "Buffy the Vampire Slayer," "Monk" and even "Mighty Morphin Power Rangers." In this year's Joel and Ethan Coen film "Hail, Caesar!," a western scene is shot at Vasquez Rocks as a nod to all the cowboy films shot there in the past.
And geek-centric "The Big Bang Theory" chose to film an episode there in homage to the location's previous use in "Star Trek."
Vasquez Rocks attract hikers and rock climbers, but also remain highly evocative to "Trek" fans who recall Kirk's life-and-death battle against the tacky but still menacing green dinosaur-like Gorn.
And it's less than an hour's drive from downtown L.A. by way of the Golden State and Antelope Valley freeways, barely .000000000002 of a parsec away.
REVIEW: See what critic Kenneth Turan thought of the most recent film from the franchise"Star Trek Beyond" »
randy.lewis@latimes.com
Follow @RandyLewis2 on Twitter.com
For Classic Rock coverage, join us on Facebook
ALSO
Read every single L.A. Times 'Star Trek' movie review from 1979 to 2016
'Star Trek' at 50: Pop music boldly goes to space
The Roddenberry vault opens for never-before-seen 'Star Trek: The Original Series' deleted scenes and outtakes
Program your transporter settings for these upcoming 'Trek'-related activities
Get our L.A. Goes Out newsletter, with the week's best events, to help you explore and experience our city.
You may occasionally receive promotional content from the Los Angeles Times.