13 Images
Faces to Watch in 2012: Pop Music, Classical and Jazz
2012 preview: The year in entertainment
Faces To Watch in 2012: TV, Film, Media and New Media
Faces to Watch in 2012: Dance, Theater, Architecture and Art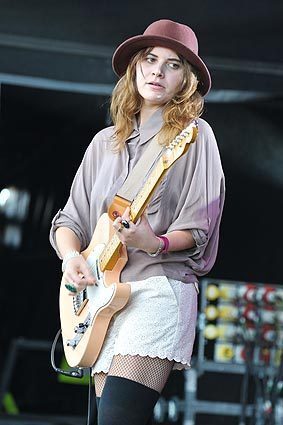 Best Coast
Retro-popsters
The last 18 months have a been a whirlwind for Bethany Cosentino and Bobb Bruno, who form the L.A. band Best Coast. They released their debut full length, "Crazy for You," on the humble Brooklyn label Mexican Summer in July 2010, and over the following months the record built up steam until it had become an underground touchstone, the kind that zipped from fan to fan without airplay or a viral video. Rather, "Crazy for You" earned its status through catchy,infectious melodies buried beneath layers of hiss and distortion that suggested the early work of the Jesus & Mary Chain but with classic, 1960's pop structures .
Best Coast has opted to follow up "Crazy for You" by enlisting longtime Angeleno musician-composer Jon Brion to produce. Brion, who's worked with Aimee Mann, Kanye West and Fiona Apple, is not known for tackling the brand of feedback-drenched pop music that Cosentino and Bruno have created in the past. So the potential for creative tension -- and expansion -- is high for the untitled follow-up, tentatively due in April.
-- Randall Roberts
(Andy Sheppard / Redferns)
Spoek Mathambo
Culture jammer
The sci-fi rap of Johannesburg's Spoek Mathambo (real name: Nthato Mokgata) will certainly humble anyone who might think they know all there is to know about African music . Mathambo's second album, "Father Creeper," is on indie label Sub Pop (Nirvana, Mudhoney). Due out in March, the CD represents world music at its most hungry, where sonic revolutions happen via digital warfare and tribal beats obscure genre lines with dance floor escapism and funky, lost-in-space rock 'n' roll.
There are times on "Father Creeper" where Mathambo sounds like Prince, but the mood can quickly turn more militant. The sound is that of a post-apocalyptic carnival, where booty calls, bullets, dashed dreams and poverty are the driving forces behind nearly every song. Mathambo makes it clear that even if no official wars are being waged, there are always battles to fight.
-- Todd Martens
(Nico Krijno / SubPop)
Sharon Van Etten
Singer-songwriter
Over two low-profile but highly regarded albums, Brooklyn singer Sharon Van Etten has built a small but sturdy body of work that's inspired a select songwriters to cover her songs, including Dave Alvin and the National. Her 2010 album, "Epic," also landed on a few best-of-the-year lists.
Last summer, Van Etten signed with the midsize indie label Jagjaguwar, the home of four-time Grammy nominee Justin Vernon and his band Bon Iver. Like Vernon, with whom she has duetted in the live setting, Van Etten has a voice with range and myriad emotional capacities; she can move from glee to glum in a single phrase-turn.
Her new album is called "Tramp." The record's dozen songs put her voice front and center with meandering musical subtext swirling around it. A slow-burning but ultimately incendiary record that, in the best of worlds would propel the singer to Bon Iverian levels of acclaim.
-- Randall Roberts
(Roger Kisby / Getty Images)
Kendrick Lamar
Homegrown rapper
One of the 2011's best surprises was Kendrick Lamar's "Section.80." The iTunes exclusive was a great, utterly unself-conscious rap record from South L.A. Ever since Dr. Dre began plugging away on his version of "Chinese Democracy," Lamar's been viewed as the West Coast's standard bearer with an eye on even bigger artistic goals.
Take "Keisha's Song (Her Pain)" off the album, where Lamar strikes up a deep friendship with a vulnerable woman over their shared crack-era childhoods. It sets the tone for an urgent, defiant and ambitious full-length that's sonically forward and emotionally bare.
Lamar raps on Dr. Dre's forthcoming album, "Detox," and the producer is reportedly working on Lamar's album "Good Kid in a Mad City." Unlike today's out-of-touch "luxury rap," Lamar's vision feels completely relevant for 2012 and beyond.
-- August Brown
(Joey Maloney / For The Times)
Simone Dinnerstein
Pianist
Simone Dinnerstein is a pianist from Brooklyn whose Bach recordings have been bestsellers and who will finally appear in these parts with an all-Bach recital at the Renée and Henry Segerstrom Concert Hall in Costa Mesa on June 18.
The 39-year-old has built her career unconventionally. She dropped out of Juilliard to bum around Europe. Settled back in Brooklyn with a young child, she became obsessed with Bach's "Goldberg" Variations. In 2007, she self-produced a recording of it with borrowed money, and, once it was picked up by a commercial label, Teldec, it became a sensation. Her playing is free and full of allure.
She now has a more conventional career, including a contract with Sony Classics, which is releasing a new Bach disc in January, and a busy concert life, but she can still sometimes be found haunting small out-of-the-way venues in which she began, and creating music programs for schoolchildren in Brooklyn.
-- Mark Swed
(Lisa-Marie Mazzucco)
Placido Domingo
Baritone
Placido Domingo's is the most familiar face in opera. At 70, the famed tenor has done it all -- sung more roles than any other singer, conducted regularly in opera houses and concert halls for the last three decades, run two opera houses (including Los Angeles Opera), all but invented modern crossover when he first sang with John Denver in 1981.
He began as a baritone, and now -- in part because as he ages his voice has naturally lowered but mainly because he still covets juicy new roles -- Domingo has gingerly returned to those roots with Verdi's "Simon Boccanegra."
He first sang it in Berlin in 2009 and after performing "Boccanegra" in a number of productions around the world, Domingo will finally sing Simone (the title character's original Italian name) for L.A. Opera.Seven performances, Feb. 11 through March 4, will take place at the Dorothy Chandler Pavilion.
-- Mark Swed
(Catherine Ashmore)
Mahler 8
Choristers
You want faces?
The biggest event of Gustavo Dudamel's "Mahler Project" will be a performance of the Eighth Symphony, known as "Symphony of a Thousand." at the Shrine Auditorium on Feb. 4. It will combine the Los Angeles Philharmonic, the Simon Bolivar Orchestra, eight vocal soloists and 800-plus singers from 16 local professional and amateur choruses. If there is a particular face you fancy, bring binoculars.
-- Mark Swed
(Lawrence K. Ho / Los Angeles Times)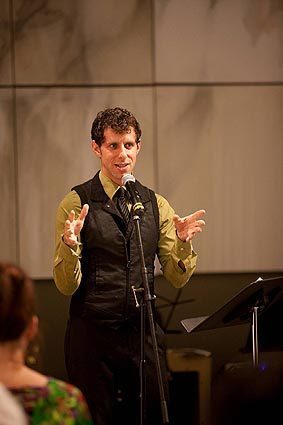 Yuval Sharon
Director
As project director of New York City Opera's VOX series, in which scenes from new and sometimes experimental operas receive workshop-style tryouts, the young director Yuval Sharon discovered plenty about the potential of new opera in America. As assistant director to German artist Achim Freyer on Los Angeles Opera's "Ring" cycle, Sharon discovered plenty about the L.A. opera and art scene, enough to persuade him to settle here.
As the excitingly quirky director of Veronika Krausas' "The Mortal Thoughts of Lady Macbeth," in a run-down old dance hall the summer of 2010, Sharon discovered that what this city needs is an experimental opera company that takes advantage of the wide range of local artists. He has now founded just such a company, the Industry, and he will direct its first production, "Crescent City," by California Institute of the Arts composer Anne LeBaron and poet Douglas Kearney, at Atwater Crossing on May 10, with performances running through the 27th.
Sharon will also direct the most curious iconic three-soprano cast maybe ever when he takes on excerpts from John Cage's theatrical "Song Books," with the San Francisco Symphony and Michael Tilson Thomas in March, with Meredith Monk, Joan LaBarbara and opera star Jessye Norman.
--Mark Swed
(Steve Gunther)
Neil Cowley Trio
Jazz-rock band
Who is the last British jazz artist who found a foothold in the United States? While pondering that trivia question (Jamie Cullum? Evan Parker?), it's worth seeking out the U.K.'s Neil Cowley Trio in 2012, a nimble piano-jazz outfit at the cusp of an international breakthrough on its upcoming album "The Face of Mount Molehill" (Naim).
In the past Cowley could be heard backing the Brand New Heavies and Zero 7, and he played on both of Adele's albums, but his own project at times recalls the eclectic musical explorations of the Bad Plus and the more rock-angled tilts of Brad Mehldau's trio.
Anchored by Cowley's restless and even anthemic piano melodies, the trio balances a propulsive rhythmic drive with a lush delicacy, augmented on the new album by subtle string flourishes.
-- Chris Barton
(Paul Greenleaf)
Robert Glasper
Pianist
Four albums into an already intriguing career that's marked him as one of the top if unjustly underrecognized pianists in jazz, this Houston-born artist isn't a particularly "new" face. But Glasper's latest recording for Blue Note Records takes all he's accomplished somewhere new, and it's undeniably fascinating.
Long straddling the worlds of acoustic jazz and hip-hop on recordings, particularly 2009's split recording "Double Booked," the upcoming "Black Radio" marks the first full-length album by the Robert Glasper Experiment, a group that lets the keyboardist's interest in hip-hop, soul and rock run wild with no regard for musical borders. A packed lineup of guest vocal turns by the likes of Erykah Badu, Mos Def and L.A.'s King might outrage purists looking for familiar swing and structure, but each successive listen reveals jazz firmly at his group's backbone with rich musical interplay and a fearless, uncompromising spirit.
-- Chris Barton
(Mike Schreiber / EMI Music)