11 Images
Chicano arts rebel anew
Juan Capistran's "Do You Want New Wave, or Do You Want the Truth?" is one of more than 120 works in an exhibition that, beginning with its title, wades into social and artistic debates. "
Phantom Sightings: Art After the Chicano Movement
" showcases the work of 31 artists who mostly came of age in the 1990s, following a generation that identified as Chicano. The earlier generation hammered on LACMA's doors, demanding to be equitably represented in the museum's presentations. Not all of the younger artists, however, identify the same way. Capistran says: "I personally have never called myself Chicano, which to me was like a dated term." The exhibit runs through Sept. 1.
(Axel Koester / For The Times)
Julio Cesar Morales stands among several of his "Undocumented Interventions" - watercolor illustrations that examine the resourcefulness of immigrants trying illegally to cross the border into the U.S. The "Phantom Sightings" exhibition, which runs April 6-Sept. 1, is the first major Chicano group exhibition at LACMA since 1987 and the first that the museum itself has initiated since 1975.
(Axel Koester / For The Times)
Adrian Esparza's "One and the Same" (2005) shares the colors of a serape. The "Phantom Sightings" exhibition emerged from LACMA's Latino Arts Initiative, launched in 2004 under former director Andrea Rich and designed as a collaboration between the museum and UCLA's Chicano Studies Research Center.
(© Adrian Esparza / LACMA)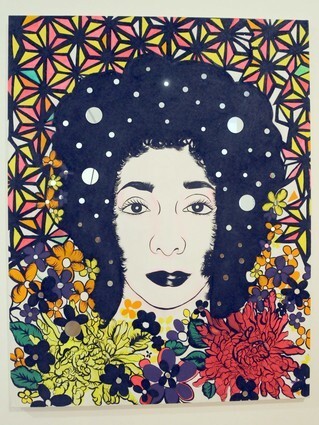 Carolyn Castaño's "Tropical Baby (Self-Portrait)" (2006) is one in a series of her works included in the LACMA show.
(Axel Koester / For The Times)
Juan Capistran is a DJ as well as an artist. His painting "White Minority" (2005), at the right of this installation view, simultaneously references and puns on black-colored paintings associated with Frank Stella as well as the insignia for the L.A. punk band Black Flag. Capistran's "Black on Black" (2005) is on the left.
(Axel Koester / For The Times)
LACMA conservator Soojung Yoo examines "Rigor Motors," by Ruben Ochoa and Marco Rios. The work slyly acknowledges the many hours that Southern Californians spend on the road. The coffins conform to our daily hourslong position at the wheel of a car.
(Axel Koester / For The Times)
Christina Fernandez focuses on a neighborhood staple for "Lavandería #4" (2002).
(© Christina Fernandez / LACMA)
In such photographs as "Bear Head and Arms Study I" (2004), Carlee Fernandez undergoes a conceptual transformation.
(© Carlee Fernandez / LACMA)
"The Breaks" (2000). Artist Juan Capistran, who is also a DJ, says he gravitated toward other cultures while growing up in South L.A.
(©Juan Capistran / LACMA)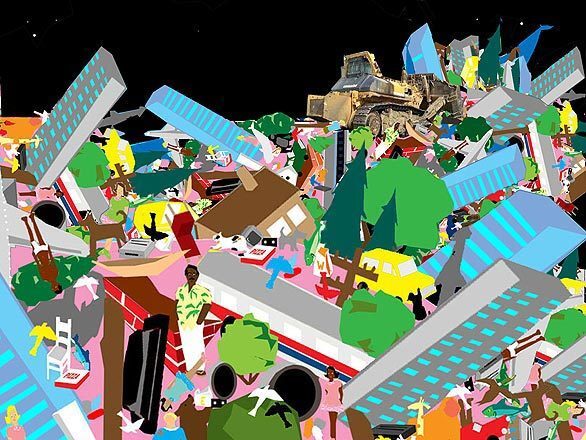 Jason Villegas' "Celestial Situations" (2006) combines video projection with a wall drawing.
(© Jason Villegas / LACMA)
Curators Howard Fox, left, Rita Gonzalez and Chon Noriega put together the exhibition. Victor Estrada's "Soy Natural" is in the background.
(Axel Koester / For The Times)