8 Images
Cowboy Presidents
Theodore Roosevelt, 1910, a year after he had left office. Since Roosevelt, presidents have associated themselves with the image of the cowboy to project a peculiarly American style of strength and independence. But over the years, "cowboy presidents" have been perceived as wearing black hats as well as white, as in the use of the perjorative label "cowboy diplomacy." An Autry Museum exhibit surveys the use of the cowboy image in photos, film, art and newspapers and showcases presidential saddles and other memorabilia.
(Library of Congress)
Cowboys don their hats as New York Gov. Franklin D. Roosevelt's Roosevelt Special stops for a short time on the campaign trail in Laramie, Wyo., on Sept. 18, 1932. FDR defeated incumbent Herbert Hoover less than two months later.
(Franklin D. Roosevelt Library)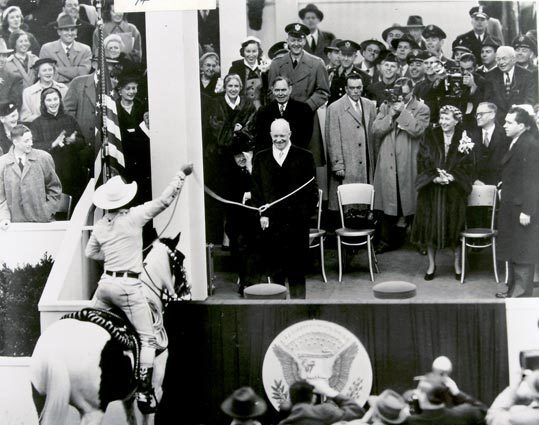 Cowboy Montie Montana ropes President Dwight D. Eisenhower during his first inaugural parade, Jan. 20, 1953. New Vice President Richard M. Nixon is in the foreground right, and Eisenhower's wife, Mamie, is left of Nixon.
(Museum of the American West)
Clayton Moore, as his character the Lone Ranger, meets with President Richard M. Nixon in 1969, the latter's first year in office. The Autry exhibit runs through Sept. 7 before traveling to Austin, Texas.
(Museum of American West)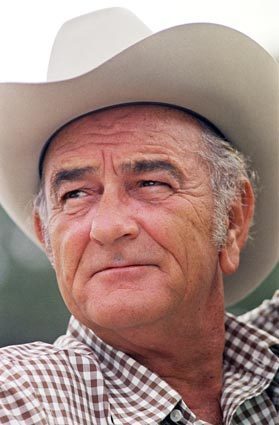 Former President Lyndon B. Johnson on Sept. 18, 1972, just four months before he died. During his presidency, Johnson was often photographed in his Stetson, and he frequently wore cowboy gear when he entertained foreign heads of state on his LBJ Ranch in Texas.
(Frank Wolfe / LBJ Library)
Ronald Reagan with his horse Little Man at Rancho Del Cielo in Santa Barbara in 1977, between his two terms as governor of California but before he was elected president in 1980. Reagan often cultivated the cowboy image on his ranch.
(Ronald Reagan Library)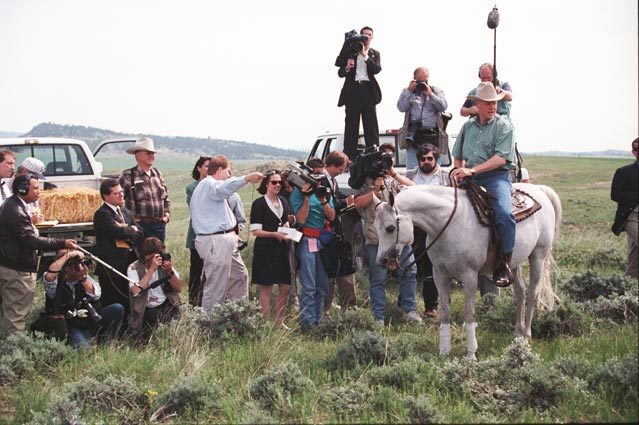 The news media interviews President Bill Clinton as he rides an Arabian horse named Phire Power at the Intermountain Equestrian Center in Billings, Mont., in 1995, during Clinton's first term. The exhibit includes drawings Clinton made as a child that were inspired by the western "High Noon."
(William J. Clinton Presidential Library)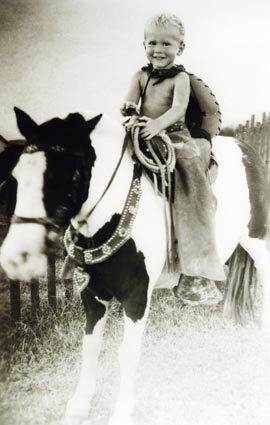 George W. Bush dons western wear as a boy in 1949 or '50. President Bush enjoys spending vacations at his ranch in Crawford, Texas.
(George Bush Presidential Library)