Much of Francis Alÿs' art is the result of paradox, indirection and purposeful wandering. A Belgian, he makes his home in Mexico City, where he often roams the streets, seeking the unpredictable, the dramatic. He is instigator and leading actor in his works, heading into the public to push a block of ice around, drizzle a trail of paint or lope about carrying a gun, all metaphors in meaning-laden scenarios. An exhibition of his work can be seen at the Hammer Museum.
(Jennifer Szymaszek / For The Times)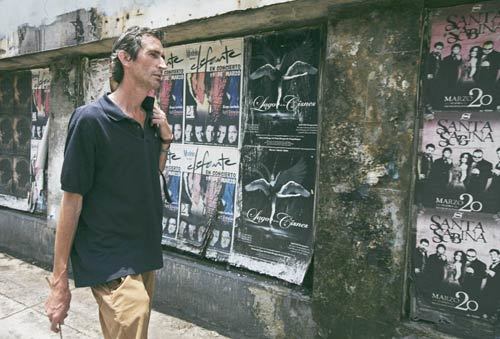 Alÿs walks along Avenida Insurgentes in Mexico City. If this were one of his conceptual artworks, he most likely would be trailed by a videographer intent on capturing his encounter with the world.
(Jennifer Szymaszek / For The Times)
One of Alÿs' riskier ventures involved roaming the streets of Mexico City while dangling a loaded 9-millimeter Beretta and just "waiting for something to happen," as he puts it. Eventually, he caught the notice of the Mexican constabulary. He re-created the event for "Re-enactments," a video made with Rafael Ortega.
(Courtesy of David Zwirner, New York)
The Mexican art critic and curator Cuauhtémoc Medina, who has collaborated with Alÿs, observes that some of the artist's more overtly political work tends to comment on Latin America's "general problem of the entropy of daily economic life, that is, the unimaginable effort we all make in getting nowhere." Few of Alÿs' projects have expressed this idea more succinctly than "Paradox of Praxis 1," in which Alÿs spent more than nine hours pushing a large, rectangular block of ice through the streets of Mexico City's historic center.
(Courtesy of David Zwirner, New York)
The ice, of course, gradually melted as Alÿs pushed it along. The work's secondary title, "Sometimes Making Something Leads to Nothing," is telling. The event lives on in the video recorded by Rafael Ortega.
(Courtesy of David Zwirner, New York)
By nightfall, the block of ice had been reduced to a dinky frozen chip, kicked along by the artist in his trademark Converse high-tops.
(Courtesy of David Zwirner, New York)
One of Alÿs' most publicized and representative projects took place five years ago in Peru, as part of the Lima Biennale. With Cuauhtémoc Medina and a small team of collaborators, the artist recruited 500 shovel-wielding volunteers to collectively attempt to shift the top of a sand dune by 4 inches. The resulting piece, "When Faith Moves Mountains," functioned as a subtle symbol of how ordinary Peruvians, their country divided by years of guerrilla-backed civil war and brutal government reprisals, could unite around a common purpose, however ultimately inconsequential.
(Courtesy of David Zwirner, New York)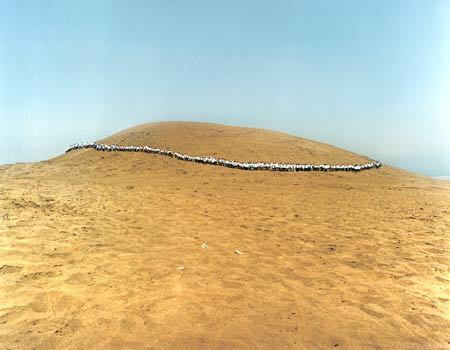 The shoveling volunteers advance up the sand dune, their efforts recorded as part of the video "When Faith Moves Mountains," created with Cuauhtémoc Medina and Rafael Ortega. The Hammer exhibition of Alÿs' work continues through Feb. 10, 2008.
(Courtesy of David Zwirner, New York)