9 Images
The Looking Glass Wars
Hollywood producer Frank Beddor took the showbiz road less traveled — writing books — when he set out to create "The Looking Glass Wars" trilogy, a fantasy-fiction franchise that builds on the work of Lewis Carroll. The series includes the initial volume, published in the U.K. in 2004 and two years later in the United States, where it became a bestseller. The series' second installment is called "Seeing Redd."
(Lawrence K. Ho / Los Angeles Times)
Alice, er, Alyss is heir to the Heart family throne in Beddor's trilogy, which sends the heroine fleeing Wonderland after a palace coup.
(Andrea Wicklund / Automatic Pictures Inc.)
An illustration, by Chris Appelhans, from Beddor's dark-side fantasy world depicts "Alyss on Her 7th Birthday."
(Chris Appelhans / Automatic Pictures Inc.)
"Warrior Alyss," by artist Vance Kovacs, reveals the princess in a vastly more empowered state.
(Vance Kovacs / Automatic Pictures Inc.)
"Card Soldier," by artist Stephen Martiniere, portrays an enemy who's more Darth Vader than Disney's leering-waltzing playing card villains.
(Stephen Martiniere / Automatic Pictures Inc.)
Even the avian life is fantastical, as seen in "Tuttle-bird" by Jennifer Bricking.
(Jennifer Bricking / Automatic Pictures Inc.)
Of course the plant life is otherworldly too. Consider a visit to "Valley of Mushrooms" by artist Brian Flora.
(Brian Flora / Automatic Pictures Inc.)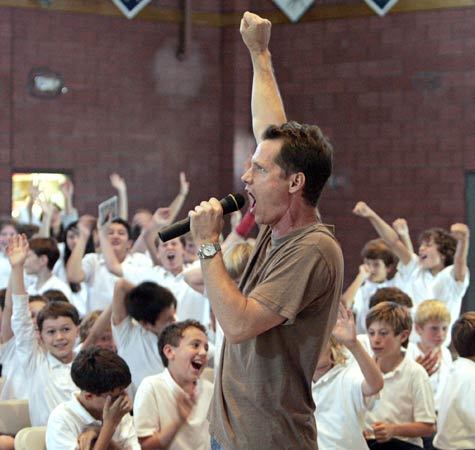 Frank Beddor says of "The Looking Glass Wars" trilogy: "I want to live in my world: I want my own private Wonderland. And I don't want to share it with anyone else." Though, of course, he does share it. The author has taken his fictional kingdom on the road, acting out his stories and creatively engaging students at schools abroad and here at home, including the Mayfield Junior School in Pasadena.
(Lawrence K. Ho / Los Angeles Times)