6 Images
The iPod Philharmonic
On stage at Walt Disney Concert Hall, the Los Angeles Philharmonic's younger players look and sound like their counterparts. At some level, though, they say, a hip-hop number recently listened to might subtly influence a player's understanding of rhythm, affecting the performance of a piece by Bach or Beethoven. During the applause, another might have an "American Idol" moment that the veteran player in the next chair over just wouldn't understand. Among the Phil's under-40 set are, from left, assistant principal cellist Ben Hong, second violinist Johnny Lee, cellist Jason Lippman, principal oboist Ariana Ghez and violist Dana Hansen. They're gathered here on one of Disney Hall's outdoor steps.
(Jay L. Clendenin/Los Angeles Times)
Ben Hong has earned some minor fame as the cellist who commutes by motorcycle — a limited-edition MV Agusta F4-1000. The 38-year-old has also had a brush with Hollywood. For the upcoming film "The Soloist," he coached star Jamie Foxx, and his playing will stand in for Foxx's on the soundtrack.
(Jay L. Clendenin/Los Angeles Times)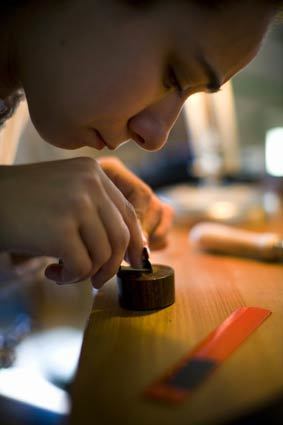 Twenty-eight-year-old Ariana Ghez is a yoga enthusiast who loves to talk politics and happens to receive a steady supply of hip-hop music — mix CDs sent by her boyfriend, who is also a principal oboist for a major orchestra. Devotion to her art includes cutting reeds for her oboe, which, in this photo, she does at home.
(Jay L. Clendenin/Los Angeles Times)
Had Jason Lippman not been quite so devoted to classical music, he might have ended up in a certain boy band. His brother Jonathan and best friend, Drew Lachey, started the singing group 98 Degrees. Among the 32-year-old cellist's chief pop-cultural pursuits is devotion to his Cincinnati hometown's Bengals, an enthusiasm he's passing along to son Jonah.
(Jay L. Clendenin/Los Angeles Times)
Second violinist Johnny Lee is "married to TiVo," or so he jokes, and has been swept up in the "American Idol" juggernaut. "One of the main joys of being a classical musician," says the 28-year-old, captured here beneath the downtown skyline, "is to bring joy to the audience. I know that sounds cheesy. But we perform four times a week. And while the cheers you hear here aren't the same, it's not that dissimilar to 'American Idol.' "
(Jay L. Clendenin/Los Angeles Times)
In her downtime, violist Dana Hansen loves to curl up with a good book and Tommy, shown here, or her unpictured cat, Sissy, for company. The 28-year-old Harvard and Juilliard grad also appreciates hip-hop by such artists as Jay-Z and 50 Cent. Listening to hip-hop, she says, has affected the way she approaches classical music. "It might be more subliminal than anything else, but to hear a rapper speaking in so many different ways, it makes you think about what music really is. I like the fact that you're talking about the same concepts in these two totally different kinds of music," she says. "It's not warring cultures. It's all connected."
(Jay L. Clendenin/Los Angeles Times)