Sheryl Underwood stood out because she rejected industry expectations. Now she's on 'The Talk.'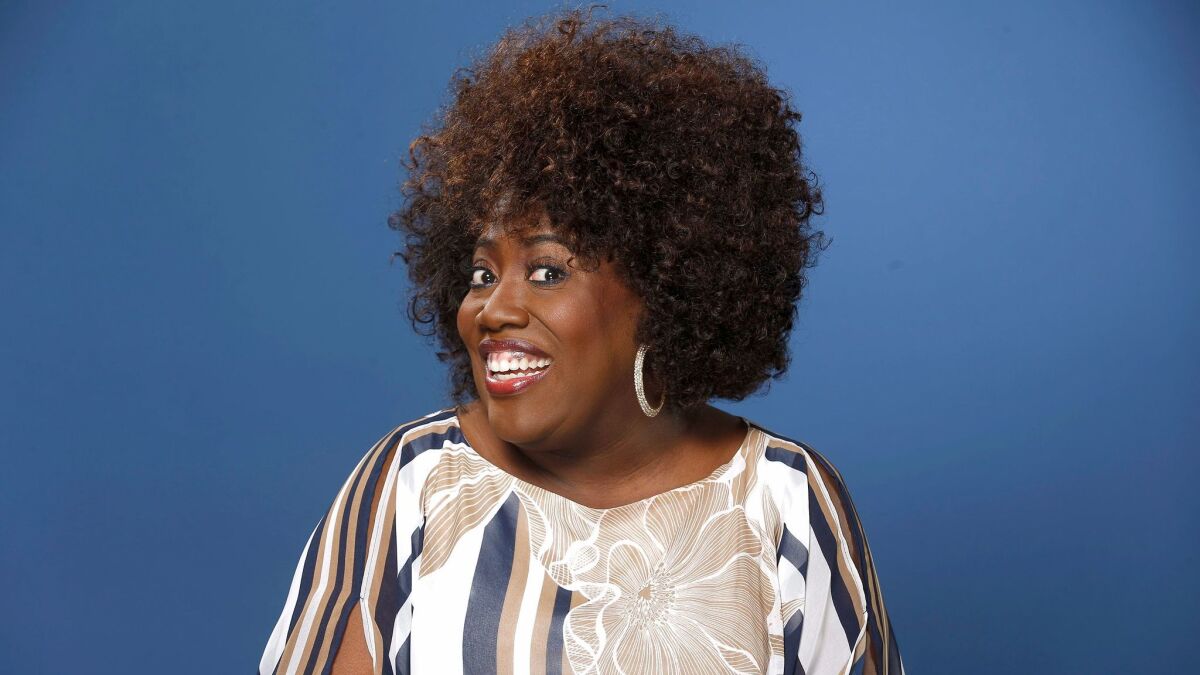 Sheryl Underwood does comedy her way. She's direct. She's sexual. She's uncompromising.
But that's exactly what landed her in one of the chairs of hit CBS daytime talk show "The Talk." As she tells it, such success would never have come her way if she didn't put God first — and develop a one-of-a-kind comedic style.
---
How did you get your start in comedy?
They used to have this thing called lingerie modeling in taverns on Stony Island Avenue in Chicago. What it really was was you put on the lingerie and model and the guys would buy the lingerie and you'd take it off. But I was so horrible at it that I would crack jokes and do silly things like Fred Sanford impersonations to make them laugh because I really wasn't a stripper. I was just trying to get my way through college. I'd have them laughing so hard, they'd tell me to put my clothes on still gave me $20.
Also, when I was in community college, I was in this "Funniest Woman in Fresno" contest.
Who are some of your comedic inspirations?
I wanted to be Milton Berle … and everybody in the Rat Pack. I wanted to be the guy with the tuxedo on with a cigarette with the drink in his hand just talking. When you're talking about total ability, [I looked at] Richard Pryor's ability to bare his soul to the audience even though his life was heartbreaking — he was like a street reporter. I didn't look at myself as a girl comic, although I knew I was a female.
When I was looking at women, I was looking at Marsha Warfield, Elayne Boosler, Whoopi Goldberg, Wendy Liebman and Carol Burnett and Cher's variety show.
Then when you saw what Eddie Murphy did, I wanted to have his sex appeal and swagger.
I see great evolution of diversity, and that doesn't just mean black — diversity in topics, diversity in thought. That's what makes comedy great.

— Sheryl Underwood
While you named a couple of black women in that list, it seems like it's difficult for black women to hit comedic superstar status.
When you look at the icons, there was a time when nobody could follow Whoopi Goldberg or Moms Mabley or Marsha Warfield or Shirley Hemphill, them old-time comics. But when we were coming up, in the "Def Comedy Jam" time frame — me, Sommore, Mo'Nique, Adele Givens, Melanie Comarcho — we did comedy like a man.
It's not difficult for the African American female, because you've got Loni Love, Sherri Shepherd, Whoopi Goldberg, Aisha Tyler and myself all on daytime talk shows. Here's where the difficulty is: I believe that sometimes women are not allowed the same opportunities, and I'm looking at the commerce where a woman will go see a male comic and women love a woman comic. But men don't like women comics because they don't want to hear 45 minutes of "[N-words] ain't [nothing]." The difference between me and most female comics is I speak from a male perspective because I saw the girls cornering the market of "my man…" or "I ain't got no man."
[We have to] get the industry to understand that a woman can hold an audience just like Kevin [Hart] or Katt [Williams] or Chris Tucker or Bernie Mac or Steve Harvey. That means you have to create your own vehicle.
The other thing is, while all comics lift from other comics, if you're doing jokes verbatim and you don't have your own voice, you're going to have an added dilemma because they're already looking at you as a woman. For me, how my career progressed was that if you're not going to hire me, I'm going to do comedy anywhere I can until everybody is talking about that girl Sheryl Underwood.
Has the industry changed since you first got in?
I see great evolution of diversity, and that doesn't just mean black — diversity in topics, diversity in thought. That's what makes comedy great. And black and brown [people] are coming together with what George Lopez is doing. Leslie Jones hosted the BET Awards — the fact that you can be damn near 50 and doors are opening for her.
In looking back, the doors were always open. I remember when they had black comics in the '90s on every network and you had the WB with folks from "Def Comedy Jam" and BET's "ComicView." I wish that we could extend it to all comics of color.
But now, we have to develop into showrunners, writers and executive producers so that we can be network approved. My dream is to make the black "Golden Girls," younger and hipper. I have scripts written and ideas and concepts for us to have our buddy film with all comics.
Any words of advice for black women coming behind you?
Put God first, or believe in something that gives you the humanity to be good, and those doors will open.
Have your own voice and your [act] has to be beyond a man. You have to work harder. It ain't because of how you look or how much you weigh. You must work harder than a man and carry yourself in a way like, "You will respect me as a comic. I'm not coming in here to nag or fight. But what I will let you know is I am just as good as he is. You will pay me and you will respect me."
But there's a diplomacy in all of that. I was the person that walked into any situation and if other people weren't getting paid and you paid me my money — ain't gonna be no show if everybody doesn't get paid. I was on that: "I'm going to blow this place apart if you don't pay all these people their money." [laughs] I was willing, if the promoter was single, to negotiate with him in a way he could understand my appreciation. I've had many a cocktail to discuss why they're going to pay everybody their money. [laughs]
If you can say anything on how black women can advance themselves in comedy, they must look at this as a journey. The destination is different for everybody, but it's a journey. Stand your ground, but don't be difficult, and use your platform to make the world a better place.
Get your life! Follow me on Twitter (@TrevellAnderson) or email me: trevell.anderson@latimes.com.
Get our L.A. Goes Out newsletter, with the week's best events, to help you explore and experience our city.
You may occasionally receive promotional content from the Los Angeles Times.