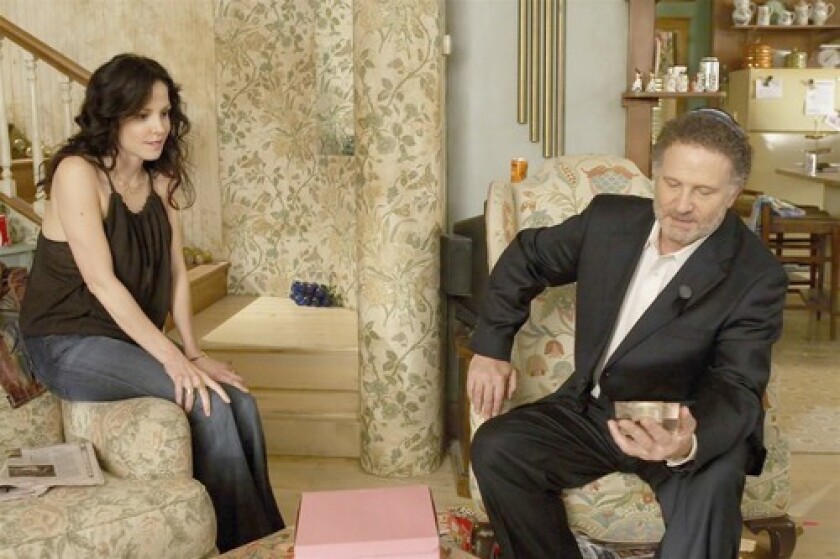 Los Angeles Times Staff Writer
AFTER more than 30 years, actor, filmmaker and writer Albert Brooks is returning to the small screen.
When Showtime's "Weeds" premieres its fourth season on June 16, Brooks will play acerbic gambler Len Botwin, the father-in-law of pot-selling mom Nancy Botwin (Mary-Louise Parker). "As an actor, I wanted to do it. It's not a character I've played before," said Brooks, 60, whose résumé -- including multiple directing and producing roles -- is filled with neurotic and self-obsessed white-collar professionals in movies such as "Modern Romance" (1981), "Lost in America" (1985), "Broadcast News" (1987), "Defending Your Life" (1991) and "Mother" (1996). In his most recent directorial effort, "Looking for Comedy in the Muslim World" ] (2006), he played a character named Albert Brooks.
"Weeds" also appealed, he said, because "I liked the writing, and I'm crazy about the actors."
Brooks was the first choice for the special guest-star part, said creator Jenji Kohan, who was hoping he'd stay through the season. But Brooks opted for only four episodes.
He said, "They were very nice: 'Gee, if you wanted, you could be in all of them.' I didn't want to go nothing or all of them. I said, 'What's a number that would accomplish what you need?' They said four was the least. . . ."
Kohan said that after the second day of shooting scenes, however, she began nagging him to change his mind. "He delivered in such a huge, complicated way," she said. "He's funny and dramatic and real."
In the show, Nancy turned to drug dealing to support herself and her two sons after her husband, Judah (Len's son), died. When her home in an affluent suburb is destroyed in a fire, she takes the boys and her brother-in-law Andy, also Len's son, to live with Len in a beach town near the Mexican border.
"He's definitely smart, but he's never held down a smart job," Brooks said of his character. "He's been a gambler his whole life, at the race track, poker tournaments," he said in his considered comedian's cadence. "He is not happy to see anybody."
Last year, the show's guest stars included Mary-Kate Olsen. This year, Lee Majors will appear.
Brooks, according to Parker, was so warm and funny in the role ("not funny in a transparent way") that she said "I can't imagine anyone else doing it now."
In the 1970s, Brooks appeared on shows such as "The New Dick Van Dyke Show" and "Love, American Style" and he has done voice-over work for "The Simpsons" and for the film "Finding Nemo." But most of his work has been in offbeat indies.
Making movies with an artistic vision is always a battle, he said, citing the problems -- studio dropping out, cool reviews, small audiences -- that came with making a movie with "Muslim" and "Comedy" in the title.
But movies for adults are becoming rare, he said. "Two things drive down the mentality of movies," he said. Studios are "worried about 15-year-olds and worried about people who live in Romania. When movies must contain ingredients that play to both those groups, subtlety goes out the window. HBO and Showtime are still places that don't have to be panicked about that," he said.
"The truth is, shows like this ['Weeds'] are like little independent movies," he said. "They're not broken up by commercials. You can say what you want to say dialogue-wise. You can tell the story you want to tell."
Now that his four episodes have wrapped, Brooks said, he's busy writing films and looking for parts in movies that he can dig his teeth into. Kohan promised she would keep nagging him to return to the show.
Brooks said he might consider it if his guest appearance makes him so famous that he can't get through crowds swamping him on the street. "Then," he said, "I might do 'The Tudors' also."
---