Helen Hunt calls the shots in 'Then She Found Me'
THERE'S MORE TO THE STORY:
Colin Firth
's character raises the specter of romance as a love interest Hunt introduced to her on-screen adaptation.
(THINKFilm)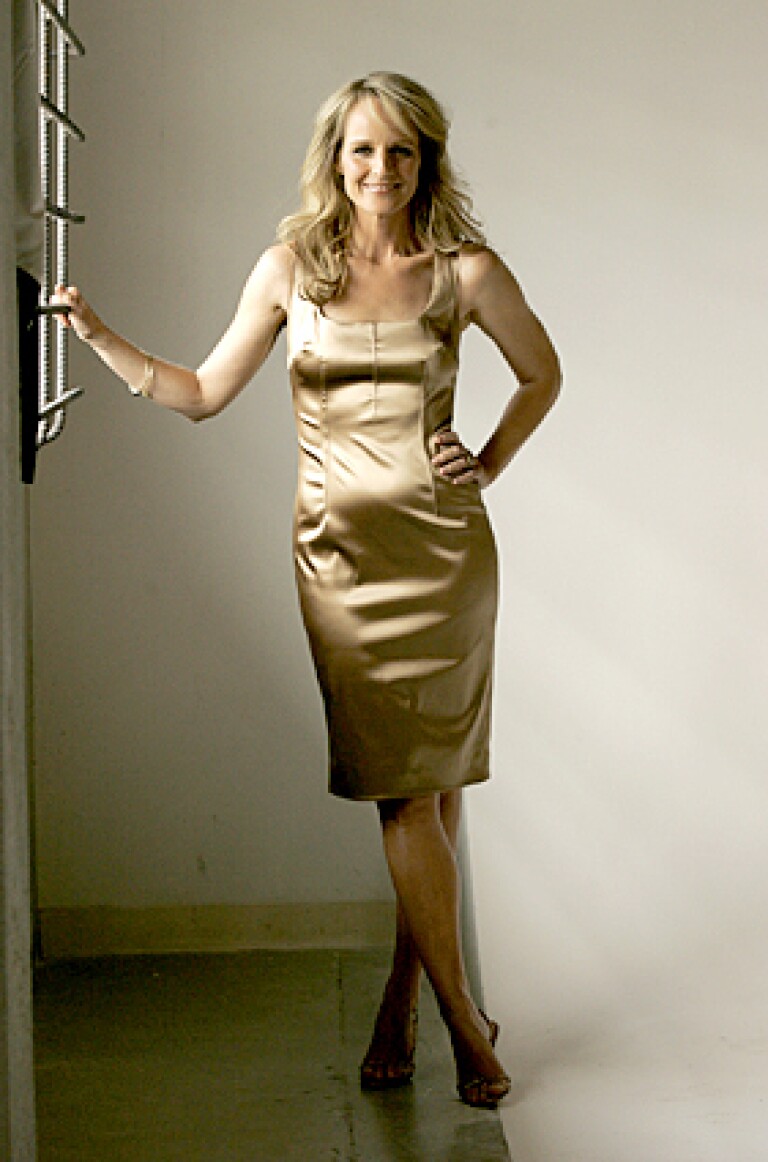 FAMILIAR FEELING:
The film, Hunt says, with its theme of betrayal, "is not autobiographical on the surface, but it's totally autobiographical underneath."
(Gary Friedman / Los Angeles Times)
Special to The Times
HELEN HUNT didn't know what to expect when she got to the Toronto Film Festival last September. There with "Then She Found Me," her feature directing, co-writing and producing debut -- she also stars, but she's done that before -- she learned that it was screening at a 2,000-seat theater. So far, so good. Until the film started, out of focus.
"Not like filmmaker-picky out of focus," she emphasizes over breakfast recently. "Out of focus like the audience applauded after I ran into the projection booth. The first 10 minutes of the movie are challenging anyway -- very still, very strange, very naked, so imagine it out of focus -- and the volume was too low. It was a nightmare."
Just at that moment in the recollection, Hunt looks out the window of the Brentwood cafe to see her boyfriend, Matthew Carnahan, drive by, surfboard on the roof rack. "That's my surfboard," she notes. Perhaps inspired by the sight, she returns to the theater in Toronto with an ocean metaphor. "There was this little wave of something," she says of the screening; people were laughing, and crying, but more than that, they got it. "Two thousand people stood up through both entire songs of the closing credits, and I sat there [thinking] this is so unlike what the previous 10 years have been."
A decade ago, Helen Hunt was simply a famous actress. She had directed a few episodes of her sitcom, "Mad About You," but was known for her work in front of cameras. She was the second actress to win an Emmy (for "Mad"), Oscar and Golden Globe (both for "As Good as It Gets") in the same year. When she read Elinor Lipman's novel "Then She Found Me," she wanted nothing more than to act in it. But after an initial, faithful adaptation by Alice Arlen couldn't find a studio berth, Hunt decided to try her hand at a draft with writing partner Victor Levin. Still no luck.
In the meantime, her life went through some major changes. Her marriage to longtime boyfriend Hank Azaria ended after a year. She and Carnahan (another multi-hyphenate and executive producer of the FX show "Dirt") began dating in 2001; their daughter was born in 2004. The acting roles were fewer, and their appeal not as great as staying home with her family. Turning again to the script, she decided to attack it on her own.
The film, which opens in L.A. and New York on Friday, tells the story of April Epner, a woman with a strong desire for a baby, whose husband (Matthew Broderick) decides he made a mistake in marrying her. In short order, her adoptive mother dies, her biological mother (Bette Midler) seeks her out, and a potential romantic partner appears, in the form of a character played by Colin Firth. Of that catalog of plot points, only the mother-daughter story was in the original book. Hunt added the baby wish to give the April character something she wanted desperately and because it fit with the other motherly aspects of the story.
"And then there's that one sentence that in my opinion good movies have, the theme, and it became clear to me that betrayal was a pretty juicy topic -- unavoidable, treacherous," she says. "So the movie looks like it's about adoption, or about failed and re-found romance, but for me it's about betrayal: You can't really love until you've made peace with betrayal."
Once she had that defining sentence, she created the two men in April's life, then set about to make sure just about everyone betrays one another. Of the messiness of love portrayed in the film, Hunt deadpans, "I have no experience with that. I don't know what that's like. I hired people to research it for me." She then points out that she doesn't know any version of love that isn't messy. "The movie is not autobiographical on the surface, but it's totally autobiographical underneath. It is nakedly, utterly, a very deep part of me, the whole thing, in every character." Not unlike "As Good as It Gets" and other works by James L. Brooks, the film is a comedy with some seriously unsettling elements.
Starring, with reservations
AFTER finishing her version, Hunt realized that she was going to have to be the person to bring that story to the screen. But she had no intention of acting in it. "I always thought that was a mistake that you shouldn't make," she explains, "be smart enough not to act in the first thing you direct."
After years of trying to set up the film everywhere, she finally got lucky with the New-York based production company Killer Films, which gave her enough money to make a low-budget indie film with a 27-day shooting schedule. "I started to realize that logistically I wasn't going to pull it off without being in it, because I knew there'd be no movie without rehearsal, and I really didn't think I could ask two actors that weren't getting paid any money to be free at the same time," she says. "But I could say to each of them, 'Tell me what time, I'll be there.' " She was also swayed by good advice from Warren Beatty: " 'If you're in it, there will be one person in every scene who sees the movie the way you do,' " Hunt recounts. And while Beatty is one of many male stars who've added writing and directing to their résumés, it is much less common for a female star to follow the same path.
She attributes her directing aptitude to a lifetime of sitting on movie sets; she has been acting professionally since age 9. "There's a way to talk to an actor so that they can do what you're asking, and there's a way to talk to them that makes them just freeze, get confused and self-conscious," she says. "And I've been on the receiving end of both, so I try to do the good version."
Hunt the writer-director made sure that Hunt the actress left vanity at home. Her character, April, an elementary school teacher, wears Birkenstocks and no makeup and looks like a real person rather than a Hollywood take on a real person. Early in the process, one studio had asked where the makeover scene was. "I knew if I ever put it in there, I would have officially lost my way," she says. Laughing, she then recalls hearing an audible gasp at one of the screenings in response to her appearance.
No vanity is on display at breakfast either. Free of makeup, Hunt, 44, wears a black cardigan, pants and flip-flops, the get-up of a woman about to pick her kid up from preschool. "As of this interview, I have not done any of the things that I'm supposed to be doing as an actress" in terms of facial manipulation, she acknowledges. "Maybe by the time the movie comes out I'll look like a surprised 20-year-old, but so far I have not done it. I don't know if I should, actually."
One hopes not. Hunt is now writing an original story that she plans to direct and star in as well. It's about motherhood also, but this time the child is a 17-year-old boy. It just wouldn't do to have a surprised 20-year-old as a mother.
---
The complete guide to home viewing
Get Screen Gab for weekly recommendations, analysis, interviews and irreverent discussion of the TV and streaming movies everyone's talking about.
You may occasionally receive promotional content from the Los Angeles Times.