11 Images
Famed sports photographer turns lens on himself
Neil Leifer holds a Yashica Mat camera that his brother gave him for what Neil thinks was his 60th birthday at his apartment/office space in New York on Dec. 4. He shot a photo of Alan Ameche scoring the winning touchdown in what has often been referred to as "the greatest game ever played" with almost the same camera. It was the sudden-death game between the Baltimore Colts and the New York Giants, which took place on his 16th birthday, Dec. 28, 1958. He later sold the camera, but he said he wishes he still had it.
(Liz O. Baylen / Los Angeles Times)
Muhammad Ali hovers over Sonny Liston in their heavyweight-championship rematch in Lewiston, Maine, on May 25, 1965.
(©Neil Leifer)
Muhammad Ali versus Cleveland Williams at the Houston Astrodome, Nov. 14, 1966. This photo was taken using a high remote-controlled camera.
(©Neil Leifer)
Willie Davis of the Los Angeles Dodgers slides into second base against the Philadelphia Phillies in April 1965.
(©Neil Leifer)
Dodgers pitcher Don Drysdale is flanked by Jim Gilliam, left, and John Roseboro after Game 3 of the 1963 World Series. Drysdale had just shut out the New York Yankees, giving his team a 3-0 lead in the Series.
(©Neil Leifer)
President John F. Kennedy, center, and Vice President Lyndon B. Johnson (in white coat next to Kennedy) attend opening day for the expansion Washington Senators at Griffith Stadium, April 10, 1961.
(©Neil Leifer)
San Francisco Giants pitcher Juan Marichal, center with bat, hits Dodgers catcher John Roseboro in Candlestick Park on Aug. 22, 1965. Dodgers pitcher Sandy Koufax is at left.
(©Neil Leifer)
Alan Ameche scores the winning touchdown for the Baltimore Colts against the New York Giants in the NFL Championship Game Dec. 28, 1958.
(©Neil Leifer)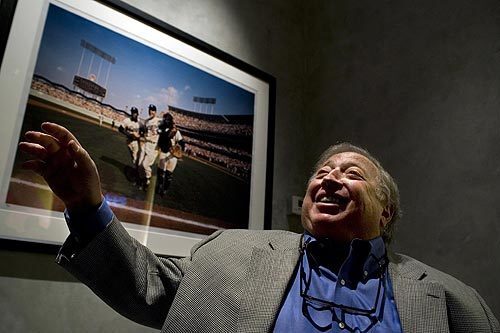 The "Don Drysdale; World Series Game 3, Dodger Stadium, Los Angeles" print hangs above the area where Neil Leifer signs his new book, "Ballet in the Dirt: The Golden Age of Baseball," at the TASCHEN Store New York on Dec. 3.
(Liz O. Baylen / Los Angeles Times)
The Painting Group during filming for "Portraits of a Lady," a short documentary by Neil Leifer about former Supreme Court Justice Sandra Day O'Connor, sitting at center at the Painting Group Studio in SoHo, NY, on Oct. 10, 2006.
(© David Hume Kennerly)
Neil Leifer, former Justice Sandra Day O'Connor and "Portraits of a Lady" producer Walter Bernard at the opening of the exhibition in the National Portrait Gallery on March 27, 2007.
(© David Hume Kennerly)