15 Images
Dysfunctional uncles in cinema
By Los Angeles Times Staff Writers
What is it with uncles and sketchy vans? Not to mention bad mustaches, questionable careers and lousy wardrobe choices?
Sure, some uncles are as reliable as a sunrise.
But in the movies, more often than not, they're the creepy family freeloaders, ill-equipped for life. Not only is mom or dad's brother
not
the go-to guy, the resident uncle is usually best avoided, particularly by impressionable little ones.
The latest expert turn in the cinematic canon of bad uncles belongs to Thomas Haden Church left, who costars as
Dennis Quaid
's underachieving bro and Ellen Page's uncle in "Smart People" (opening Friday). The torpid "Wings" star not only joins a long line of uncle ne'er-do-wells, he practically makes all those other actors who have gone before him cry... "Uncle."
There, we said it.
(Photo by Bruce Birmelin, Miramax Films)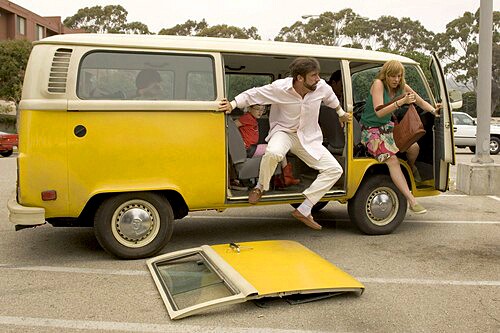 "Little Miss Sunshine"
(2006)
Uncle:
Frank Ginsberg (Steve Carell)
'Uncle Fester' factor:
Uncle Frank isn't so much embarrassing as he is pitiful. When the Proust scholar's failed suicide lands him back at his sister's (Toni Collette) house, he bunks with his teenage nephew, who resents being put on suicide watch. Okay, it is pretty embarrassing when Uncle Frank runs into his former lover at a gas station while trying to buy porn magazines for his father.
Uncle duds:
Uncle Frank goes "campus casual" in a white or light-pink button-down shirt, sand-colored khakis, brown lace-up Wallabees and a full beard with dark, depressive circles under the eyes.
Say uncle:
"If you sleep until you're 18 ... Think of the suffering you're gonna miss. I mean high school? High school -- those are your prime suffering years. You don't get better suffering than that."
—S.C.
(Eric Lee / Fox Searchlight Pictures)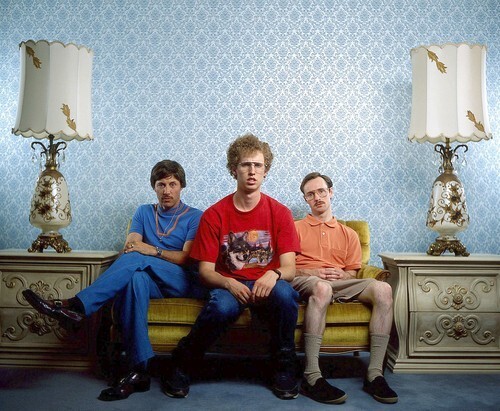 "Napoleon Dynamite"
(2004)
Uncle
: Uncle Rico (John Gries)
(pictured at left)
'Uncle Fester' factor
: As if living out of a sketchy 1975 Dodge Van weren't embarrassing enough, Uncle Rico is a steak-eating, freeloading former jock who rolls in a bad hairpiece and caterpillar 'stache. Worst of all? He's always trying to make Napoleon look like an idiot. Jerk.
Uncle duds
: Uncle Rico screams adult-sized Garanimals. Think matching stone-washed denim flared jeans and vest topped off with a sweatband around the forehead. (That's what's holding down his man-wig.)
Say uncle
: "Napoleon, you know we can't afford the fun pack. What, do you think money grows on trees in this family?"
—S.C.
(Aaron Ruell / Fox Searchlight Pictures.)
"National Lampoon's Vacation"
(1983)
Uncle
: Cousin Eddie, but he's like an uncle (
Randy Quaid
)
'Uncle Fester' factor
: Sloppy guy who drinks an awful lot. His influence on his kids is evident as his son has many porn magazines and his daughter has a box full of marijuana.
Uncle duds
: T-shirts and shorts. Dirty T-shirts and shorts. And plaid stuff.
Say uncle
: "I got laid off when they closed that asbestos factory, and wouldn't you know it, the Army cuts my disability pension because they said that the plate in my head wasn't big enough."
—J.P.
(Chris Haston / NBC)
"The Lion King"
(1994)
Uncle:
Scar from "The Lion King" (voiced by
Jeremy Irons
)
'Uncle Fester' factor:
A unctuous breed of lion, he kills his brother, then tricks his nephew into believing that it was his fault.
Uncle duds:
Ummm ... he's a lion with a splendid mane. If he was human, I could see him being a skinny guy wearing plaid pants and shiny shoes with a tie on, suspenders and a white hat with a black band around it. Not that I've thought about it much.
Say uncle:
(To his brother Mufasa) "Well, as far as brains go, I got the lion's share. But when it comes to brute strength ... I'm afraid I'm at the shallow end of the gene pool. "
—J.P.
(Walt Disney Co.)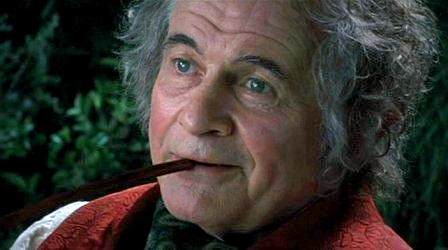 "Lord of the Rings"
(2001-2003)
Uncle:
Bilbo Baggins (Ian Holm)
'Uncle Fester' factor:
Though heroic, Baggins is lured more and more by the power of the One Ring. Baggins can turn beastly when tempted.
Uncle duds:
Traditional hobbit garb or short pants, shirt and suspenders, though occasionally wears an Elvish cloak or a chain-mail shirt made of Mithril.
Say uncle:
"I don't know half of you half as well as I should like; and I like less than half of you half as well as you deserve. "
—J.P.
(tolkien-online.com)
"Uncle Buck"
(1989)
Uncle:
Buck Russell (
John Candy
)
'Uncle Fester' factor:
He's the "black sheep" of the family, the slobby one who didn't get a job, didn't get a wife and never learned to stop himself from making inappropriate comments. Sure, he has a heart of gold, but his niece and nephew have to get beyond the bad personal hygiene and the rotund figure to find that out.
Uncle duds:
Nubby plaid woolen overcoat, thin scarf and, almost always, a hat.
Say uncle:
"I won't let him get into that Satan stuff or nude chicks; I'll leave that for me."
—J.P.
(Universal Pictures)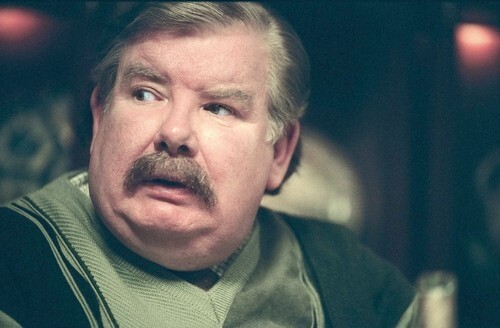 "Harry Potter"
(2001 - 2007)
Uncle:
Vernon Dursley (Richard Griffiths)
'Uncle Fester' factor:
The most bumbling and red-faced member of a bumbling and red-faced muggle society, Uncle Vernon Dursley loathes his nephew Harry so much that he has kept him in a closet under the stairs for most of our scarred (with a lightning bolt) hero's life. He fails to tell his nephew that the wizard world threatens him, depriving young Harry of information about his parents' magical origins.
Uncle duds:
The overweight Dursley wears homely sweaters, ill-fitting pants, an awkwardly side-parted haircut and most notably a thick mustache that dances when he talks.
Say Uncle:
"I'm not having one in the house, Petunia! Didn't we swear when we took him in we'd stamp out that dangerous nonsense?"
—D.N.
(Warner Bros. Pictures)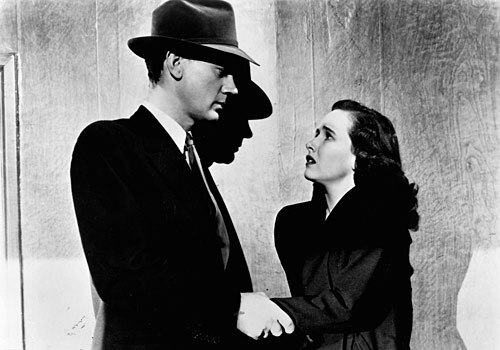 "Shadow of a Doubt"
(1943)
Uncle:
Charlie (Joseph Cotton)
'Uncle Fester' factor:
The cops like to call Uncle Charlie the "Merry Widow Murderer." Detectives trail him to his sister's house, where his niece begins to suspect there may be murder behind his charming demeanor.
Uncle duds:
This is one dapper man, dressed in crisp three-piece suits with a close shave and hat in hand.
Say uncle:
"The cities are full of women, middle-aged widows, husbands, dead, husbands who've spent their lives making fortunes, working and working. And then they die and leave their money to their wives, their silly wives. And what do the wives do, these useless women? You see them … drinking the money, eating the money, losing the money at bridge, … horrible, faded, fat, greedy women ... Are they human or are they fat, wheezing animals, hmm? And what happens to animals when they get too fat and too old?"
—R.S.
(Universal Pictures)
"The Addams Family"
(1991)
Uncle:
Uncle Fester (Christopher Lloyd)
'Uncle Fester' factor:
The short, hunched, hairless, grunting brother of Gomez Addams, Uncle Fester has the ability to conduct electricity through his body (put a light bulb in his mouth and it will light up). He's also spent the last 25 years suffering from amnesia after an accident in the Bermuda Triangle.
Uncle duds:
A long black cloak. Always. (Goes well with the sunken eyes and pale complexion).
Say uncle:
"Look! A new chapter … scabs!"
—D.N.
(Melinda Sue Gordon / Paramount Pictures Corp.)
"Smart People"
(2008)
Uncle:
Chuck Wetherhold (Thomas Haden Church)
'Uncle Fester' factor:
Uncle Chuck has no home, no ride and no lady love. He supports himself by stapling flyers to telephone polls. But his seedy uncle act takes a turn for the worse when Uncle Chuck gets his Young Republican niece (Ellen Page) stoned and drunk for the first time. It doesn't get much better when he moves into his nephew's college dorm room.
Uncle duds:
While camping out in his brother's attic, Uncle Chuck stumbles on his dead sister-in-law's college sweatshirt. Needless to say, her surviving husband (
Dennis Quaid
) and daughter (Page) are pretty skeeved out to see Uncle Chuck loafing around in Wellesley College sweats. Not only is he spilling food on a sacred memory, but Wellesley is, after all, the same women's liberal arts college that
Hillary Clinton
attended.
Say uncle:
[Inviting
Sarah Jessica Parker
in for
Christmas
dinner with the family.] "Welcome. We could use a little anti-venom in the snake pit."
— S.C.
(Miramax)