12 Images
Magazine covers that shook the world
Rolling Stone: 'True Blood' stars' bloody Ménage à trois
It really isn't much of a stretch when you think about it.
Alexander Skarsgard
,
Anna Paquin
and Stephen Moyer often drop trou on "True Blood,"
HBO
's Sunday night sizzler involving sexy vampires and the people who love them. So why not show them in character on Rolling Stone? Well, unlike a cable box, this one's parental controls might be harder to manage.
Issue date: Sept. 2, 2010
(Rolling Stone)
Rolling Stone: Lady Gaga locks and loads
What better way to follow up your last Rolling Stone cover, which had you surrounded by
strategically placed bubbles
? Well, if you're
Lady Gaga,
you grab a thong and the machine-gun bra from your "Alejandro" video and take aim at a military theme and tell the magazine, "When I wake up in the morning, I feel just like any other insecure 24-year-old girl ... then I say, [bleep], you're Lady Gaga, you get up and walk the walk today." We're sure this photo shoot had absolutely nothing to do with the hot-buttoned
profile of Gen. Stanley A. McChrystal
that eventually led to the military leader's resignation.
Issue date: June 25, 2010
(Rolling Stone)
New Yorker: Barack and Michelle Obama as radicals
Release a magazine cover with a presumptive Democratic presidential nominee in Muslim garb, and adorn his wife in militant underground attire and armed with an AK-47, and there's sure to be a seismic reaction. And did we mention the burning U.S. flag? When the then-presidential hopeful happens to be
Barack Obama
, drawn here on the cover of The New Yorker in the midst of a so-called "terrorist fist jab" with his wife
Michelle
, attempts at fun-natured satire are sure to be lost on the involved parties.
Issue date: July 21, 2008
(New Yorker)
Rolling Stone: John Lennon and Yoko Ono's nude embrace
Photographer
Annie Leibovitz
has said the original concept for the now legendary
John Lennon
and
Yoko Ono
Rolling Stone
cover was for both to appear nude, designed to mark the release of their album "Double Fantasy." As legend has it, Lennon was game, shedding his clothes quickly, but Ono felt uncomfortable. Leibovitz recalled for Rolling Stone: "I was kinda disappointed, and I said, 'Just leave everything on.' We took one Polaroid, and the three of us knew it was profound right away." That same night, Dec. 8, 1980, he was shot and killed by a fan in front of his
Manhattan
apartment.
Issue date: Jan. 22, 1981
(Annie Leibovitz / Rolling Stone)
Time: O.J. Simpson, digitally enhanced
Shortly after the arrest of
O.J. Simpson
in 1994, Newsweek and Time ran photos of his original police mug shot. The one on the cover of Time, however, was altered to look a bit darker than the original police photograph. Newsweek ran the shot untouched. Heated discussions about race in America quickly followed.
Issue date: June 27, 1994
(Time)
Vogue: Gisele Bündchen and LeBron James
Famed photographer
Annie Leibovitz
again incited hysterical reactions when she photographed
Gisele Bündchen
and LeBron James for the April 2008 cover of Vogue. The issue marked the first time a black man had graced the cover of the magazine. But the stark juxtaposition of the two caused a stir, with one critic on ESPN.com concluding, "Vogue's quest to highlight the differences between superstar athletes and supermodels only successfully reinforces the animalistic stereotypes frequently associated with black athletes."
Issue date: April 2008
(Annie Leibovitz / Vogue)
Time: Bill Clinton, with horns
It's an honor to be named
Time
's Man of the Year, no doubt. But what, per chance, was Time trying to tell us by framing
President Clinton
in front of the letter 'M'? Are those devil horns, or just the tips of an ordinary, harmless and completely innocent consonant? The picture at the left isn't the
offending photo
, but the effect is the same.
Issue date: Jan. 4, 1993 (not pictured)
Issue pictured: March 2, 1998
(Time magazine)
Rolling Stone: The Passion of Kanye West
Never one to shy away from an attention-grabbing gambit, superstar rapper
Kanye West
graced the cover of Rolling Stone just weeks before the
Grammy Awards
, complete with a crown of thorns and bloody, Christ-like wounds. Even for a man who comes blessed with one large egosaurus, was comparing himself to Jesus too much? Conservative and Christian groups thought so, but when all was said and done, the world was ready to forgive and forget when West unveiled a new album and some nifty glow-in-the-dark tour effects.
Issue date: February 2006
(Rolling Stone)
Time: Magazine asks 'Is God Dead?'
When
Time
posed the question on its cover in 1966, it was the first time the magazine had ever used just type on its cover without an associated photo. The story, which concluded that religion was dead, included the opinions of Christian theologians including Gabriel Vahanian, whose book "The Death of God" helped spark the radical movement. It received heavy backlash from readers and Vahanian's movement slowly faded away.
Issue date: April 8, 1966
(Time.com)
Entertainment Weekly: Dixie Chicks get inked up with neoconservative slogans
When
Dixie Chicks
lead singer Natalie Maines told a concert crowd in 2003 that she was "ashamed the president of the United States is from Texas," the comment cost the group half of their concert audience attendance in the United States. "At that moment, on the eve of war, I had a lot of questions that I felt were unanswered," Maines told
ABC
. "The wording I used, the way I said it, that was disrespectful ... Am I sorry that I asked questions and that I don't just follow? No." Despite little radio play leading up to the release of "Taking the Long Way," the disc landed at No. 1 atop Billboard, going gold in its first week.
Issue date: May 2, 2003
(Entertainment Weekly)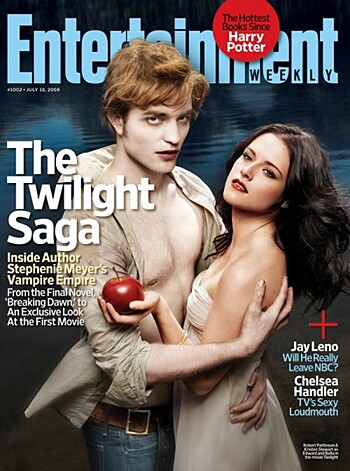 Entertainment Weekly: 'Twilight' vampire not hot-blooded enough
When author
Stephenie Meyer
wrote that
"Twilight"
hero Edward, the 17-going-on-108-year-old vampire, is supposed to be dazzlingly, blindingly beautiful, we're pretty sure she didn't mean in a rosy-lipped female kind of way. Pity then poor Robert Pattison, an actor whose one only claim to fame thus far is his small role as
Harry Potter
rival Cedric Diggory in "Harry Potter and the Goblet of Fire." The backlash was immediate. Once MTV.com posted an early preview of the cover, the site attracted hundreds of comments including this one from a poster identified as "Horrified": "Edward looks like a ZOMBIE. The stylists and photographer obviously had no idea who the characters are ... he looks like a hairy, powdered donut."
Issue date: July 14, 2008
(Entertainment Weekly)
Vanity Fair: Demi Moore poses nude while pregnant, and earlier with paint
It was the photo that spawned all manner of celebrity mom to bare all along with their bellies, among them
Britney Spears
and
Christina Aguilera
. "It did seem to give a little bit more permission to feel sexy, attractive when you're pregnant," Moore told V Magazine. "But I really didn't expect for the response to be what it was. I was pretty shocked." At the time, some retailers were so taken aback by the shot that they sold the issue in a brown paper bag as if it were an adult title like Playboy.
One year later, Demi returned to the cover of Vanity Fair to commemorate her pregnant nude shot. This time, she appeared with a men's suit painted on her body.
Vanity Fair Demi pregnant: August 1991
Vanity Fair Demi in paint: August 1992
(Vanity Fair)