6 Images
Los Angeles locales star in silent film 'The Artist'
French
director Michel Hazanavicius has shot movies in Morocco, Brazil and France. But for
"The Artist,"
his new black and white silent melodrama set in Hollywood in the 1920s and '30s, Hazanavicius said he had to film in Los Angeles.
"It has to be authentic," he said. "To re-create this era, the architecture, all the details. You could go to Budapest and say, 'Yeah, this is stylized Los Angeles. People are more brown with bad teeth, but it's another Los Angeles.' No, it was important to be here."
In "The Artist," silent film star George Valentin (Jean Dujardin) and chorus girl Peppy Miller's (Berenice Bejo) lives and careers are upended by the arrival of talkies -- he staggers into obsolescence just as she emerges as a leading lady.
To reconstruct the silent film age in all its glamour, Hazanavicius relied on several classic Hollywood locations. Here's a look at a few of the key ones.
(Weinstein Co.)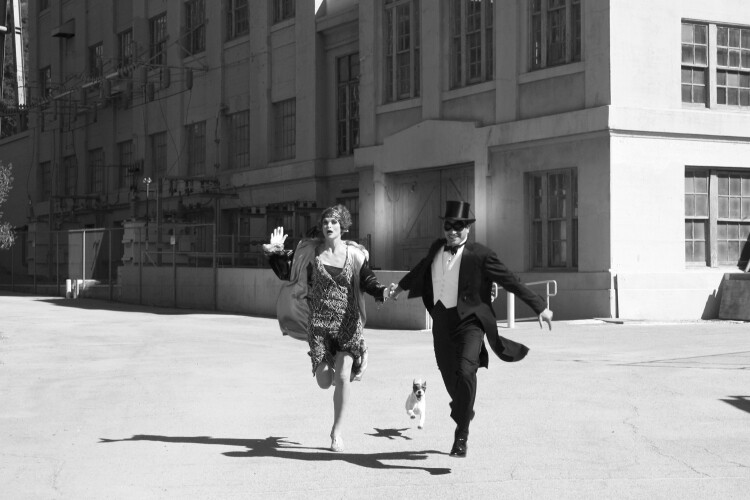 7888 N. Figueroa St., Los Angeles
This
Southern California Edison
power plant, a popular film location, is used in George's silent film that opens the movie, as he and a damsel in distress flee a torture chamber.
(Weinstein Co.)
304 S. Broadway, Los Angeles
George and Peppy pass each other on the stairs at the fictional Kinograph Studios, as she's going up (physically and professionally) and he's going down. Keen viewers will recognize the ornate interior of the five-story office building from L.A.-set films as diverse as "Chinatown" and "
(500) Days of Summer
."
(Weinstein Co.)
104 Fremont Place and 56 Fremont Place, Los Angeles
This gated Hancock Park neighborhood is home to two key locations in the film — George's chateau-style home (#104) and Peppy's Beaux Arts mansion (#56). The filmmakers didn't choose Peppy's home just for its visual appeal, but for its tie to the era — real silent film star
Mary Pickford
lived here in the late teens, when she was secretly dating leading man
Douglas Fairbanks
.
(Weinstein Co.)
617 S. Olive St., Los Angeles
It's the day before the premieres of both George's and Peppy's next films. He's dining quietly with his chauffeur (
James Cromwell
) and she -- the new toast of the town -- is conducting a loud interview with some journalists at this 1920s, Art Deco-style restaurant.
(Weinstein Co.)
Los Angeles Theatre
615 S. Broadway, Los Angeles
This 1931 Baroque-style theater — which hosted the premiere of
Charlie Chaplin
's
"City Lights"
in its heyday — is the site of a sparsely attended screening of George's last silent film, "Tears of Love," on which he's spent his last dime.
Wilshire Ebell Theat
re
4401 W. 8th St., Los Angeles
This mid-L.A. theater, built in 1927, serves as the auction house where George's belongings are sold off one by one.
American Film Institute
2021 N. Western Ave., Los Angeles
Peppy races to the hospital — actually the exterior of the AFI campus on the edge of Griffith Park — after learning of a fire at George's home. The interior of the hospital was filmed at the Wilshire Ebell Theatre.
Hancock Park
Oakwood Avenue between Beverly and Melrose; Hudson Avenue between 3rd and Beverly
Developed in the 1920s, Hancock Park's residential streets provide the setting for much of the film's exterior action. When Jack the dog (a Jack Russell terrier named Uggie) alerts police that George is in trouble, he's on Oakwood Avenue. When Peppy races to George's aid, she's barreling down Hudson Avenue.
(Weinstein Co.)