Nirvana 'Unplugged': intimate and revealing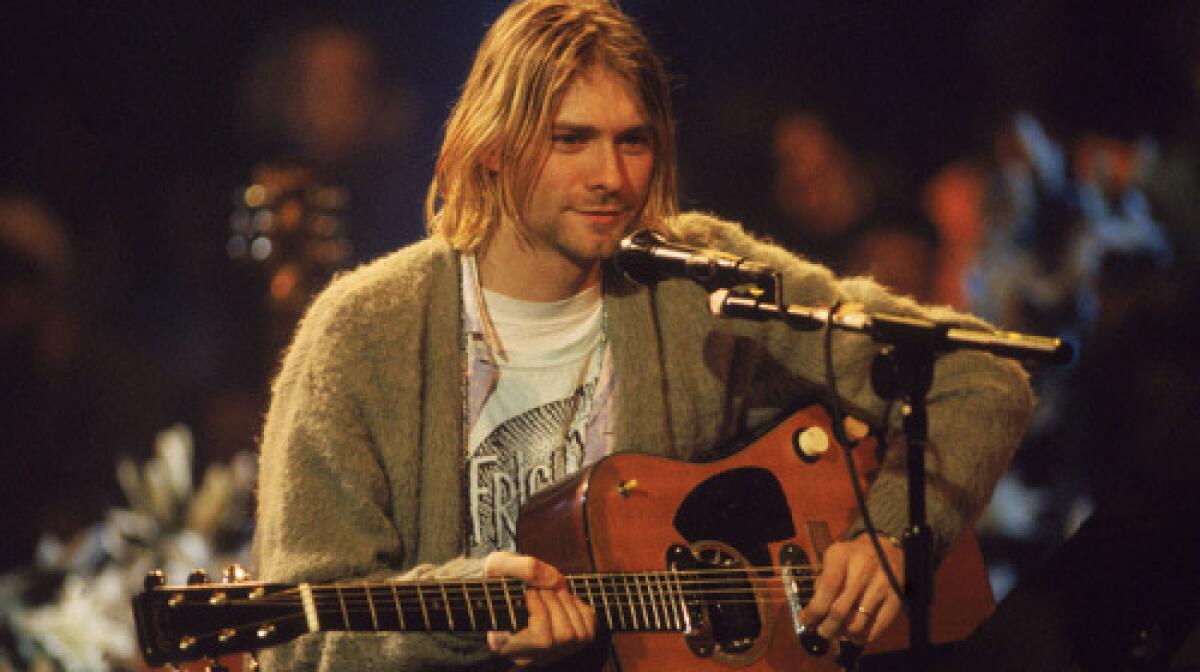 Special to The Times
If you didn't "get" Kurt Cobain the first time around -- and don't feel alone, many over-30 rock fans didn't -- Nirvana's "Unplugged in New York" gives you a second chance. This is the first time the band's celebrated acoustic performance on MTV is available on DVD and it's a compelling introduction to the man who was embraced by much of his generation with an almost John Lennon-ish fervor.
Indeed, this is such a revealing look at Cobain that it deserves a place on the rock TV history shelf alongside the informal, sit-down section of Elvis Presley's epic comeback special in 1968.
Like much of the Seattle-based grunge scene of the early '90s, Cobain wrote about hypocrisy and apathy with an anxious urgency that was widely dismissed by older rock fans across the nation as the whining of a slacker generation that they saw as ungrateful and unmotivated.
I covered memorials for Elvis Presley in Memphis, Tenn., in 1977 and John Lennon in New York in 1980 for The Times and it was remarkable how different the mood was in Seattle during the memorial for Cobain in April 1994.
In Memphis and New York, the entire two cities seemed to be in mourning. Not so in Seattle. Only young people appeared to grieve for the singer-songwriter who ended his life with a shotgun blast to the head.
More than 5,000 fans gathered in a park the night of the memorial service at the nearby Unity Church. They stood for two hours in the chill to say goodbye to the singer-songwriter whose melancholy melodies and intense vocals seemed to mirror their deepest feelings.
The rest of the city, however, seemed indifferent, even hostile to Cobain and the young corps of musicians. I'll never forget the words of one man in his 40s when I asked him if Cobain meant anything to him: "They ought to pass out shotguns to all the rest of [the bands]."
While Nirvana's studio albums, "Nevermind" and "In Utero," remain the essential samples of Cobain's energy and art, there is an intimacy and gentleness about his performance in "Unplugged" that may be the best glimpse of Cobain the man.
Nirvana
"Unplugged in New York"
Geffen/MTV
The back story: Though Cobain was contemptuous of corporate rock vehicles such as Rolling Stone magazine and MTV, he was practical enough to go along with them because he knew it would help his band sell millions of albums. But he looked for ways to mock the institutions along the way. In a famous Rolling Stone cover photo, his T-shirt carried a wisecrack about Rolling Stone's ties to the corporate rock culture.
Similarly, he takes delight at one point in the "Unplugged" taping in putting MTV in its place during the December 1993 taping. After chatting with band member Krist Novoselic about apparently having a couple of songs in the wrong order, Cobain smiles and tells Novoselic, "Let's just play them back-to-back. Who cares? It'll be edited differently. This is a television show." And sure enough, the songs were re-arranged in the edited version of the performance that was shown on MTV -- and the joke about it just being a TV show was omitted.
While Cobain's swipes at Rolling Stone and MTV might come across as just bratty posturing, Cobain, from the moment he began playing in bands, was conscious of being part of a new rock generation -- and not repeating what he often saw as mistakes and compromises by earlier rock heroes.
Cobain was so independent that he didn't play some of his biggest hits, including "Smells Like Teen Spirit," on the "Unplugged" session. Instead, he generously used the time to play three songs by one of his favorite bands, the Meat Puppets, and brought Curt and Cris Kirkwood from the Puppets on stage during the songs.
The music: As a writer Cobain seemed to mistrust straightforward narratives. Much like an abstract painter, he mixed seemingly unrelated thoughts and images in the hope of finding elusive truths about himself and others.
The most touching moment in "Unplugged" is "All Apologies," one of Cobain's most naked examples of the inner confusion that allowed him to be savagely sarcastic and yet frightfully insecure.
The lyric, in part:
I wish I was like you
Easily amused
Find my nest of salt
Everything is my fault
Besides the MTV-edited 44-minute version of "Unplugged," the DVD includes the entire, 66-minute performance, which lets you also hear three numbers cut from the telecast, including Nirvana's "Something in the Way" and the Meat Puppets' "Oh, Me." The disc also has five previously unreleased rehearsal performances and an MTV News "Bare Witness" special featuring comments mainly by excited audience members.
"Unplugged" also features such Nirvana tunes as "Pennyroyal Tea," "Polly" and "Come as You Are," as well as such additional cover tunes as David Bowie's "The Man Who Sold the World" and the Vaselines' "Jesus Doesn't Want Me for a Sunbeam."
For "Nirvana" fans or someone trying to better understand Cobain's particular genius, "Unplugged in New York" is a profoundly moving experience.
Backtracking, a biweekly feature, highlights CD reissues and other historical pop items.
Get our L.A. Goes Out newsletter, with the week's best events, to help you explore and experience our city.
You may occasionally receive promotional content from the Los Angeles Times.