7 Images
Hilary Duff: Life in pictures
Getting started
Extras of the world rejoice! Hilary Duff started out just like you! Before the Duffster became Lizzie McGuire, she worked as an extra. Once she landed the role of Lizzie McGuire on the 2001 series "Lizzie McGuire," however, Hilary's background days were over.
(Walt Disney Co.)
Hilary on the big screen
"Lizzie" was an instant sensation, and it opened the door to film work for Hilary. She became the go-to girl for family-friendly blockbusters like "The Lizzie McGuire Movie" and "Cheaper by the Dozen" in 2003.
Pictured: Tom Welling and Hilary Duff in "Cheaper by the Dozen."
(20th Century Fox)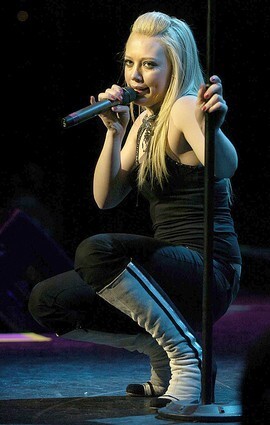 Sing it, Hilary!
Then, of course, there was Hilary's music career. Before she had hit twenty, Hilary had already sold over 13 million albums worldwide. Duffster songs that have probably been stuck in your head include "So Yesterday" and "Wake Up."
(Wally Skalij / Los Angeles Times)
Play with me
Hilary Duff was a brand. She was the goofy, adorable, kinda klutzy girl next door.
Around 2004, Hil decided that the next step was to brand herself in earnest. That meant jewelry, clothing and perfume. And of course, the requisite Hilary Duff doll. Hilary and her dog Lola even became characters on "The Sims"!
(Kevork Djansezian / AP)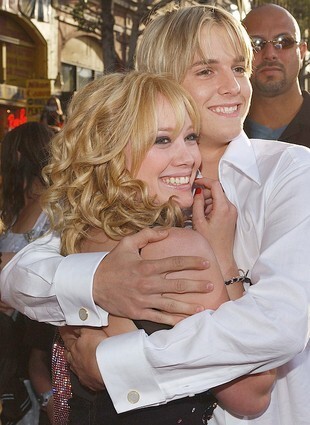 Hilary's men
In 2001, after Aaron Carter (pictured) appeared on "Lizzie McGuire," the two blondies sparked up a romance. Their young love reportedly went sour, however, when Carter hooked up with Lindsay Lohan.
Next, in 2004, Hil hooked up with another musician. (Didn't she learn her lesson from Carter?) This time, it was Good Charlotte singer Joel Madden. The pair eventually called it quits, and as of 2007, Joel is preparing to father Nicole Richie's baby.
(Lucy Nicholson / Getty Images)
Stalker
In 2006, Hilary wanted nothing to do with her stalker, Maksim Myaskovskiy; guess he couldn't play any instruments. He was charged with stalking. When he pleaded "no contest," Miakovsky was sentenced to 117 days in jail.
(Scott Gries / Getty Images)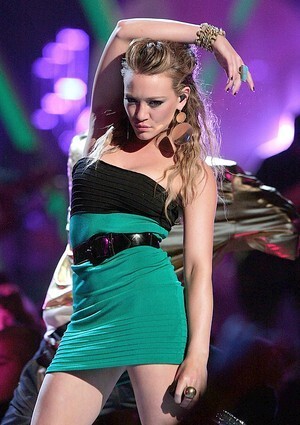 The skinny on skinny
In her "Lizzie McGuire" days, our Duffster had blonde hair, round arms, and cute rosy cheeks. But by 2007, she was virtually unrecognizable, with long brown hair, pale skin and cheekbones that could cut glass. Why the drastic transformation? Turns out that when the press attacked Lil Hil's full figure, she took action. Hilary has openly admitted that she got too thin for a while. Now she aims to be healthy without being obsessive, and we hope she can manage it. Hey bloggers, leave Hilary alone; go pick on Posh or something.
(Kevin Winter / Getty Images)