In his new novel, 'The Exorcist' author balances philosophy and thrills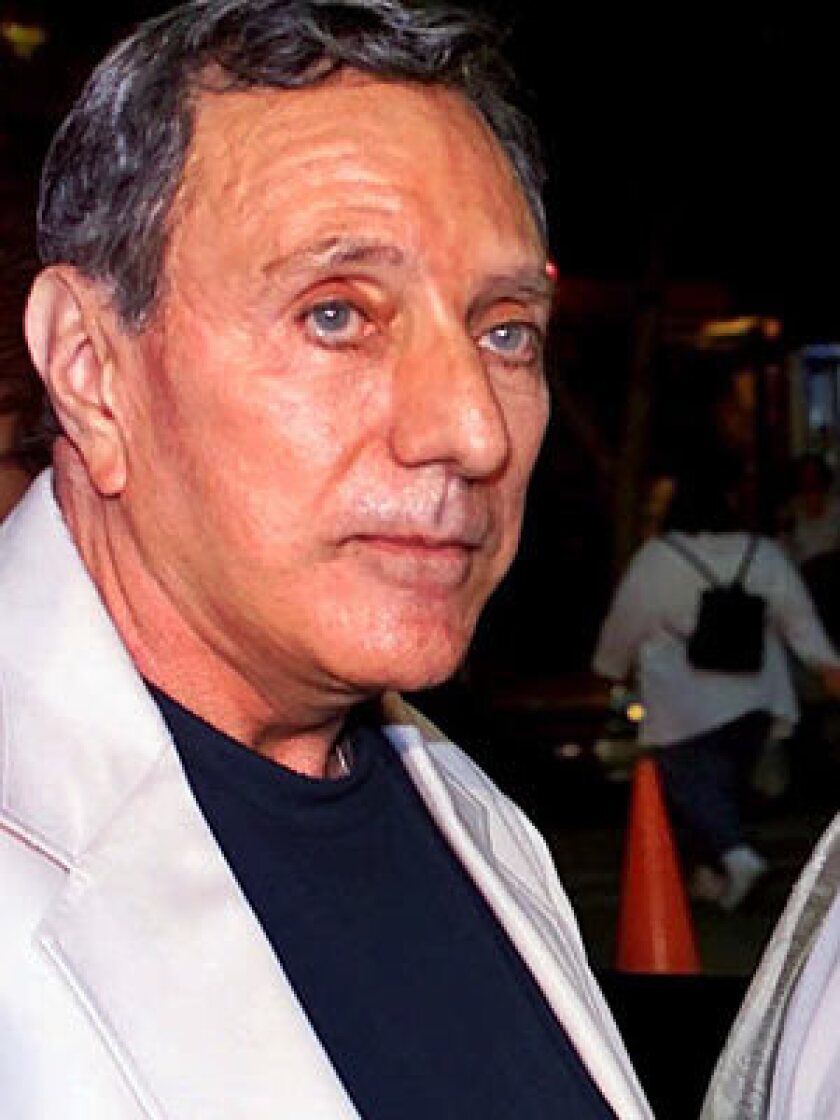 In the annals of demonology, William Peter Blatty falls somewhere between St. Augustine and Joss Whedon.
He isn't the first person who's ever written about demons and demonic possession, but he has provided us with one of the genre's most memorable novels, 1971's "The Exorcist." There had been disturbing stories before, but nothing -- especially when Blatty teamed up with director William Friedkin for the 1973 screen adaptation -- so terrified audiences about the possibilities of the diabolical in ordinary people's lives.
For Blatty, though, the story's success remains beyond his wildest expectations.
"I honestly thought I was writing just a one-shot," the 82-year-old author said in a recent phone interview from his Maryland home. "At the time, comedy writing was over for me, and nobody would hire me to write anything dramatic. What I had left to write was the idea for 'The Exorcist.' I never imagined what would happen."
What happened was a mega-bestseller: More than 13 million copies, according to some estimates, have been sold in the United States alone. Several more novels -- and films -- followed, giving Blatty more opportunities to explore the workings of divine redemption and demonic evil. His new novel, "Dimiter," published in March, is similarly preoccupied with good and evil, with the mysterious and the miraculous, although it is also something of a departure.
Set in the 1970s, "Dimiter" introduces us, in a riveting opening scene, to an enigmatic inmate in an Albanian prison during the gray days of Enver Hoxha's regime. The man coolly withstands unbearable torture and then escapes, vanishing like a phantom . . . only to later turn up in the Holy Land. He becomes a shadowy presence in the lives of several people, including an Arab Christian policeman and a Jewish doctor, both of whom puzzle over several mysterious deaths somehow linked to this figure, who is named Paul Dimiter.
If you look more closely, the story also makes a sly, theological nod to the essential mystery of the Gospels that Christians everywhere will celebrate on Sunday: the Resurrection. Blatty has taken a message of religious faith and enfolded it within a fast-paced plot for a basic reason.
"I had to make a page-turner," he says, "or else who would want to read it?"
The demonic is a hot commodity today, but don't try to credit Blatty as the elder statesman of this surge in horror movies, books and TV shows. He wants no part of it.
"When I look around the culture, it makes me want to projectile vomit," he says, recalling that infamous moment in "The Exorcist." "The more blood, the more chain saws, the better. The studios have so debased the tastes of kids that that's all the kids want now."
This might sound strange coming from the author of a story associated with harrowing uses of puke, spinning heads and a crucifix, but Blatty's brand of horror has always been about more than shock effect. Characters wrestle with metaphysical doubts even as the bodies pile up.
Some people forget the philosophy -- just as studio execs forgot Blatty's abilities as a comic writer after "The Exorcist."
"Their eyes glazed over when I pitched comedy ideas. It was as if I had done nothing else before 'The Exorcist,' " says the man who wrote the screenplay for "A Shot in the Dark" and other film comedies. "It was as if I had landed on this planet just with that book under my arm. It made me insane."
Blatty's voice is warm and generous -- it's easy to catch the inflection of the New York City streets where he was born, the son of Lebanese parents. He's passionate about his Roman Catholicism: It has carried him through many personal trials, including a bout of cancer 15 years ago and the loss, in 2006, of his 19-year-old son, Peter, after a sudden illness. "Dimiter," in fact, is dedicated to him.
Today, Blatty's faith is, to use a familiar religious adage, rock solid.
"I don't think I'm on a search anymore," he says serenely. "I've come to virtually a complete rest in my faith."
The author sounds very much like Moses Mayo, a truth-seeking neurologist in "Dimiter." Like Blatty, Mayo is humbled by the universe's mysteries. Where others find a conflict between science and faith, Mayo sees a glorious complementarity. He marvels at how "in the subatomic world . . . electrons, like saints with bleeding hands, are reportedly seen in two places at once." Mayo's early morning musings, as he walks the halls of Hadassah Hospital, form a quiet counterpoint to the tightening circles of intrigue as Dimiter's story slowly comes into focus.
The germ of "Dimiter" dates to the filming of "The Exorcist." Blatty recalls sitting in Friedkin's office reading in the New York Times about a Jesuit priest executed in Albania for baptizing infants in a prison camp.
From this, the near-mythological figure of Dimiter started to take shape. Other ideas came along -- the story of Saul's conversion into St. Paul, narrative inconsistencies among the four Gospels and the geography of Jerusalem. Blatty traveled there and conducted countless interviews with doctors and lepers, and with local police about crime lab procedures and ways to poison someone without leaving a trace.
When he was finished, Blatty had a giant stack of notes, typed, single-spaced. But no sense of organization.
"Writing had never been a problem for me," he says. "A comedy novel? I could get it done in six weeks. You need a screenplay? Sure, six weeks. Then 'Dimiter' came along and took years."
Other projects intervened in the years that followed. When he was diagnosed with prostate cancer, Blatty says, he prayed to the Virgin Mary, promising to finish the novel if he recovered. He did, but he stalled on his promise -- that pestering question of organization again. Then, two years ago, as he and his wife Julie were attending Mass, the book's structure came to him in a flash of insight.
"I felt like I had received a gift," he says, "or maybe it had been there in my unconscious all along. Who knows? It's all a mystery."
Mystery -- it's everywhere in "Dimiter," which Blatty hopes to bring to the big screen with Friedkin as director. But religion isn't the only medium in which mystery exists -- you find it in science and secret intelligence, as well as simpler things, such as the love between friends and family. All of these overlap in "Dimiter," although Blatty insists it isn't necessary to understand every level to appreciate the story.
"You can read it just as a thriller and that's great," he says. "If you have faith, though, it might strengthen it a little more. If you're agnostic, it might give you a few clues you never had before. The message is there if you need it."
---
Your essential guide to the arts in L.A.
Get Carolina A. Miranda's weekly newsletter for what's happening, plus openings, critics' picks and more.
You may occasionally receive promotional content from the Los Angeles Times.