18 Images
The evolution of Bravo
lat-bravo7-jqc7s2nc20090619115753
Inside the Actors Studio, August 1994
James Lipton began grilling ac-
tors
about their methods and favorite curse words almost 15 years ago from the New School University's Tisch Auditorium. Bravo, at the time, was a little-seen showcase of performing arts footage and programming.
-- Compiled by Denise Martin, Times Staff Writer
(Virginia Sherwood / Bravo)
Queer Eye for the Straight Guy, July 2003
When Bravo was bought by NBC in 2001, a mandatory brand makeover got under way. Reality shows! First up: The Fab Five of "Queer Eye for the Straight Guy" revived the makeover genre, bringing together a group of gay guys on a mission to help out the slovenly straight (and those men's loved ones.)
(Craig Blankenhorn / Bravo)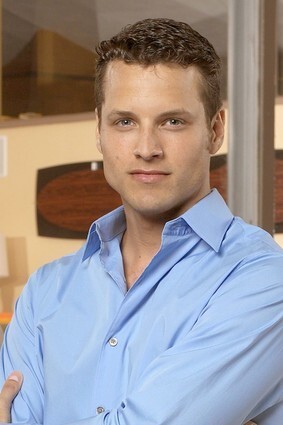 Boy Meets Boy, July 2003
Unfortunately, a gay-centered dating show -- think "The Bachelor," only with all men -- did not go over as well as "Queer Eye," and after just one season and poor ratings, the series ended.
(Glenn Campbell / Bravo)
Significant Others, March 2004
"Significant Others" was the network's first stab at comedy. Originally produced by and for NBC, the improvised sitcom featured four couples from various backgrounds in and out of therapy sessions. Viewership was never exceptional, but the low costs and favorable reviews kept the show on the air for two seasons.
Pictured: Herschel Bleefeld and Faith Salie.
(Bravo)
Blow Out, June 2004
"Blow Out" was the advent of reality shows anchored by, how shall we say ... strong personalities on Bravo. It chronicled the launch of the Jonathan Salon in Beverly Hills. Viewers loved the show and its centerpiece, Jonathan Antin -- owner, hair stylist and Diva with a capital D.
(Chris Haston / Bravo)
Project Runway, December 2004
Bravo hit ratings gold with "Project Runway," a reality competition pitting aspiring fashion designers against one another while facing a lineup of judges that included supermodel Heidi Klum, designer Michael Koors and Elle editrix Nina Garcia. Contestants' mentor Tim Gunn instantly broke out for insisting that contestants "make it work" under their demanding deadlines. (Unfortunately for the network, the show's new home is Lifetime.)
Pictured: Heidi Klum and Tim Gunn.
(Virginia Sherwood / Bravo)
Project Greenlight, March 2005
The network acquired the third season of this behind-the-scenes-movie-making reality show from HBO. Why? It's not clear. Sure, Ben Affleck and Matt Damon were among the show's executive producers, along with Harvey Weinstein, but viewership on HBO wasn't so great. And things didn't improve on Bravo.
(Merie W. Wallace / Bravo)
Being Bobby Brown, June 2005
Ratings continued to soar with "Being Bobby Brown," the network's first stab at true trainwreck TV. Bobby Brown and Whitney Houston, uncensored. Were critics impressed? Not so much, but Houston's favorite phrase, "Hell to the no," became one of the year's most popular sayings.
(Carl Posey / Bravo)
Kathy Griffin: My Life on the D-List, August 2005
If there was any doubt that Bravo catered to affluent gays -- perhaps above all other demographics -- giving Kathy Griffin her own reality series answered the question. The playfully self-obsessed, reality-show-loving comedian has been going strong on the network for five seasons.
(Matthew Mitchell / Bravo)
Top Chef, March 2006
With "Project Runway" on the way out, "Top Chef" is now Bravo's No. 1 franchise. It's inarguably the most prestigious of TV's cooking shows, attracting a wide-ranging number of respected chefs as guest judges, and avoiding most reality TV cliches. No screaming egomaniacal chefs here! The series has already launched one spinoff, "Top Chef Masters," and is readying a second, "Top Chef Junior."
(Chuck Hodes / Bravo)
The Real Housewives of Orange County, March 2006
Oh, those original housewives. Spoiled, pampered ... orange. Viewers couldn't get enough. Other editions with similarly catty but addictive women followed, and now there are "Real Housewives" in the O.C., New York, Atlanta and New Jersey. Next stop? Washington, D.C. Thank you, Bravo!
(Mitchell Haaseth / Bravo)
Work Out, July 2006
If Jonathan Antin was one handful of a boss, meet gym owner Jackie Warner. Her no-nonsense work ethic and a very hazardous love life kept "Work Out" on the air for three seasons, though if we're being honest, it was a lot less fun to watch Warner bark than it was to watch Antin wail.
(Vivian Zink / Bravo)
Hey Paula, June 2007
Paula Abdul had already been acting ... odd ... on "American Idol" when Bravo granted her her very own reality show. There was much crying, whining and plenty of cue-card-reading. Altogether the peak of the network's trainwreck TV, albeit a low-rated one. The show lasted just seven episodes.
(Vivian Zink / Bravo)
Flipping Out, July 2007
At the same time it was coddling Abdul, Bravo was making hay in the real estate space with ... you guessed it? Another diva boss making the lives of his staff miserable. But after Antin and Warner, it was good to see the narcissistic "Flipping Out" star Jeff Lewis in therapy -- at least!
(Isabella Vosmikova / Bravo)
The Millionaire Matchmaker, January 2008
It's not that Patti Stranger, self-appointed love guru to the rich, is good TV. She bosses around her clients like a big, clucking, mean mother hen. But there's something about the idea that very rich, mostly accomplished, men are willing to fork over big bucks to be taught how to land a (certain kind of) woman. It is as tragic as it is undeniably fascinating.
(Evans Vestal Ward / Bravo)
Make Me a Supermodel, January 2008
Trying to ape Tyra Banks' "America's Next Top Model" is no easy feat. Bravo's co-ed "Make Me a Supermodel" got a makeover in Season 2 and it still isn't nearly as hilarious -- or watched.
Pictured: Tyson Beckford and Niki Taylor
(Ian White / Bravo)
The Fashion Show, May 2009
Viewership for Bravo's "Project Runway" replacement grew throughout its first season, and we mostly liked judge Isaac Mizrahi, but it's just no "Runway." Perhaps some tinkering before the launch of Season 2 -- if there
is
a Season 2 -- might be in order.
Pictured: Kelly Rowland, Isaac Mizrahi and Fern Mallis
(Mitchell Haaseth / Bravo)
More entertainment photos from latimes.com