11 Images
11 brands of 'bromances'
The boys of "
Tropic Thunder
" are just one entry in the annals of celebrity bromance, beginning with the pioneering friendship of Matt and Ben to the surprising link between Scientology pals Tom and Will. We take a look at the best of them:
Three-way bromance
What men (and
women
) won't do for Ben Stiller. In "Tropic Thunder," Robert Downey Jr. plays blackface. Jack Black dyes his hair peroxide blond. And all three get down and dirty in Southeast Asia in Stiller's Hollywood war satire. It's the stuff true bromance is made of.
-- Denise Martin and Stephanie Lysaght, L.A. Times
(Frazer Harrison / Getty Images)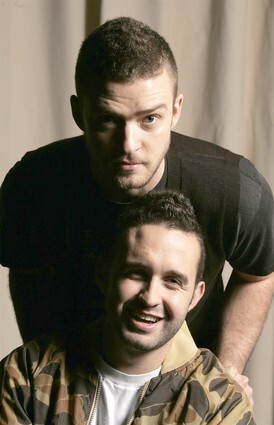 Fashion bromance
Childhood pals Justin Timberlake and Trace Ayala, who say they've known each other since they
"were in the womb"
are so close that when Timberlake joined 'NSYNC, Ayala picked up and moved from
Tennessee
to Orlando, Fla., with him. Ayala designed clothes for the boy band as well as Timberlake's then-girlfriend
Britney Spears
. In 2005, the pair launched
William Rast
, a fashion line named after their grandfathers.
(Ringo H.W. Chiu / Los Angeles Times)
Castmate bromance
After an online photo album of roommates Westwick and Crawford
surfaced
, word was that the men of "Gossip Girls" were involved in
more
than bromance. The BFF swatted those
rumors
immediately. This month
Chace Crawford told London's The Independent
: "You know what? Ed and I laugh about it. It's kind of funny. But it's like, you know, I guess some people assume there's a seed of truth to it. People think where there's smoke, there's fire....It's just so amazing the way something can be... just a complete fabrication."
(KC Bailey / CW)
'Sexiest' bromance
While promoting "Ocean's Thirteen," these BFF and two of People magazine's "Sexiest Man Alive" revealed to Entertainment Weekly
how and where they first met
:
CLOONEY: The baths.
PITT: On Pico Boulevard. That's right. I forgot about that.
CLOONEY: You wouldn't have recognized me with the leather hood on. [Laughs]
PITT: [Makes a disgusted face] I'm eating here.
Seriously, though, you guys are obviously friends.
PITT: It's true. We have good fun together. We all know each other pretty well now and know each other's families.
CLOONEY: It's the funniest thing, I have to say: Since "Eleven," when we started, all the guys have gotten married, had kids, and have whole families. This time there were babies everywhere. We'd be on the set in L.A., and I just sit in the middle of the whole thing like an old man.
PITT: He looks like he's trying to decipher a foreign language.
CLOONEY: It's true! I'm like, "What the hell are these little things?"
(Kevork Djansezian / Associated Press)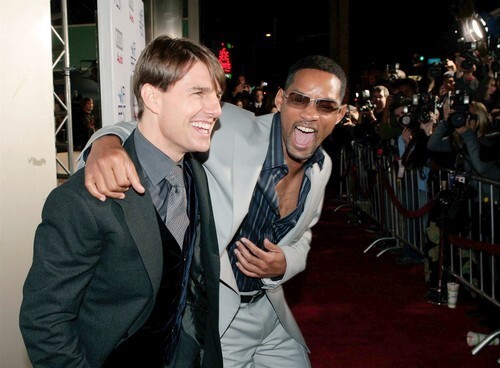 Scientology bromance
It's true: Box office titans
Tom Cruise
and
Will Smith
bonded over Scientology. Last December, the "
Hancock
" star
defended his pal
to Access Hollywood. "When I sit and I talk with Tom Cruise, he is one of the greatest spirits that I've ever met – someone who is committed to making the world better. You have people [that] are attacking and wanna fight that don't know nothing — how you gonna not know nothing about Scientology and attack somebody? It's dangerous and it's ignorant."
(Kevin Winter / Getty Images)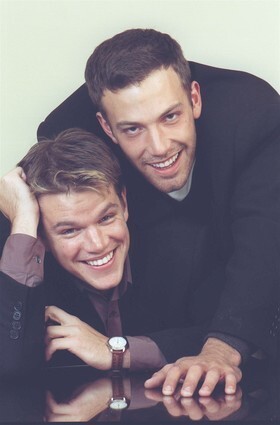 Oscar bromance
It is perhaps
the
pioneering bromance in showbiz history. The friendship between Oscar-winning college pals
Matt Damon
and
Ben Affleck
even inspired the off-Broadway hit
"Matt and Ben."
And while Damon now splits his time with other Hollywood bros like
George Clooney
and
Brad Pitt
, and Affleck is off making
well-received prestige films
, the two remain close. Anyone up for a
double date
?
(Mitsu Yasukawa / FTT)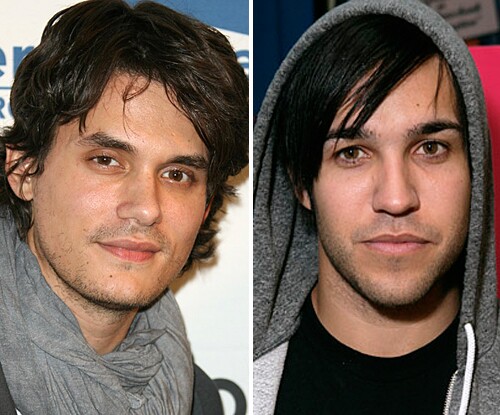 Blogging bromance
John Mayer and Pete Wentz have been seen out and about together quite a bit lately. Not only are both Mayer and Wentz musicians, but they both have also been linked to a Simpson sister (John was linked to Jessica, Pete is married to Ashlee).
So, how do these modern men express their feelings about their bromance? By blogging about it, of course. "John Mayer is one of my favorite dudes," blogged Wentz. Mayer returned the favor, gushing about his buddy in a blog entry entitled "Crush Request Accepted."
(WireImage)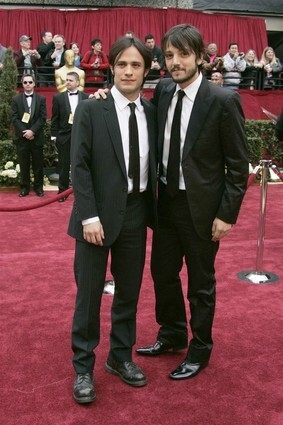 Activist bromance
After starring together in "Y Tu Mama Tambien" in 2001, Mexican actors Gael Garcia Bernal and Diego Luna turned their attention to life behind the scenes. The tight-knit twosome launched a documentary film production company.
"Documentaries show us the injustices in the country where we live, that this problem exists," Garcia Bernal said at a news conference in Mexico City. "We can't escape it."
(Damon Winter / Los Angeles Times)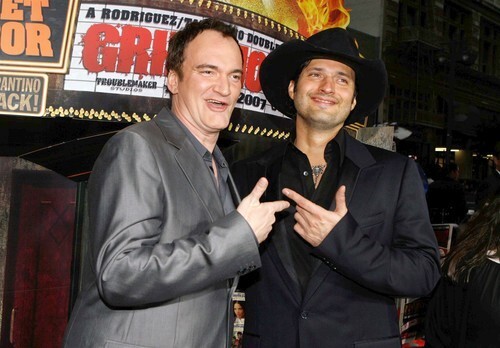 Creative bromance
Directors
Quentin Tarantino
and
Robert Rodriguez
have managed to collaborate on numerous projects and still keep their tight-knit friendship intact. Tarantino wrote "From Dusk Till Dawn" and Rodriguez directed it, and the twosome co-wrote and co-directed "Four Rooms." They also worked together on "Sin City" and "Grindhouse."
(Kevin Winter / Getty Images)
Child-star bromance
During the late 1980s and early '90s, teen sensations Corey Feldman and Corey Haim were on top of the world. Known as "the two Coreys," the pair appeared together in many films, including "The Lost Boys," "License to Drive" and "Dream a Little Dream."
In 2007, the twosome reunited to star in the A&E reality series, "The Two Coreys." The series depicted a lazy, jobless Haim, moving in with Feldman and his wife, Susie. The program was canceled after its second season.
(Andrew Eccles / A&E)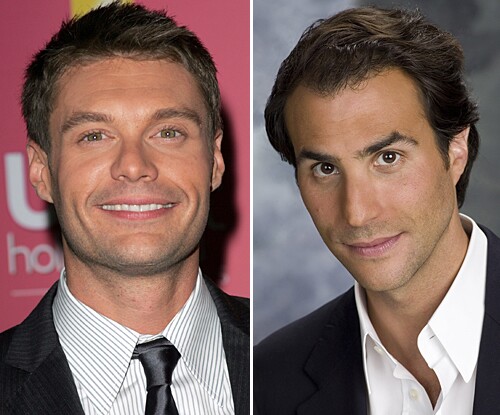 Mover and shaker bromance
TV titans Ryan Seacrest and Ben Silverman have pretty packed schedules. Seacrest is a radio personality, an E! News anchor and of course, host of "American Idol"; Silverman is the co-chairman of NBC Entertainment and NBC Universal Television Studio.
Still, the friends always make time for each other, with Silverman often popping into Seacrest's radio show to talk. During the writers strike, Silverman made waves on Seacrest's radio show when he said, "Sadly, it feels like the nerdiest, ugliest, meanest kids in the high school are trying to cancel the prom. But NBC wants to try to keep that prom alive."
(Mitchell Haaseth / NBC Universal)