Burt Reynolds and Loni Anderson: The ugly divorce that just wouldn't end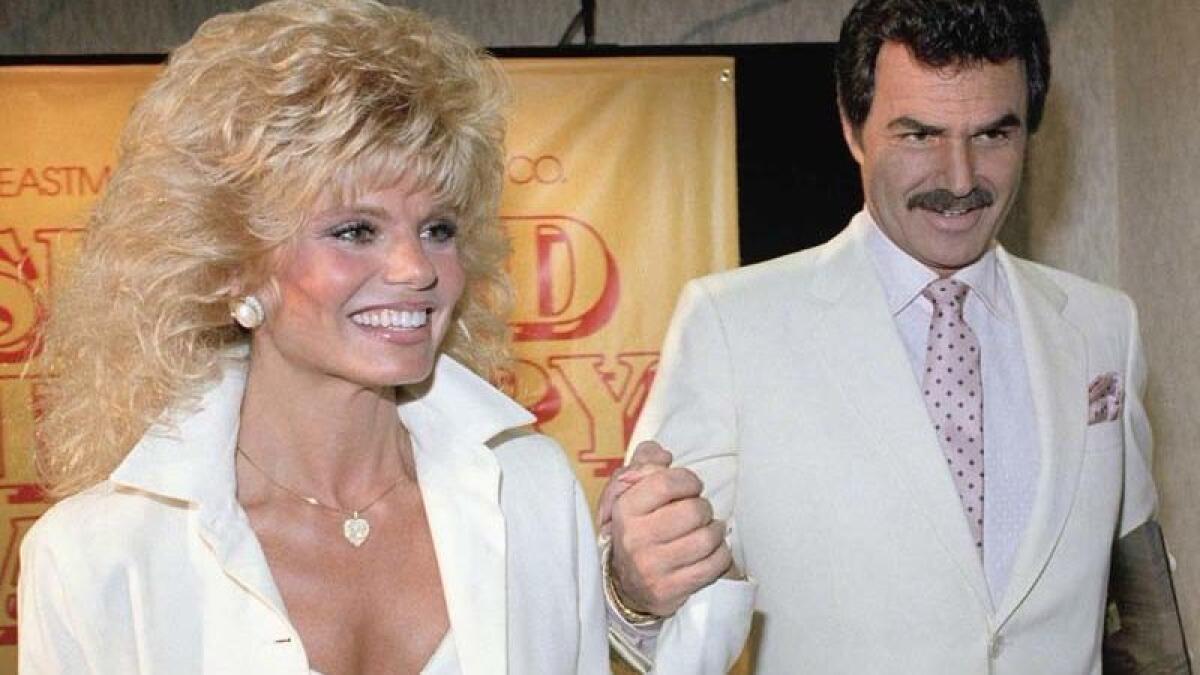 Burt Reynolds married his girlfriend of about six years, the actress Loni Anderson, in a quiet, 20-minute ceremony that belied the five media helicopters circling above his Florida ranch and the throng of reporters outside.
Ann-Margret and Jim Nabors were among the 65 guests in attendance. The ring was 7 carats, designed by the groom, back before rings that big were being handed out left and right. It was, People magazine reported, all about the "couple's love and respect for each other."
Unfortunately, it was not a sign of things to come.
It was a marriage that began in April 1988 and ended when he served her divorce papers five years later — then took 22 years for the by-then-resentful couple to sever financial ties completely.
Reynolds, who died Thursday at age 82, and Anderson, 73, had been a glamorous fixture among the rich and famous since they met in 1981 and started dating in '82, covering magazines, hitting red carpets and painting the town. But once the divorce was set in motion, the glamour quickly turned ugly. Very publicly ugly.
They never had sex anymore, he told "Good Morning America: Evening Edition," so the decision to divorce her shouldn't have been a surprise. "I don't see how she can be in total shock when you have not … if your husband has not touched you in the biblical sense … in almost three years," he said. "How can you be surprised?"
Burt Reynolds, Life in Pictures
Burt Reynolds as Bo "Bandit" Darville in 1977's "Smokey And The Bandit."
(Silver Screen Collection / Getty Images)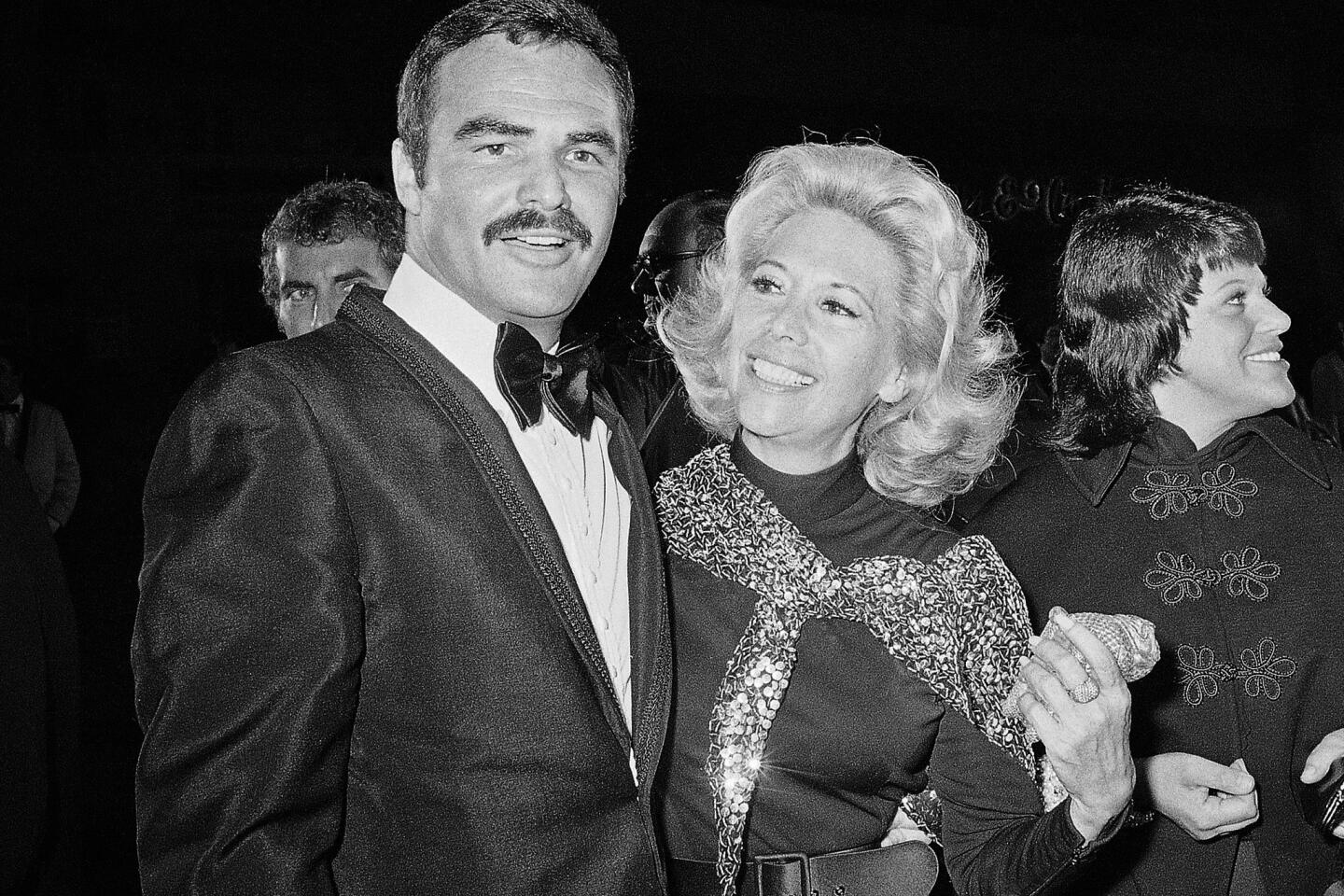 Singer Dinah Shore and Burt Reynolds appear together in Los Angeles on Nov. 5, 1971.
(Harold Filan / Associated Press)
Burt Reynolds and Sally Field in "Smokey and the Bandit."
(Michael Ochs Archives / Getty Images)
Burt Reynolds pinches the cheeks of comedian Dom DeLuise during a roast of Reynolds in Atlanta on Dec. 2, 1977.
(Steve Helber / Associated Press)
Burt Reynolds sits for a photo as he receives an award at UCLA in 1980.
(Iris Schneider / Los Angeles Times)
"Boogie Nights" star Burt Reynolds holds his award for supporting actor in a motion picture at the Golden Globe Awards in Beverly Hills on Jan. 18, 1998.
(Mark J. Terrill / Associated Press)
Burt Reynolds displays his Supporting Actor of the Year Award during the ShoWest Awards ceremony in Las Vegas on March 12, 1998.
(Lennox McLendon / Associated Press)
Burt Reynolds fields media questions about the film "The Crew" at the Loews Miami Beach Hotel on Aug. 20, 2000.
(Amy E. Conn / Associated Press)
Burt Reynolds is photographed by The Times on May 13, 2005, as he promotes his role in the film "The Longest Yard," a remake of his 1974 film.
(Mark Boster / Los Angeles Times)
Burt Reynolds joins Adam Sandler in the 2005 remake of "The Longest Yard."
(Tracy Bennett / Associated Press)
Burt Reynolds at the Wizard World Chicago Comic-Con on Aug. 22, 2015.
(Barry Brecheisen / Invision / Associated Press)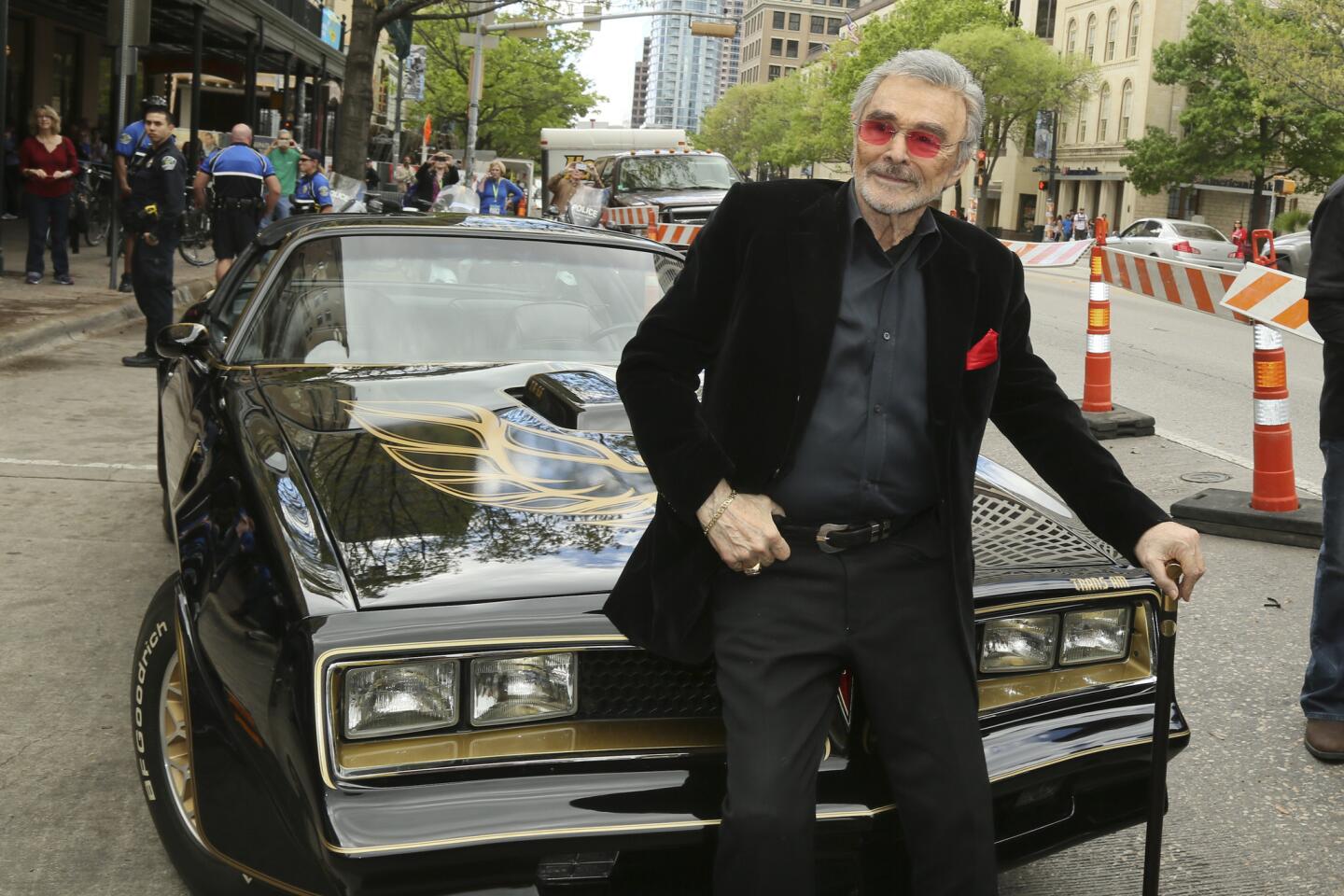 Burt Reynolds sits on a 1977 Pontiac Trans-Am at the world premiere of "The Bandit" during the South by Southwest Film Festival in Austin, Texas, on March 12, 2016.
(Jack Plunkett / Invision / Associated Press)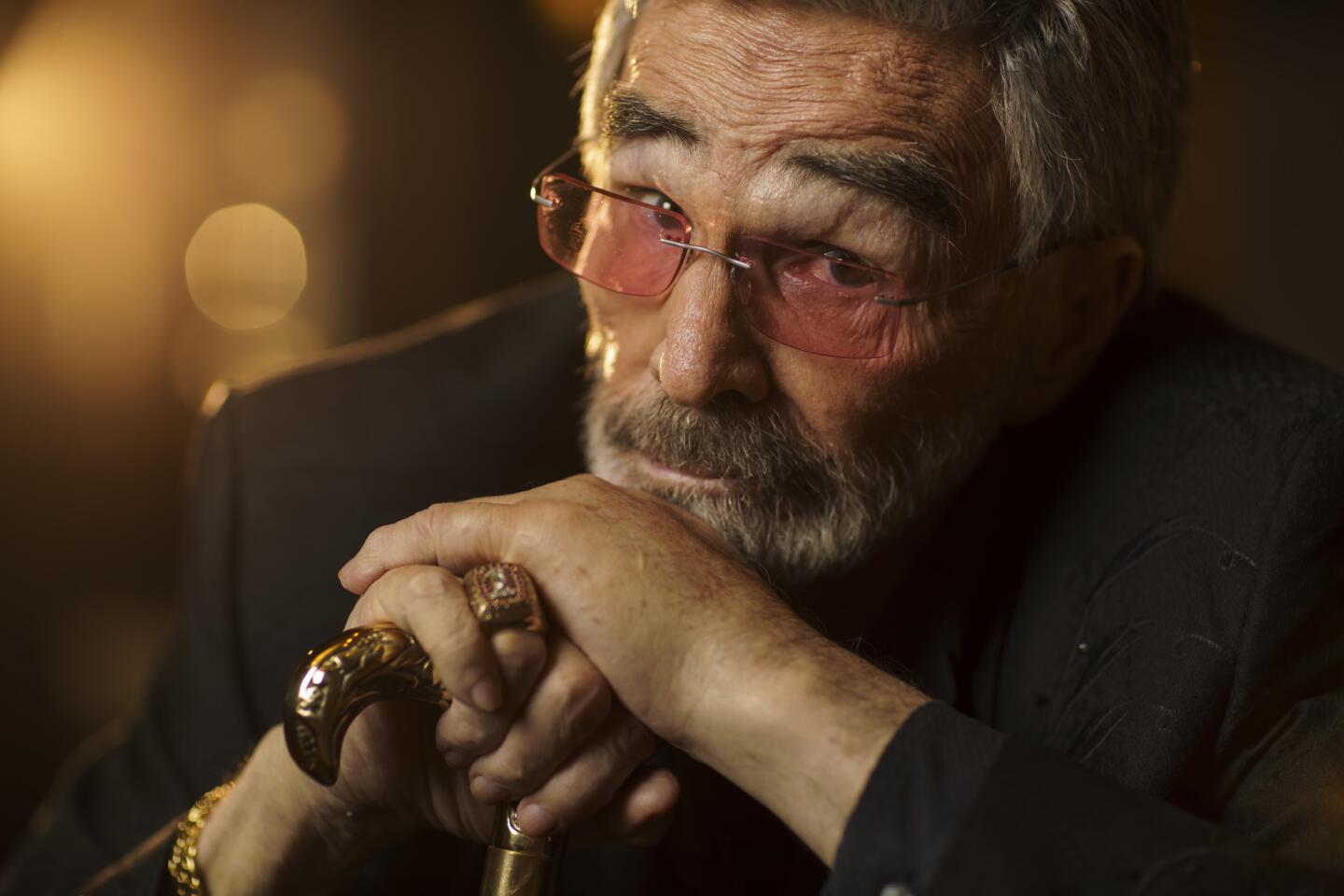 Burt Reynolds poses for a portrait as he promotes the movie "The Last Movie Star" in Beverly Hills on March 21, 2018.
(Marcus Yam / Los Angeles Times)
Burt Reynolds sits for a portrait as he promotes his role in "The Last Movie Star" in Beverly Hills on March 21, 2018.
(Marcus Yam / Los Angeles Times)
Burt Reynolds, wisecracking star of 'Smokey and the Bandit' and 'Deliverance,' dies at 82 »
Reynolds began slamming Anderson shortly after their split. He accused the onetime "WKRP in Cincinnati" star of cheating on him, even said he'd caught her cheating on him.
Sure, he'd been involved with someone else too, but that was after he had become convinced she was cheating, he said. Sodium pentathol could prove which one of them had cheated first, if only she would take him up on his challenge, he'd said. He painted her as an underemployed actress with lousy self-esteem. He accused her of being a bad mom to their son Quinton too.
Though the former couple, oddly enough, left divorce court in 1994 hand-in-hand and smiling at the cameras, it hadn't been pretty inside, featuring "two days of excruciatingly detailed testimony" about Reynolds' financial affairs as they hammered out a custody arrangement and child support deal.
"In testimony Monday, Reynolds said he was having 'cash flow problems,' was in arrears on several loans, was dogged by bad investments and was strapped by heavy alimony and child support obligations," read a Los Angeles Times article from Dec. 7, 1994. "So far, Reynolds' divorce from Anderson has cost him more than $2 million, and he pays about $47,000 a month in divorce-related expenses, accountant Gregory Young testified."
Reynolds told reporters outside the courthouse, "I'm very happy that we were able to sell papers for a year and a half. Why that doesn't translate into money, I don't know. ... I'm glad America is curious about us."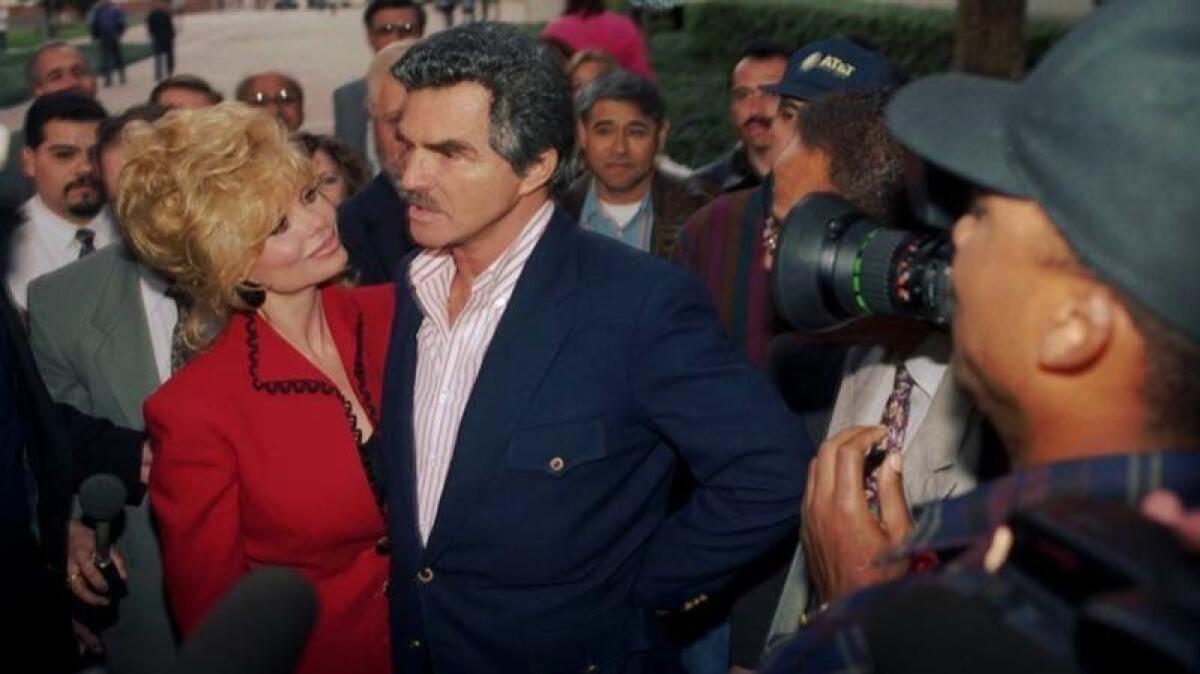 RELATED: Burt Reynolds' costars and admirers 'mourn one of our favorite leading men' »
Anderson waited a bit to talk, writing her autobiography after the divorce was finalized. "I said to everybody, 'Don't get sucked into this, or it will become a circus. Burt wants to make a war — let him be in it all by himself. Someday, I will talk,'" Anderson told SFGate in 1995. Then she unloaded, all the while saying she still didn't understand his motivation for the split.
After throwing her out of their house, he humiliated her with his accusations regarding her mothering.
She said Reynolds had physically abused her at least a dozen times, something she blamed on alleged drug use. They hadn't talked since their breakup. She said she was concerned about Reynolds' "erratic behavior" and insisted a nanny be present when their son visited his father in Florida. One time, the actor threw a chair at the regular nanny, she alleged, so a substitute took over the trips.
Also, as part of their settlement, Reynolds had bought her a house but sometimes failed to pay the $9,000 mortgage on it. And he didn't always pay the $15,000 monthly child support he owed for his son. The lawyers were on it, she said.
The next year, Reynolds declared bankruptcy before paying Anderson the full amount she was owed.
Lawyers would continue working on the case for years, decades even.
Finally, in September 2015 — after years that included IRS run-ins, addiction and rehab, auctions of his prized belongings and, yes, a short-lived comeback — Reynolds wrote a $154,520 check that put the divorce to bed.
"I should have known that you don't marry an actress," the actor told People a couple months later. "That was a really dumb move on my part."
RELATED: Sally Field, plastic surgery and posing nude — Burt Reynolds discussed it all with The Times »
@theCDZ on Twitter and Instagram
Get our L.A. Goes Out newsletter, with the week's best events, to help you explore and experience our city.
You may occasionally receive promotional content from the Los Angeles Times.