27 Images
And the stars support .... whom?
Tom Hanks endorses Barack Obama.
(Peter Kramer, Associated Press)
Tom Selleck:
The former "Magnum P.I." and "Las Vegas" star, shown here with his wife and daughter at the Emmy awards last year, has endorsed Sen. John McCain.
(Spencer Weiner / Los Angeles Times)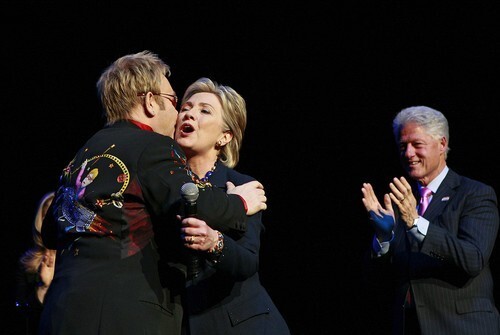 Elton John performed at a Hillary Clinton fundraiser at Radio City Music Hall in New York.
(Charles Dharapak / Associated Press)
Scarlett Johansson:
At a crucial Iowa rally, the actress called on young voters to support Obama.
(Elisabetta Villa / Getty Images)
Ben Affleck:
The politically active actor has introduced Barack Obama at various functions and told an ABC news interviewer that he saw the senator from Illinois as the future of the country.
(Chris Pizzello / AP)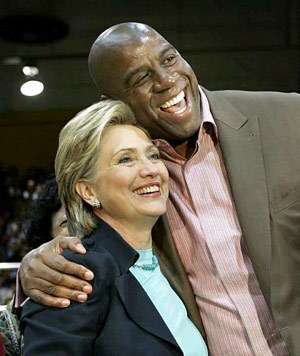 Sen. Hillary Rodham Clinton, D-N.Y., gets a hug from former Los Angeles Lakers star Earvin "Magic" Johnson during a rally in Los Angeles.
(Elise Amendola / Associated Press)
Actor Jack Nicholson as seen in a screen grab of his Web-distributed endorsement of Hillary Clinton.
(YouTube.com)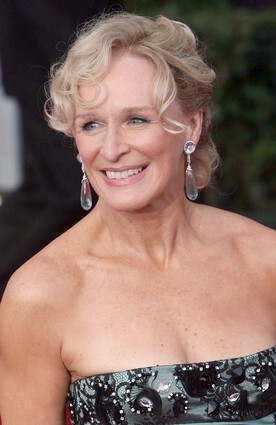 Glenn Close:
The "Damages" star endorses Hillary Clinton.
(Gabriel Bouys AFP / Getty Images)
"Desperate Housewives" star Eva Longoria Parker joined Hillary Clinton at a town hall meeting in Austin.
(Shawn Thew / EPA)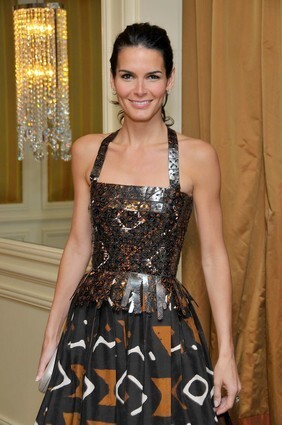 Angie Harmon, one-time star of "Law & Order" has publicly endorsed John McCain.
(Charley Gallay / Getty Images)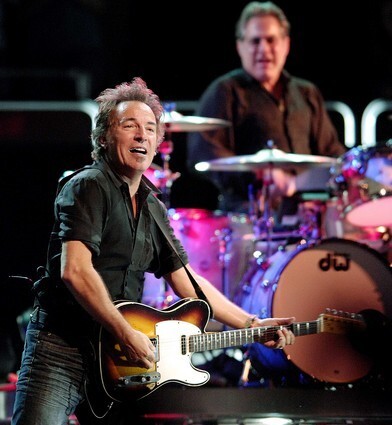 Bruce Springsteen posted a letter on his website saying Barack Obama "has the depth, the reflectiveness and the resilience to be our next president."
(Chris Pizzello / Associated Press)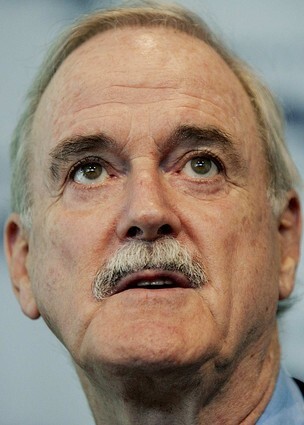 Former Monty Python member John Cleese can't vote for Obama -- he's a British citizen -- but he's offered his speechwriting services to the candidate should he get the nomination.
(Mark Baker / AP)
Matt Damon:
The "Departed" star told "Hardball" host Chris Matthews that he'd be willing to stump for Barack Obama's presidential campaign.
(Rainer Jensen / EPA)
Edward Norton:
The star of "The Illusionist," seen here with an unidentified companion, told the Chicago Tribune, "It would be a privilege to support a guy like (Obama)."
(Gareth Cattermole / Getty Images)
Quincy Jones:
Although a lot of Hollywood players seem to be pulling for Obama in '08, some Clinton friends are sticking by their old pals, including music producer Quincy Jones.
(Ricardo Moraes / AP)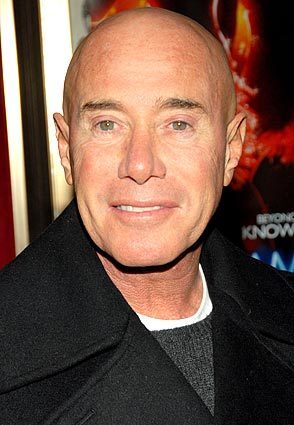 David Geffen:
The billionaire music mogul made headlines when he publicly switched his allegiance from his longtime pals the Clintons to Barack Obama, and in so doing questioned Hillary's ability to tell the truth.
(Paul Hawthorne / AP)
Oprah Winfrey:
The daytime talk queen has expressed her support for Barack Obama several times and has had him as a guest on her show.
(Rich Schmitt AFP/Getty Images)
Heidi Montag, star of MTV's "The Hills" gave her support of John McCain. When informed of the endorsement, McCain told a Time magazine reporter: "I'm honored to have Heidi's support and I want to assure her that I never miss an episode of 'The Hills,' especially since the new season started."
(Peter Kramer / Associated Press)
Dennis Miller:
The stand-up comedian-turned-talk radio host emceed the first New York City fund-raiser for Republican candidate and former Big Apple mayor Rudolph Giuliani.
(Mario Tama / Getty Images)
Will Smith:
The "Pursuit of Happyness" star expressed his support for Barack Obama as our next president in an interview with the Chicago Sun-Times.
(Jason DeCrow/AP)
John Leguizamo is a Barack Obama supporter.
(Brad Barket / Getty Images)
Halle Berry has been spotted wearing an "Obama for change" shirt around Los Angeles.
(Claudio Onorati / EPA)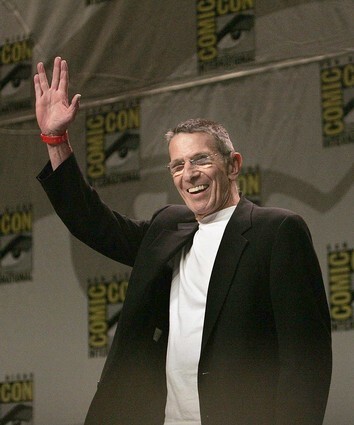 According to Leonard Nimoy
, it's Barack Obama who endorses him. The feeling is probably mutual.
(Spencer Weiner / Los Angeles Times)
Barack Obama told reporters he had some Beyonce and Jay-Z on his iPod and Jay-Z told a Boston audience that he supported Obama for president.
(Jason Szenes / EPA)
Jon Bon Jovi and Hillary Clinton have been friends for a decade. He calls her "Mrs. C."
(Henny Ray Abrams / Associated Press)
Roseanne Barr is an avowed Hillary Clinton supporter.
(Lawrence K. Ho / Los Angeles Times)
New York Jets wide receiver Keyshawn Johnson, left, and Cleveland Browns legend Jim Brown participated in a racial issues forum in Houston with former President Clinton.
(Stephen Jaffe / AFP)