12 Images
10 things you don't know about Chris Pine
His first acting job was on "E.R." He played a drunk patient named Levine, whose only lines were "I got drunk at a Valentine's Day party. It was a blow-out. It was icky." (Don't believe us,
check it out
for yourself.)
--
Compiled by Denise Martin
(Matt Sayles / Associated Press)
Pine is third-generation show biz. His father, Robert Pine, played Sgt. Joseph Getraer on the 1970s cop show "CHiPS," and his mother, Gwynne Gilford, starred in the sci-fi film "Masters of the Universe." His grandparents on his mother's side, Max M. Gilford and Anne Gwynne, were an entertainment lawyer and "leading lady" who starred in more than 60 films, respectively.
(Jay L. Clendenin / Los Angeles Times)
Lindsay Lohan
, his costar in the 2006 romantic-comedy flop "Just My Luck,"
once said
"Chris was a good kisser. But he tried to bite me once!" Pine returned the compliment, saying Lohan had "big, soft lips. ... Big lips are the key," but he denied the biting in
Parade Magazine
.
(Jay L. Clendenin / Los Angeles Times)
Pine and costar Zachary Quinto (Spock) knew each other prior to being cast on "Star Trek" because they worked out at the same gym,
Quinto recalled
: "It wasn't even a gym, it was a friend's kitchen. That was the funny thing. We had the same trainer who was a friend of ours before he was either of our trainers, and now we work out at the same gym."
(Jay L. Clendenin / Los Angeles Times)
In 2007, Pine starred opposite
Scott Wolf
in the L.A. production of "Fat Pig,"
Neil LaBute
's provocative play about the romance between a good-looking guy (Wolf) and an overweight girl.
Pine won raves
for his
portrayal of Carter
, Tom's competitive, alpha-male friend.
(Jay L. Clendenin / Los Angeles Times)
Pine has a degree in English from UC Berkeley and later studied acting at the University of Leeds in England and the American Conservatory Theater in
San Francisco
.
(Jay L. Clendenin / Los Angeles Times)
As a teenager, Pine worked as a
production assistant
on
Roger Corman
's "Black Scorpion" and told
Hero Complex
he "did pretty much every job that can be done," and the sawdust summer-camp vibe of that ragged production solidified his Hollywood dreams. "It was just so much fun," the actor said with a big grin.
(Jay L. Clendenin / Los Angeles Times)
Like most of the other "Star Trek" cast members, Pine says he wasn't a fan of the show growing up but says the new movie has the same sense of "
optimism and unity
." "There's a message in this almost utopian possibility and this team of people who must work together to overcome tremendous challenges," Pine told The Times' Geoff Boucher. "It's about exploration and possibility and adventure. It's a very appealing message and it grabs people. I hope it will at least."
(Jay L. Clendenin / Los Angeles Times)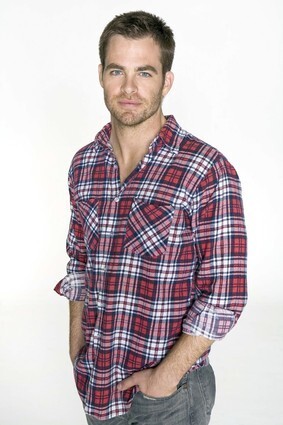 Pine tried to
reach out
to the original Kirk,
William Shatner
, who reportedly felt he was
snubbed
in not getting included in the movie: "I wrote Mr. Shatner a letter very early on because I had heard there had been some acrimony between him and the studio over his not being in the movie. I was like, 'Look, I'm an actor and I got this role that you originated, but I'm not trying to usurp your status as the original Kirk. I'm just trying to do my part to further it.' He was very polite and wrote back, 'I wish you all the luck in the world. Best, Bill.' I have it up on my refrigerator, but now I'm thinking maybe I should frame it."
(Jay L. Clendenin / Los Angeles Times)
Post-"Trek," Pine's got his sights set on another TV show reboot. He told
MTV
he's hoping to land a part on the upcoming "The A-Team" film, which Joe Carnahan is directing. "We've talked about it," Pine admitted. But playing whom? The handsome Lt. Templeton "Faceman" Peck? "No, Murdock is my man. I love Murdock."
(Jay L. Clendenin / Los Angeles Times)