Opera 'Ghosts of Versailles' may live forever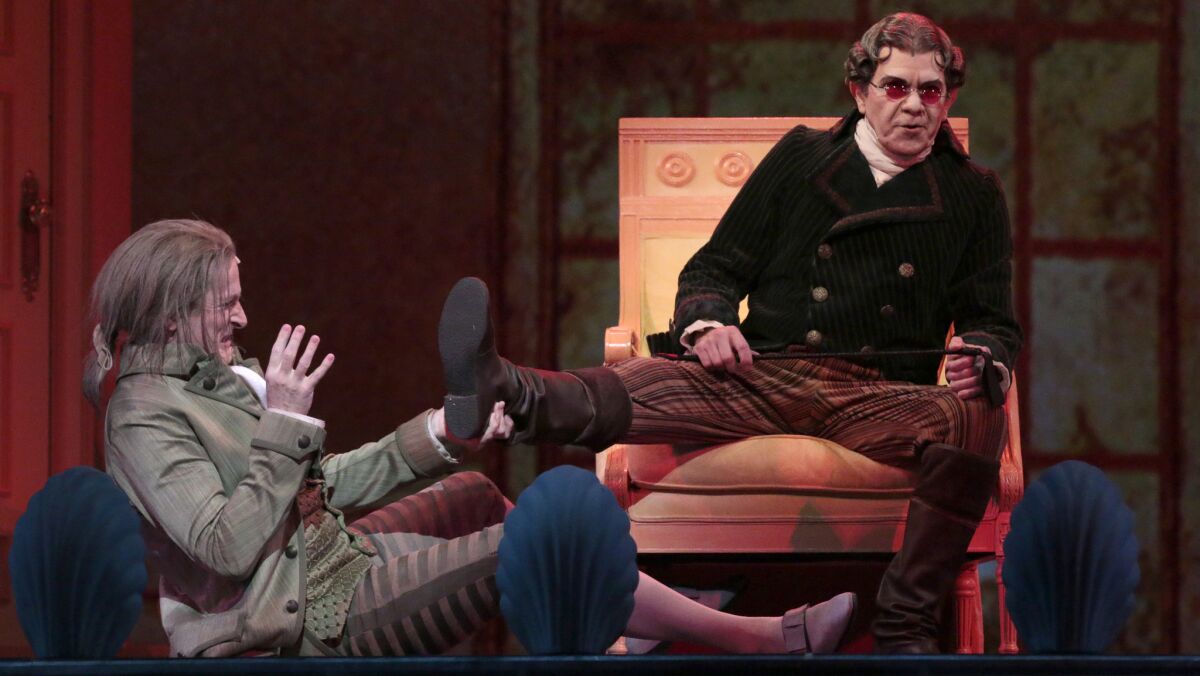 Some of the greatest operas are also the most difficult to shove into a narrow category. Others have layer upon layer, which makes them endlessly fascinating.
"The Ghosts of Versailles" — the "grand opera buffa" of composer John Corigliano and librettist William M. Hoffman that Los Angeles Opera is bravely and extravagantly staging this month as the centerpiece of its "Figaro Unbound" festival — has both qualities.
Does that make it a great opera? Not automatically, and many still differ as to whether "Ghosts" has lived up to the hype and expense of its 1991 premiere at the Metropolitan Opera. But I love it, and I think it has a shot at immortality.
It's comic and serious, entertaining and erudite, silly and thoughtful, emotional and mysterious, harrowing and uplifting, intimate and over-the-top — and the more times you see it, the more you'll find in it and the more you'll get out of it. It helps to be an opera or history buff to get all of the references, reminiscences and send-ups, but it's not necessary.
The motivation for "Ghost's" existence is the centuries-old riddle of what to do with the problematic third part of Pierre-Auguste Caron de Beaumarchais' trilogy of Figaro plays — "The Barber of Seville" and "The Marriage of Figaro" are the others —"La mère coupable" ("The Guilty Mother") from 1792. Darius Milhaud was the first to complete an operatic setting in 1966, but its merits have not been tested since.
In their new interpretation of "La mere coupable," Corigliano and Hoffmann lifted its characters and some aspects of the plot out of the play and placed them in an opera-within-an-opera that is staged by the ghost of Beaumarchais. His purpose is to entertain fellow ghosts of the Louis XVI court and change the fate of Marie Antoinette, with whom he is in love.
By Act 2 of Corigliano and Hoffman's "Ghosts," though, the character of Figaro rebels against his "creator's" goal to save Marie, displaying his radical sympathies in ways that Rossini and Mozart dared not show in their Figaro operas. So Beaumarchais enters his opera himself to try and change Figaro's mind.
That's just the bare bones of what "Ghosts" is built upon, but Corigliano and Hoffmann open up all kinds of worlds with it.
Extraordinarily resourceful, using avant-garde clusters and microtones to skillfully warped neoclassical and neo-Romantic pastiches, Corigliano is equally comfortable building and mixing the floating ghost world in suspended time, the buffa world of Figaro and the Almaviva court, and the horrible world of the French Revolution.
There are too many things going on in this work to give even a partial summary, but there is one other level that's worth touching upon. "Oh, no! Here we go again!" Figaro merrily shouts as he enters the opera-within-an-opera. He is referring to the gaggle of creditors, jealous husbands and other angry folk who are after him for this or that reason.
But he is also speaking to opera fans who have long doted upon the unforgettable characters of the Figaro operas and now get another chance to be with them. Perhaps the most emotional moment in the opera comes when Beaumarchais bids farewell to Figaro, his "favorite" character (in many ways, a self-portrait).
For "Ghost's" West Coast premiere at the Dorothy Chandler Pavilion on Saturday night — and the first full production in this country since Lyric Opera of Chicago's two decades ago — L.A. Opera, like the Met, has pulled out a lot of stops. Scenery designer Alexander Dodge's overall set is a handsome impression of a Rococo opera theater slightly warped as if in a dream.
One difference with the Met production is the now-common use of doppelgangers; Figaro doesn't physically soar in the middle of his Act 1 aria, his double does, and Beaumarchais now duels with Louis XVI's stand-in. Stage director Darko Tresnjak often has a lot of traffic to direct in a small space, particularly in the wild Turkish embassy scene that closes Act 1, but the work itself seems like a deliberate clutter at that point, and so it fits.
The cast is huge and talented, led by Patricia Racette as a formidable Marie Antoinette, not vulnerable and fragile as was the original Marie at the Met, Teresa Stratas, but every inch a queen and no less passionate. Christopher Maltman was a sonorous, heroic Beaumarchais; Lucas Meacham sang Figaro's Rossini-meets-Gilbert-and-Sullivan introductory aria with diction about as clear as the rapid patter will permit.
Samira the Egyptian singer is really just an inserted star-turn that plays no part in the plot, and Broadway's Patti LuPone sang it with her own comic dialect touches.
Robert Brubaker was the dastardly cartoon villain Bégearss; Lucy Schaufer as Susanna was appealing, as were Joshua Guerrero (Count Almaviva), Guanqun Yu (Rosina), Brenton Ryan (Léon) and Stacey Tappan (Florestine) as the Almavivas. James Conlon conducted the large pit orchestra with fire and care, particularly reveling in the delicious aleatoric illustrations of the ghost world and Corigliano's extraordinary writing for brass.
One regret is that L.A. Opera's Figaro cycle is not being performed in chronological order , which would have given "The Ghosts of Versailles" even more cumulative impact if placed after "The Barber of Seville" and "The Marriage of Figaro." But there will be a ghostly afterlife for this production, for L.A. Opera is recording it in audio for release sometime "next fall," according to L.A. Opera President and Chief Executive Christopher Koelsch. It ought to be a treat.
Get our L.A. Goes Out newsletter, with the week's best events, to help you explore and experience our city.
You may occasionally receive promotional content from the Los Angeles Times.