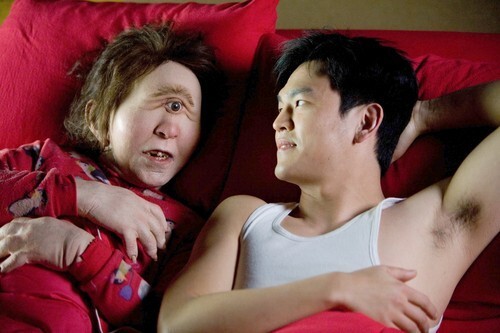 11 Images
Speaking of film gross ...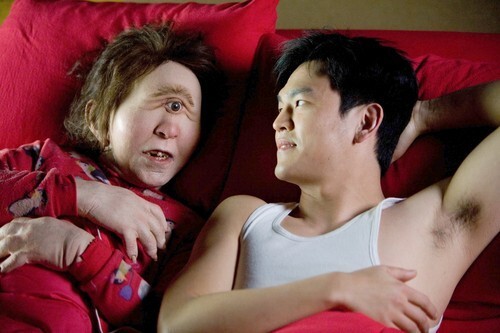 By Susan King, Los Angeles Times Staff Writer
You may love the films of Martin Scorsese. Dutifully catch every foreign film that opens. And are a strong supporter of indie films. But admit it — you know you also love tasteless R-rated comedies. The latest entry in this canon is "Harold and Kumar Escape From Guantanamo Bay," which opens Friday. The sequel to the 2004 hit, "Harold and Kumar Go to White Castle," follows everyone's two favorite stoners as they try to outwit the authorities who believe they are terrorists.
Here's a look at some of the funniest and most off-color films of the past three decades:
(Jaimie Trueblood / New Line Cinema)
"National Lampoon's Animal House"
The first film to be described as a "gross-out," this ribald, hysterically funny 1978 comedy scored a hit with the critics and audiences alike. John Landis directed this classic about a group of misfit fraternity boys that was adapted by Douglas Kenney, Christopher Miller and Harold Ramis from stories penned by Miller about his years at a fraternity at Dartmouth. Set in 1962 at Faber College, the film revolves around two nerdy freshmen, Larry (Tom Hulce, who went on to get an Oscar nomination for "Amadeus") and Kent (Stephen Furst), who try to pledge the No. 1 fraternity, Omega House, but end up being rejected. The two then go next door to the wild and crazy Delta House, where they are warmly embraced. Among its inhabitants are John "Bluto" Blutarsky (John Belushi), who ends up peeing on their pants when they meet; D-Day (Bruce McGill); the ladies' man Otter (Tim Matheson); and his best bud Boon (Peter Riegert). Among the classic scenes involve a dead horse delivered to Dean Wormer's office, Belushi imitating a zit, and the infamous food fight. And look for Kevin Bacon in his first film role.
In 2001, "Animal House" was selected by the Library of Congress for preservation in the National Film Registry for being "culturally significant."
Blush-ometer: 3 out of 5 shades of red
(Universal Studios)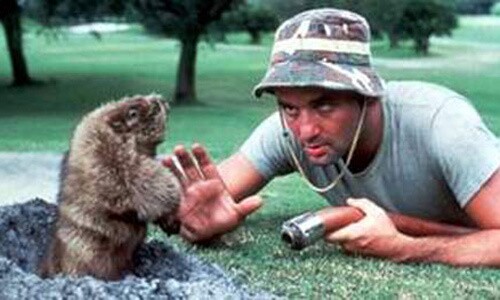 'Caddyshack'
You'll never look at a Baby Ruth candy bar in quite the same way, thanks to this 1980 classic that throws taste out the window. Harold Ramis made his feature directorial debut with this crackup starring Michael O'Keefe as a caddy at an upscale country club filled with wackos including a stern jurist (Ted Knight), the free-spirited son (Chevy Chase) of the club's co-founder, the eccentric groundskeeper (Bill Murray) who is obsessed with ridding the greens of a pesky gopher, and a lowbrow real estate tycoon (Rodney Dangerfield).
The Baby-Ruth-in-the-swimming-pool gag is based on a real incident that occurred at the high school of co-writer and star Brian Doyle-Murray. The infamous gopher was created by special effects legend John Dykstra.
Eight years ago, "Caddyshack" scored No. 71 on the American Film Institute's list of the 100 funniest American films. The film, though, was poorly received when it opened. In fact, co-writer Douglas Kenney was supposedly so upset at the critics' response that he went into a drug-influenced depression. A month after the film's release, his body was found in Hawaii at the base of a cliff.
Blush-ometer: 2.5 out of 5
(Warner Bros.)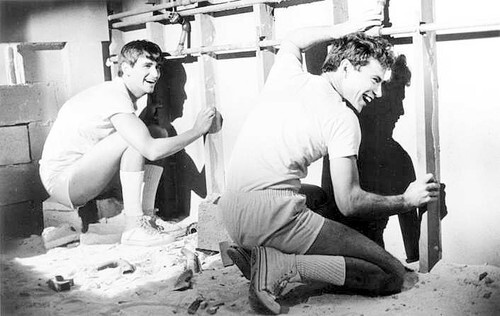 "Porky's"
Bob Clark of "A Christmas Story" fame directed this raucous 1981 Canadian comedy that spawned two sequels. Set in 1954, the film revolves around a group of high school students attempting to lose their virginity. The group heads to a bar outside of town named Porky's in search of a "night to remember." Instead, the owner just humiliates them. Then, they plot their revenge. The film was based on several real-life incidents dating back to the 1960s. ("Sex and the City" strumpet Kim Cattrall also is featured in one of her first major films as a hotsy-totsy nicknamed "Lassie" because of her incessant howling during lovemaking.)
Blush-ometer: 3 out of 5
(Twentieth Century Fox)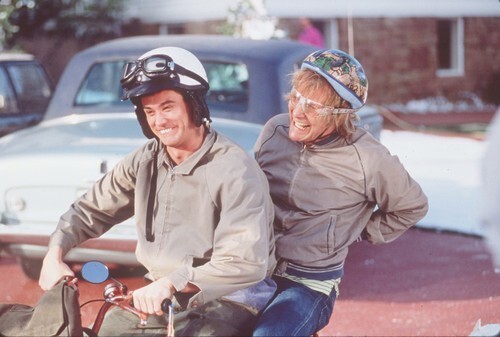 "Dumb and Dumber"
Jeff Daniels has a stellar theater career and has worked with such film directors as Woody Allen and Jonathan Demme. But he'll forever be known as the sweetly stupid Harry Dunne who is best buds with the equally dimwitted Lloyd Christmas (Jim Carrey) in the Farrelly brothers' 1994 comedy classic. The two have big plans to open a pet store — I Got Worms — specializing in creepy crawlers. And just how tasteless is the film? Check out Daniels' toilet scene — he takes "Method" acting to a whole new level. (The 2003 prequel "Dumb and Dumberer: When Harry Met Lloyd," which didn't feature Daniels and Carrey, bombed.)
Blush-ometer: 3.5 out of 5
(Mark Fellman / New Line)
"American Pie"
One of funniest jaw-dropping moments in this 1999 risque comedy finds Jason Biggs caught literally with his pants down by his dad (Eugene Levy) having sex with an apple pie after he is told getting to "third base" feels like "warm apple pie." Let's just hope Biggs didn't have to do too many takes for that indelible scene. Paul Weitz and Chris Weitz wrote and directed this hit about four buddies who make a pack to lose their virginity by their high school graduation after a geeky classmate says he had sex for the first time at a party hosted by the lewdly dumb Steve Stifler (Seann William Scott). Along the way there's stripping, nudity, masturbation and, of course, a piece of the pie. The film spawned two feature sequels and a few dreadful made-for-DVD entries.
Blush-ometer: 3 out of 5
(Vivian Zink / Universal Studios)
"Borat: Cultural Learnings of America for Make Benefit Glorious Nation of Kazakhstan"
Despite outcries of anti-Semitism and sexism, this 2006 mockumentary starring Sacha Baron Cohen as the Pamela Anderson-obsessed Kazakh journalist traveling through the United States was Oscar-nominated for best adapted screenplay. Baron even the Golden Globe for best actor in a comedy or musical. Among its more tasteless moments: giving a bag of his own poo to the members of a private dinner in the South and getting into a nude wrestling brawl with his hefty assistant Azamat (Ken Davitian), which eventually spills out of their hotel room, into the hallway, elevator and into a crowded ballroom.
Blush-ometer: 4 out of 5
(Twentieth Century Fox)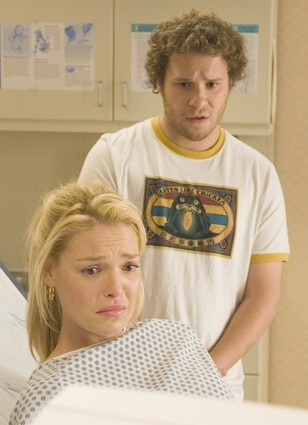 Apatow's comedies
As either writer/director or producer, Judd Apatow has breathed new life in gross-out comedies, first with "The 40 Year Old Virgin," then "Knocked Up," "Super Bad" and the current "Forgetting Sarah Marshall." His films may be filled with naughty language, embarrassing situations, nudity and drugs galore, but they also have a lot of heart. Apatow has turned the gross-out comedy into something sweet. His misfit male characters, who all just wanted to be loved, are all endearing despite the fact that they have a vocabulary of a Stevedore and manners of a hippo.
Blush-ometer: Films average of 3 out of 5
(Suzanne Hanover / Universal Pictures)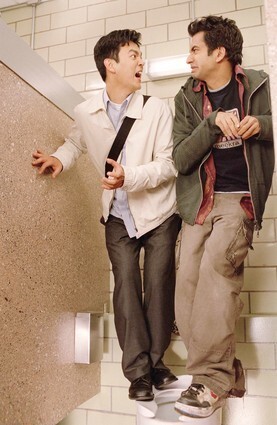 "Harold and Kumar Go to White Castle"
John Cho is Harold and Kal Penn is Kumar in this 2004 comedic road movie. The two play stoner buddies who, after getting higher than a kite, decide to go to White Castle for some of their delicious little hamburgers. But they get distracted along the way — they're attacked by a raccoon, picked up by a tow-truck driver who is in bad need of a vault of Clearisil, and even run into actor Neil Patrick Harris as himself who comes up with an interesting way to snort cocaine.
Blush-ometer: 2.5 out of 5
(Sophie Giraud / New Line Productions)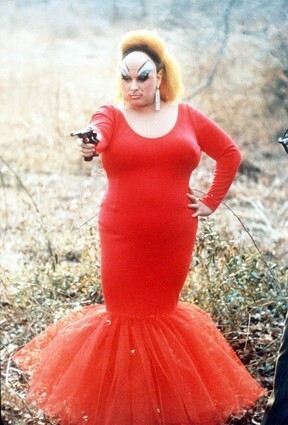 "Pink Flamingos"
John Waters' controversial 1972 cult comedy, which he made for a whopping $12,000, features the gargantuan Divine as Babs Johnson, who lives with her mother (Edith Massey), bad boy son Crackers (Danny Mills) and a traveling companion named Cotton (Mary Vivian Pearce) in a mobile home park in a suburb of Baltimore. A tabloid paper has called Babs the "filthiest person alive" and Babs — and Divine — prove the point in the perverted ending which finds Babs putting dog feces in her mouth and eating them. The film was banned in Australia, Canada and Norway.
Blush-ometer: 4 out of 5
(Fine Line Features)
"There's Something About Mary"
Hair gel takes on a whole new meaning in the Farrelly brothers' 1998 "masterpiece" of romance meets gross. Cameron Diaz plays the title role — a beautiful Miami-based orthopedic surgeon who is the object of many men's affections, including Ted (Ben Stiller) who had had a horrendous prom date with Mary and is still trying to win her heart. There's also Matt Dillon as a private investigator who falls for Mary, Lee Evans as a pizza delivery guy who is smitten with her, and Chris Elliott as Ted's best buddy, who has a fetish for Mary's shoes. The film placed No. 27 in the AFI's list of the 100 funniest American films and Diaz was named best actress by the New York Film Critics Circle for her gelling performance.
Blush-ometer: 4 out of 5
(Glenn Watson / Twentieth Century Fox)