13 Images
Retirements that weren't
By Deborah Netburn, Chris Lee and Todd Martens, Los Angeles Times Staff Writers
Alright Nine Inch Nails fans, this is it. Or is it?
Reznor declared in early 2008 that Nine Inch Nails would
"disappear for a while,"
and the band has a supposed
final-run of shows in Los Angeles
in early September. Yet Reznor's statement left plenty of room for interpretation, and the rock vet is wise to keep things vague.
After all, people in the music biz have a peculiar habit of making grand pronouncements about how they are bowing out, then refusing to fade gracefully from the spotlight. Why just in 2007
50 Cent
made a hype-generating promise to retire as a solo performer if
Kanye West
's album "Graduation" outsold his "Curtis." Well, the Louis Vuitton Don easily managed to upstage 50, forcing him to accept rap's version of the gold Rolex.
But few celeb-watchers reasonably expected the diss-prone MC to stay retired, and one wouldn't be crazy for thinking Reznor and Nine Inch Nails will be back again someday. After all, in the music world, a retirement is often just a brief detour in one's career.
Take a look at some of the more notable post-retirement resurrections:
(EPA)
Retirement:
Soon after the 2000s began, one of the bestselling artists of all-time bowed out. Several major life events preceded the announcement of Brooks' retirement. His mother died in 1999, and the following year he and his wife of 14 years, Sandy, were divorced. The couple's daughters were 8, 6 and 4 at the time.
Resurrection:
Brooks announced in October 2009 that he was coming out of retirement and was heading to Las Vegas. Yet he wasn't completely absent from the pop landscape for the eight years he was in supposed hibernation. Any lingering questions about Brooks' ongoing drawing power were obliterated in 2007 when he played nine concerts in Kansas City, Mo., in conjunction with the release that fall of his compilation album, "Ultimate Hits." He initially planned one show at the 19,000-capacity Spring Center Arena as a thank-you to employees of
Wal-Mart
, where the album was sold exclusively, but demand quickly led to the addition of eight more shows that were opened to the general public. All nine sold out in a matter of minutes.
Two months later he quickly sold out five shows at
Staples Center
in
Los Angeles
that were benefits for firefighters and victims of wildfires that had recently scorched broad swaths of Southern California.
(Lori Shepler / Los Angeles Times)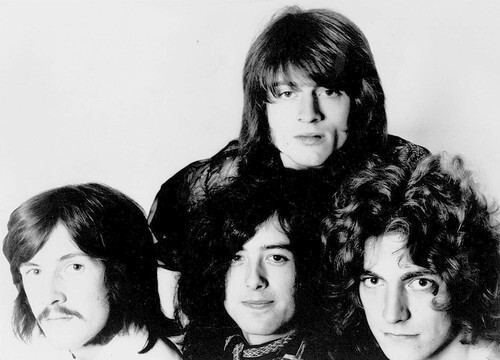 Led Zeppelin
Retirement:
When drummer Jon Bonham died tragically in 1980 at age 32, that seemed to spell the end for one of rock 'n' roll's biggest bands. The surviving three members – Robert Plant, Jimmy Page and John Paul Jones – issued a statement: "We wish it to be known that the loss of our dear friend, and the deep respect we have for his family, together with the sense of undivided harmony felt by ourselves and our manager, have led us to decide that we could not continue as we were."
Resurrection:
The surviving members first came together in 1985 for the international charitable rock event that was Live Aid. Publicly unhappy with their performance, that looked to be it, at least until the Rock and Roll Hall of Fame came a-calling in 1995. But a short set at the induction ceremony didn't lead to much else, and although Page and Plant have been willing to tour and work together, a rift was said to develop with Jones. Another charity event, however, has brought the band together again, performing Dec. 10, 2007, at a concert for an education fund in the name of Atlantic Records co-founder Ahmet Ertegun. Speculation has been rampant that if all goes well, a tour will ramble on.
(Atlantic)
Jay-Z
Retirement:
As a self-professed former drug dealer-turned-rapper-turned music mogul, Jay-Z sold over 21 million albums and was hailed among hip-hop's most hard rhyming lyricists before bowing out as a solo performer in 2003. A year later, he was named president of his record label Island Def Jam, insisting he had no plan to return to music. "Ten albums, outside guest appearances, soundtracks - I don't ever get to a point where I'm just doing it to make money. I love it too much for that," Jay said in 2003. "What more can I say to you? I've done it all."
Resurrection:
Three years later, Jay's solo album "Kingdom Come" topped the national album chart, selling 680,000 copies in its first week of release. Now he does double duty as a label head and performer (contributing guest verses on songs including the ubiquitous jam of summer, Rihanna's "Umbrella.") "It was the worst retirement, maybe, in history," Jay told Entertainment Weekly. "I believed it for two years."
(Jennifer S. Altman / For The Times)
Naomi Judd
Retirement:
With daughter Wynonna, the Kentucky-born singer rose from anonymity to become the Grammy-winning toast of Nashville as the chief songwriter of the country duo the Judds. But by the early '90s and at the pinnacle of her career, Judd, 45, was in poor health suffering from hepatitis C. The duo embarked on a farewell tour called "Love Can Build a Bridge" in 1991 -- the highest-grossing country music tour that year -- and Judd "retired" from singing.
Resurrection:
Of course, a performer is never really retired until fans forget about them. Judd kept front of mind by coming out of retirement for "special appearances" with Wynonna, including the 1994 Super Bowl halftime show and a millennium "reunion" concert in 1999, captured in a recording they released the following year, "The Judds Reunion Live."
(Robert Durell / LAT)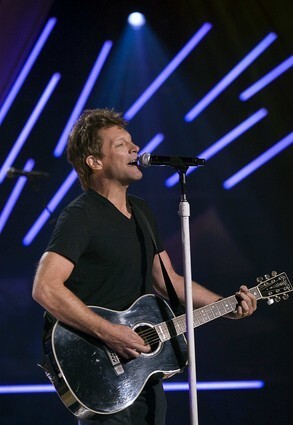 Bon Jovi
Retirement:
Throughout the '80s, New Jersey's hair metal avatars released anthemic singles such as "You Give Love a Bad Name" and "Livin' on a Prayer," moved millions of albums and headlined stadium tours to reach the top of the rock league. But in 1989, the band's frontman, Jon Bon Jovi, unofficially retired, declaring it was time to "ride my bike into the hills, learn how to garden, anything except do another Bon Jovi record."
Resurrection:
Two of the most disruptive forces in rock retirement are ego and money, and Jon Bon Jovi caved in to the latter. Obeying the siren song of cold hard cash, he spiked his planned solo career and rejoining the band to record 1992's "Keep the Faith" -- the band's attempt at Springsteenesque gravitas that promptly went multiplatinum. Since then as a band, Bon Jovi has continued to record, tour and see millions of faces and rock them all.
(Adrian Wyld / AP)
Too $hort
Retirement:
As the most forward face of bass-heavy Bay Area pimp rap, Too $hort released six platinum albums in a row throughout the late 1980s and early '90s before retiring from the game in 1996, assured of his place in the hip-hop pantheon.
Resurrection:
Admitting later that it had been a publicity stunt, Too $hort returned to performing just two months after having hung up his mic. Although he remained a frequent guest collaborator on other artists' songs and albums, it wasn't until 1999 that the rapper came back with his own solo CD, the faux-retirement-celebrating "Can't Stay Away." And last month, $hort Dog released his 16th album, "Blow the Whistle."
(Arnold Turner / WireImage.com)
The Doobie Brothers
Retirement:
In 1982 the popular Southern California soul-inflected pop band announced it was splitting up – well, as soon as it finished a farewell tour. It even recorded a final album, "Farewell Tour," complete with a photo of a guy cutting the strings of a guitar. Talk about final.
Resurrection:
Did we say final? We meant temporary. By 1987 the Doobies had reunited for one concert, which quickly turned into a mini-reunion tour, and by 1989 they were recording albums again.
(Jim Cooper / Associated Press)
Cher
Retirement:
After 40 years of performing, Cher announced in 2002 that she would be launching the final concert tour of her career. (Did her poor record sales inspire the decision? Possibly.) The tour, called "Living Proof: The Farewell Tour," lasted three years and included 325 dates. The final show was in 2005 at the Hollywood Bowl.
Resurrection:
Cher never said she would retire from recording and songwriting, just from the stage, but it seems that may not be true. In 2006, persistent rumors began to surface that she would replace Celine Dion at Caesars Palace when Dion's contract ends at the end of this year.
(Joe Cavaretta / Associated Press)
Patti Smith
Retirement:
Smith was a fixture on the New York underground scene of the late 1960s and '70s, dating playwright Sam Shepard, living at the Chelsea Hotel with photographer Robert Mapplethorpe, writing rock criticism for Cream. She also played music with her band the Patti Smith Group. At the beginning of the '80s she married fellow musician Fred "Sonic" Smith and moved to a town north of Detroit, where she raised two children.
Resurrection:
In 1988 Smith resurfaced briefly with a one-off album, "Dream of Life," which she co-wrote with her husband, but her real return to music came after her husband's death, when friends like Allen Ginsberg and Michael Stipe urged her to hit the road. She reformed the Patti Smith Group with her two children, opened for Bob Dylan and in 2007 was inducted into the Rock and Roll Hall of Fame.
(Jeff Christensen / AP)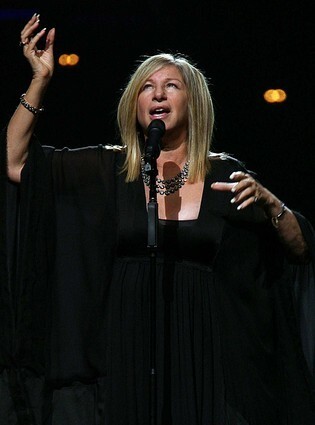 Barbra Streisand
Retirement:
By the time the '70s rolled around, Streisand was the third-biggest seller of albums in history, behind only the Beatles and Elvis. She starred in films and directed them and released almost 60 albums, but she rarely performed live until 1993, when she announced her first live performance in 27 years. Then, in 2000, she announced she was retiring from live performances, just before four final, very expensive and televised shows — two in New York, two in L.A.
Resurrection:
In 2006 Streisand changed her mind and went on tour with Il Divo, playing 20 dates between October and November of that year and outraging some of her fans who had paid big bucks for what they thought was their final chance to see her back in 2000. In 2007 she did a series of concerts in Europe.
(Jon Super / Associated Press)
Blink-182
Retirement:
While never ruling out a reunion, Blink-182 called it quits in 2005, with word first leading that Tom DeLonge had quite the band. On hiatus, DeLonge put together his successful alt-rock outfit Angels & Airwaves; Mark Hoppus and Travis Barker formed the electronic rock act +44; and Barker became an in-demand hip-hop drummer for top-selling rappers including
Eminem
, Lil Wayne and
Soulja Boy
Tell 'Em, while also producing a solo album he still hopes to release in coming months. "It was never a thing where I didn't want to be in a band with nobody or something," Barker, told the Times. "In our band, it just got kind of crazy. We took a break."
Resurrection:
It took a brush with disaster to get the members of the multiplatinum-selling pop-punk trio Blink-182 to stop giving each other the cold shoulder after a four-year "hiatus" as a band. Specifically, it took drummer Barker nearly dying in a plane crash -- which claimed the lives of his assistant and bodyguard -- to make the group's singer-guitarist DeLonge reevaluate his priorities and break the radio silence toward his bandmates. "We started talking again after Travis' accident," the boyish DeLonge asserted with uncharacteristic somberness.
(Ricardo DeAratanha / Los Angeles Times)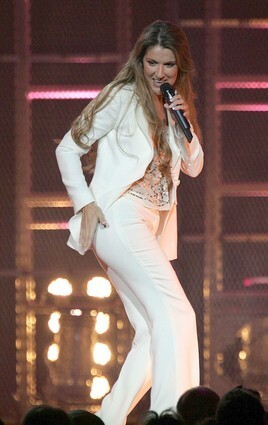 Celine Dion
Retirement:
She'd already sold 100 million albums worldwide and had the good fortune to sing the theme song to "Titanic" ("My Heart Will Go On"). But in 1999, Dion's husband was diagnosed with throat cancer and she announced a temporary retirement in order to spend more time with her family and work on having a baby.
Resurrection:
The retirement lasted three years. By 2002 Dion had released "A New Day Has Come," which debuted at No. 1 in 17 countries. Then she signed a multi-year, 600-performance contract with Caesars Palace in Las Vegas in 2002.
(Frazer Harrison / Getty Images)