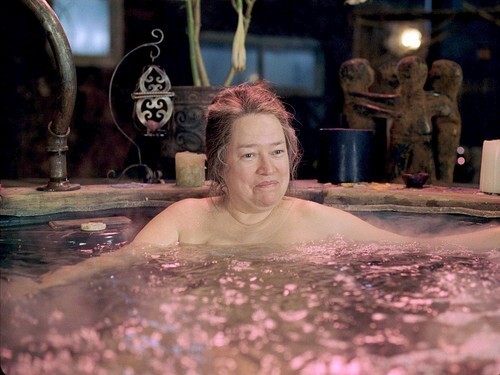 8 Images
Hollywood's nude double standard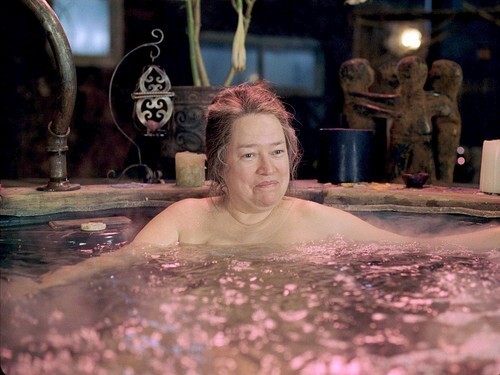 By Susan King, Los Angeles Times Staff Writer
Why is it that out of shape and aging actors show no reluctance in doffing their duds while actresses who take it all off are criticized, scrutinized and even ridiculed unless they boast a pinup-perfect body?
Not convinced? Just look at Kathy Bates. The 59-year-old Oscar-winning actress isn't waif-thin like every other Hollywood starlet, and she's clearly comfortable in her own body. But audiences – mostly male moviegoers – made great fun of her nude hot tub scene with Jack Nicholson in "About Schmidt." Yet Hollywood routinely turns its lens on less-than-perfect men: Most recently, audiences got an up-close-and-personal look at star Jack Black's naked Pillsbury Doughboy-behind in the new film "Margot at the Wedding."
Black's nude scene vividly - maybe too vividly - illustrates the way actors and actresses are treated differently in Hollywood. If women have to watch the Jack Blacks of the world au natural, then movie audiences need to accept the Kathy Bateses going commando…
Here's a look at some actors who might want to hit the Stairmaster before taking off their clothes again for the big screen.
(Claudette Barius / New Line Productions)
Philip Seymour Hoffman
The Oscar-winning actor is truly one of the best thespians working in films and theater today. And he gives a masterful performance in Sidney Lumet's latest film, "Before the Devil Knows You're Dead." But seeing his corpulent, white, naked body making love to a shapely Marisa Tomei is a bit much for anyone to take. Adding to the misery is that the scene, which opens the movie, seems to go on forever and ever. We don't want to "Seymour" of Hoffman au naturel.
Ewww factor: 4.5
(ThinkFilm)
Seth Rogen
There's something teddy bear-cute about the actor/writer who scored a big hit this year as a romantic interest in the comedy blockbuster "Knocked Up." But did we really need to see his naked tushy in the-morning-after-the-night-before scene in costar Katherine Heigl's bedroom?
Ewww factor. 3.5
(Suzanne Hanover / Universal Pictures)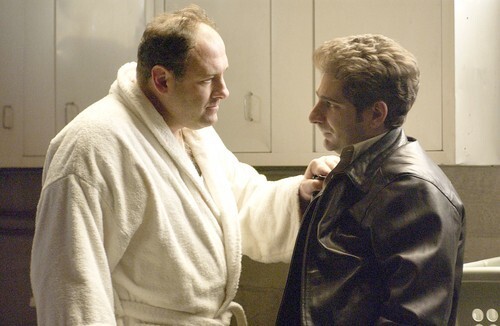 'The Sopranos'
Save for Michael Imperioli who is still lean and mean, all the men in HBO's award-winning mob series should think twice about taking their clothes off or strutting around in their tidy whities. As wonderful as the series was, there was a plethora of sagging buttocks and protruding, exposed male abdomens.
Ewww Factor: 3.5
(HBO)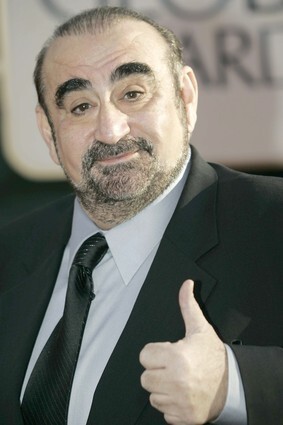 Ken Davitian
Depending on just how low-brow your comedic tastes are, the nude wrestling scene in "Borat," featuring the super skinny Sacha Baron Cohen and the fleshy Davitian, was either the funniest thing since sliced bread or one of the most stomach-churning moments in cinema history. Whatever the case, it's rarely one has seen a guy so heavy that his belly extends over his genitalia.
Ewww factor: 5
(Hector Mata / AFP)
Will Ferrell
The movie funnyman certainly knows how to tickle the funny bone. But the former "Saturday Night Live" regular seems to get great joy in taking off all of his clothes -- remember his drunken running streak in "Old School" -- or stripping down to his briefs. I just want to know how he got the scar on his stomach?
Ewww factor: 3
(Video still courtesy of Screenplay Inc.)
Gerard Depardieu
He is one of France's greatest -- and most corpulent -- actors, and never one to shy away from nudity. Depardieu used his size to funny advantage in the comedy "Menage." But his weight had gotten way out of control in 1994's "A Pure Formality," an offbeat thriller that also starred Roman Polanski. At a screening, several women gasped during a scene when the actor stripped down. The reason? His hips were so expansive they looked like end tables.
Ewww factor: 4.5
(Strand Releasing)
Bob Hoskins
The Oscar-nominated British actor, who has the body of an English bulldog, has given some memorable performances -- especially in such films as "The Long Good Friday" and "Mona Lisa." But he definitely didn't win any awards going full monty in "Mrs. Henderson Presents" and "Pennies From Heaven."
Ewww factor: 4
(Video still courtesy of Screenplay Inc.)