11 Images
Film vets come home
"Stop-Loss"
By Susan King, Los Angeles Times Staff Writer
War is hell. But even after the gunfire has ceased and the battles have been declared officially over, soldiers still have to deal with the ramifications of warfare. Men and women come home with post-traumatic stress, psychological disorders, missing limbs, burns or even blindness. No one who sees combat returns home the same person they were before they left for their tour of duty.
And Hollywood has explored the effects of combat in soldiers in such films as "The Best Years of Our Lives," "Coming Home" and "Stop-Loss" (pictured).
"Stop-Loss," directed and co-written by Kimberly Peirce ("Boys Don't Cry") was inspired by her brother's experience in Iraq. The film revolves around the lives of three friends -- Ryan Phillipe, Joseph Gordon-Levitt and Channing Tatum -- who all return psychologically wounded to their small hometown after serving in the Iraq war.
Here's a look at several films that examine the plight of troops returning home.
(Paramount Pictures)
"Flags of Our Fathers"
'Flags of Our Fathers'
This poignant Clint Eastwood 2006 film was overshadowed by his "Letters From Iwo Jima," which was released a few months after "Flags" and examined the Japanese side of the World War II battle. "Flags," though, is definitely worth watching.
Based on the book by James Bradley, the film revolves around the three surviving flag-raisers at Iwo Jima's Mount Suribachi in 1945 who were flown back to the United States by the government to lift the public's flagging morale and to raise money for the war effort. All three young men were filled with guilt for leaving their buddies behind to be put on display as war heroes.
Ryan Phillippe plays John Bradley, an undertaker who never talked about his achievements during World War II with his family. Ira Hayes (Adam Beach) plays an American Indian dealt with prejudice during and after the war. When he left the service, he returned to his reservation in Arizona and drifted into alcoholism and poverty. He was found dead in a ditch in 1955 at the age of 33 after a drunken binge.
Rene Gangon (Jesse Bradford) enjoyed his stint as a celebrity but became disillusioned when his stardom diminished after the end of the war. He ended up holding menial jobs and bitter that his recognition didn't lead to fame and money.
(Paramount Pictures)
Coming Home
'Coming Home'
Much as "The Men" explored the lives of para-and-quadriplegics returning home from World War II, Hal Ashby's acclaimed 1978 drama focused on men returning maimed and disfigured during the Vietnam War.
Jane Fonda, in her Oscar-winning performance, plays Sally Hyde, the perfect wife of a career Marine (Bruce Dern). When he heads off to Vietnam to fight, she volunteers at the local VA hospital where she comes in contact with Luke Martin (Jon Voight, in his Oscar-winning turn), an embittered paraplegic vet. Though he is filled with animosity toward Sally, the two eventually fall deeply in love.
But she is helpless when Dern returns from the war psychologically wounded from his experience. He ends up drowning himself in the ocean.
Ashby also used real vets in the film and let them improve their own feelings about the war in the movie's opening scene.
(United Artists)
"Gone With the Wind"
'Gone With the Wind'
Dull as dishwater Southern gentlemen Ashley Wilkes (Leslie Howard) is one of the first to sign up to fight for the Confederacy. But he returns from the war and into the arms of his long-suffering wife Melanie (Olivia de Havilland) poor, wounded and unable to find himself. The only thing he knows for sure is that he still loves Scarlett (Vivien Leigh) but will never leave Melanie for her.
Interestingly, Howard was 21 when he enlisted in the British cavalry in 1914 during World War I. He couldn't cope with the violence and death he witnessed in battle and returned home with shell shock in 1916. His mother told him to go into acting. Howard took his mother's advice and found the theater to be the best cure for him. By 1917, he was appearing on the London stage. Broadway followed a few years later.
(New Line Cinema)
"Born on the Fourth of July"
'Born on the Fourth of July'
Tom Cruise received his first best actor Oscar nomination for his touching performance as Ron Kovic in Oliver Stone's inspired 1989 adaptation of Kovic's autobiography. Stone won his second Oscar for best director for the hit film.
The film follows Kovic's life from a wholesome high school student in Massapequa, N.Y., to a Marine in Vietnam, where his shooting injuries leave him a paraplegic. The film spends a lot of time focusing on his recovering at a Bronx VA hospital, where conditions were bleak and the staff was less than attentive. Kovic also sufferred from psychological damage from his experience in Vietnam and turns to alcohol. But, eventually, he turns his life around and becomes a leading antiwar activist.
(Roland Neveu / Universal City Studios)
"Deer Hunter"
''Deer Hunter'
"Coming Home" wasn't the only Vietnam-themed movie released in 1978. Michael Cimino's uncompromising and graphically violent drama "Deer Hunter" picked up numerous Academy Awards including best picture, director and supporting actor, Christopher Walken. The three-hour epic focuses on three buddies from a Pennsylvania steel town — Michael (Robert De Niro), Steven (John Savage) and Nick (Walken) — who go off to fight in Vietnam, only to be captured and forced to play a tormenting game of Russian roulette.
At one point, Michael and Nick are forced to play each other. Back home, Michael is no longer able to kill a buck while deer hunting. He finally reunites with Steven who is rehabbing in the VA hospital after losing his legs. He tells Michael that someone is sending him huge amounts of cash. The cash is coming from Nick, who is playing Russian roulette professionally in Saigon and has become addicted to heroin. Michael travels to Saigon, where he pays the club manager to allow him to play the game with Nick. He begs Nick to return home with him, but Nick ends up blowing out his brains in the game.
Vietnam vet Jan Scruggs got the idea for building a national memorial for Vietnam veterans after seeing the film in 1979. Scuggs, who was a counselor with the U.S. Department of Labor, established and operated the fund that paid for the memorial. Numerous critics decried the inclusion of the Russian roulette sequences in the movie, saying that such incidents never happened during the war.
(Orion Pictures Corp.)
"In the Valley of Elah"
'In the Valley of Elah'
Though audiences stayed away from Paul Haggis' drama last fall, it's well worth a look, especially for Tommy Lee Jones' Oscar-nominated best actor performance as the father of a young soldier who is killed soon after he returns from a tour of duty in Iraq. Jones' Hank Deerfield is a no-nonsense Vietnam vet now hauling gravel for a living who gets a call that his young son is AWOL from his squad at a fort some two-days drive away. When Hank arrives at Ft. Rudd, he begins to investigate his son's disappearance. Going through his son's belongings, he comes across his boy's cellphone, which is filled with glimpses of war and what his son and the members of his patrol did in Iraq.
After his son is found brutally slain, he teams up with a young police detective (Charlize Theron) to find out what happened. Then the evidence starts piling up against his son's buddies.
(Warner Independent Pictures)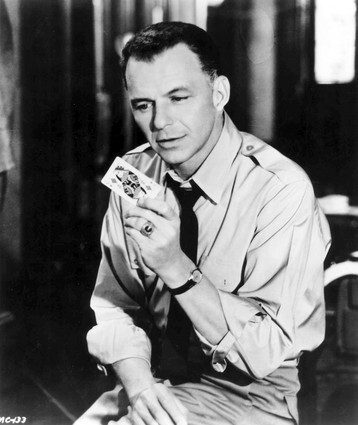 "The Manchurian Candidate"
'The Manchurian Candidate'
John Frankenheimer's brilliant 1962 political thriller is based on Richard Condon's novel. Frank Sinatra and Laurence Harvey star in this atmospheric, terrifying tale of members of a U.S. Army patrol who are captured by the enemy during the Korean War and taken to Manchuria. While imprisioned there, they are brainwashed by the Chinese to believe that the group's weak-willed sergeant (Harvey) is actually a hero who led the patrol in a successful rout of the Communists. But he's actually been brainwashed to kill a presidential nominee. And the person behind the brainwashing is his politically ambitious mother, played by Angela Lansbury.
Sinatra plays another member of the patrol who has been suffering nightmares about what may or may not have happened to the patrol in Manchuria. The film is far superior to Jonathan Demme's 2004 remake.
(United Artists)
"The Men"
'The Men'
After becoming a Broadway superstar at 23 in Tennessee Williams' "A Streetcar Named Desire," Marlon Brando came to Hollywood in this stirring 1950 drama directed by Fred Zinnemann.
Brando gives a towering, intense performance as Bud, a young man who becomes a paraplegic after being shot in combat and who must learn to live without the use of his legs. Teresa Wright stars as his girlfriend.
Brando prepared for his role by lying in bed for a month in a veterans hospital. Always the Method actor, he remained in his wheelchair during the production.
The film also used real recovering vets — 49 were from the Birmingham Veterans Administration Hospital. And Paralyzed Veterans Assn.'s water polo and wheelchair basketball team members are also featured.
(Bravo)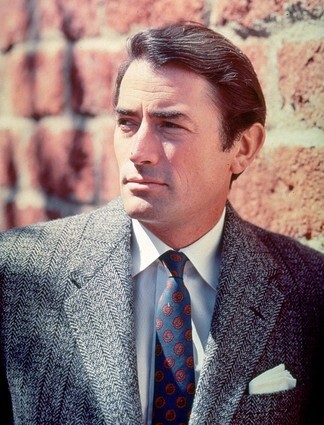 "Captain Newman, M.D."
'Captain Newman, M.D.'
In this compelling 1963 drama that is considered ahead of its time, Gregory Peck plays the sympathetic Capt. Newman, the head of the neuropsychiatric section at an Army base during World War II who tries to help the shell-shocked and psychologically traumatized soldiers. The good doctor also is battling with himself over the fact that if and when he cures his patients, they will be sent back into combat.
Eddie Albert gives one of his best performances as Capt. Bliss, who is wracked by guilt for sending so many young men to their deaths. His despair leads him to commit suicide. Equally good is Bobby Darin, in his Oscar-nominated supporting actor turn as Cpl. Tompkins, who believes he is a coward for not being able to save his buddy from a burning plane.
(AP)
"The Best Days of Our Lives"
'The Best Days of Our Lives'
The quintessential coming-home movie, this beautifully wrought 1946 drama directed by William Wyler won numerous Oscars including best film, director, actor (Fredric March) and supporting actor (Harold Russell).
"Best Years" focuses on three different men returning to civilian life. March is a middle-aged well-established banker with a wife (Myrna Loy) and two children; Dana Andrews is an Air Force captain who was a soda jerk before the war; and Russell is a young man from a close-knit family who lost both hands during the war.
Russell was an Army instructor training with the U.S. 13th Airborne Division stateside in 1944 when a defective fuse he was handling while making a training film exploded. He was given two hooks to replace his destroyed hands.
While attending Boston University after his recovery, he was featured in an Army film called "Diary of a Sergeant" about the rehabilitation of war veterans. Wyler saw the movie and cast him in "Best Years."
Russell became the only performer to receive two Oscars for the same role: he won best supporting actor and a special Oscar "for bringing hope and courage to his fellow veterans." But in 1992, Russell sold one of his Oscars to a private collector in order to pay for his wife's medical bills.
()