Gervais hopes to make Golden Globes an 'industry party'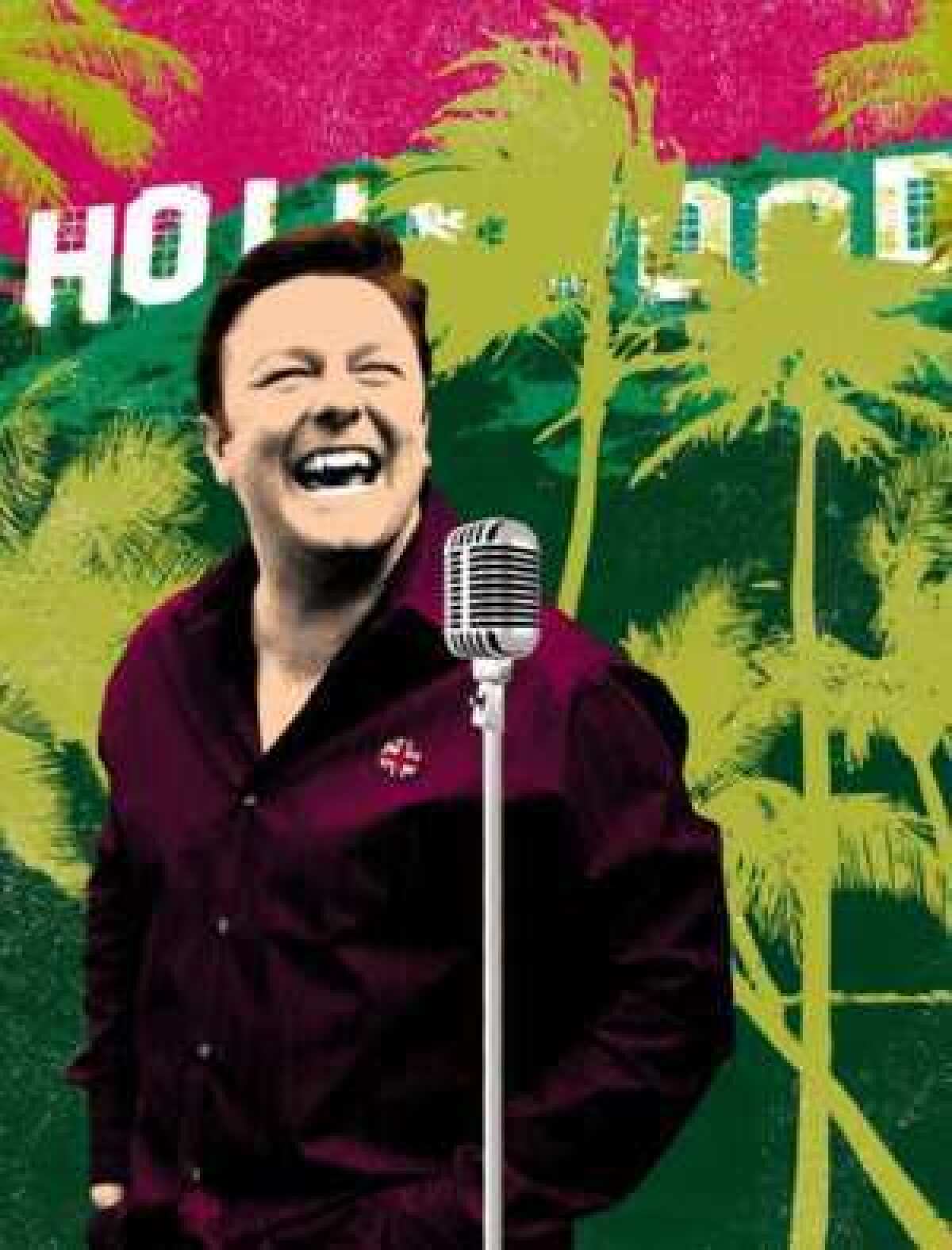 Staff Writer
Ricky Gervais couldn't stop laughing. The self-effacing British comedian was announced Monday as the host of the 67th annual Golden Globes and he couldn't help cracking himself up trying to articulate why.
"I don't know! Maybe I'm cheap? They're saving on presenters now because they all need goody bags," he said with a giggle. "No, no, someone must have said, 'Is there like a fat shmuck from Britain who doesn't know our ways and would think this is a real honor? Who'd do it for a giant pizza?' My agent overheard them. . . ."
Actually, Hollywood has long counted on Gervais, best known for having co-created and starred in the original U.K. edition of "The Office," to perk up awards season. And as awards-watchers know, there are no sacred cows for the comic. He wrestled back his Emmy from Steve Carell in 2008, and at last year's Globes ceremony, he teased best actress nominee Kate Winslet: "What did I tell you, Winslet? Do a Holocaust movie, win an award." (She had appeared in his HBO series "Extras" as a nun in a Holocaust movie.)
Gervais said he's been offered hosting gigs before but felt the Globes were best suited to his off-the-cuff style.
"They sit at tables, people are drinking. It's film stars and TV stars mixing together, and that usually doesn't work. TV people are usually kept in an electrified pen. They can see Brad and Angelina but they're not allowed to look them in the eye. But at the Globes, Brad? He walks amongst TV people and says, 'Hi, how are you doing?' "
High on Gervais' agenda is making sure the Jan. 17 show upholds its rep as the Oscars' boozy, laid-back sister.
"I think people should be less worried about it being a TV event and more about celebrating the industry," he said by phone from the U.K. "I'm going to give them a roasting. They're there -- including me -- for people's entertainment. I don't think we should take ourselves too seriously. It's got to be a party for the industry and I think people will want to watch that."
Gervais will be the first person to host the ceremony since 1995, when John Larroquette and Janine Turner tag-teamed the event. Paul Telegdy, NBC's executive vice president of alternative programming, said the decision to bring back an emcee was a no-brainer.
"I always kind of wanted someone to hurry up and make it funny," Telegdy said.
"I don't think Ricky necessarily translates to millions of extra viewers, but he's buzzy," he added. "What he drives is a genuine excitement about what may happen. For now, he's the English bloke who turns up at awards shows and says the best thing of the night. With any luck, viewers will turn up to see what he can do with an entire show."
Gervais has a soft spot for the Globes, which honored him twice for "The Office" in 2004. "Absolutely. That's where it all sort of happened for me in America." He was mostly unknown then, he said. "Apparently -- and this is my favorite story, I so want it to be true -- when we went up to get the award someone overheard Clint Eastwood growl, 'Who the [heck] are they?' "
But seriously, Gervais added, "I'm really looking forward to it. They let me take a beer out to present last time."
Get our L.A. Goes Out newsletter, with the week's best events, to help you explore and experience our city.
You may occasionally receive promotional content from the Los Angeles Times.