Shane McAnally worked on 'Body Like a Back Road' and 'Drinkin' Problem,' and now he's competing against himself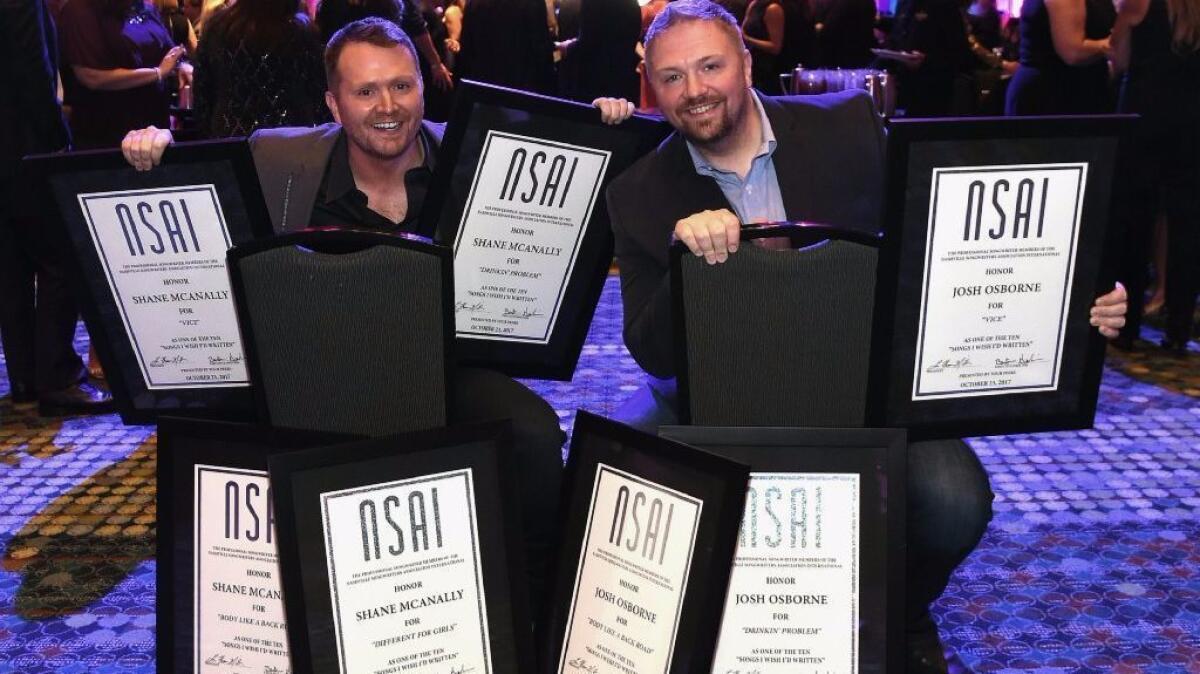 Shane McAnally had forgotten that the nominations for the 60th Grammy awards would be announced Tuesday morning. So when a friend called to congratulate him, he had to ask "What for?"
The Texas native netted two nominations in the category of country song for tunes that both hit No. 1 this year. The first, Sam Hunt's "Body Like a Back Road"— co-written with Hunt, Josh Osborne and Zach Crowell — broke the record for the longest streak at No. 1 on the Hot Country Songs chart.
The second, Midland's "Drinkin' Problem"— co-written by McAnally, Osborne and band members Jess Carson, Cameron Duddy and Mark Wystrach — proved to be a breakthrough for the trio.
The songs could not be more different. "Body Like a Back Road" is slinky, hip-hop influenced pop country while "Drinkin' Problem" is a Strait-up throwback to the traditionalist hat acts of the '80s and '90s.
"Everybody that is in modern country music [complains] about 'Drinkin' Problem' and everybody in conservative country music [complains] about 'Body Like a Back Road,'" he says of the pop versus traditional divide in Nashville.
"That's literally like a Democrat and a Republican running for something."
Depending on whom you ask, the songwriter-producer is either a savior lauded for work with artists like Kacey Musgraves and Midland or a devil vilified for collaborations with artists like Hunt and Thomas Rhett. He says, with another laugh, "Maybe I'm both!"
When asked if he has ever met anyone who loves both songs, McAnally says, "Well, I feel like somebody must like both of them, maybe they're not admitting it. Apparently, the Grammys like both of them."
Since both nominations are in the same category, McAnally and Osborne only have a shot at one trophy. But, he says, "I have competed against myself before and the last time this happened, I won, so maybe this is a good sign."
In 2014 McAnally, Osborne and Musgraves won country song for her hit "Merry Go 'Round," beating out himself, Musgraves and Brandy Clark for writing Miranda Lambert's "Mama's Broken Heart."
McAnally, who also has a songwriting hand in three of the works nominated for country album, is proud of his early association with both acts. He says the styles reflect different parts of his own musical heart.
He is aware, however, that "'Body Like a Back Road' has eclipsed everything I have ever done commercially. I hope I do, clearly, but I would be surprised if I ever had a song I'm more known for than that. It's a career record for me."