Grammys shut out white men in album of the year category for the first time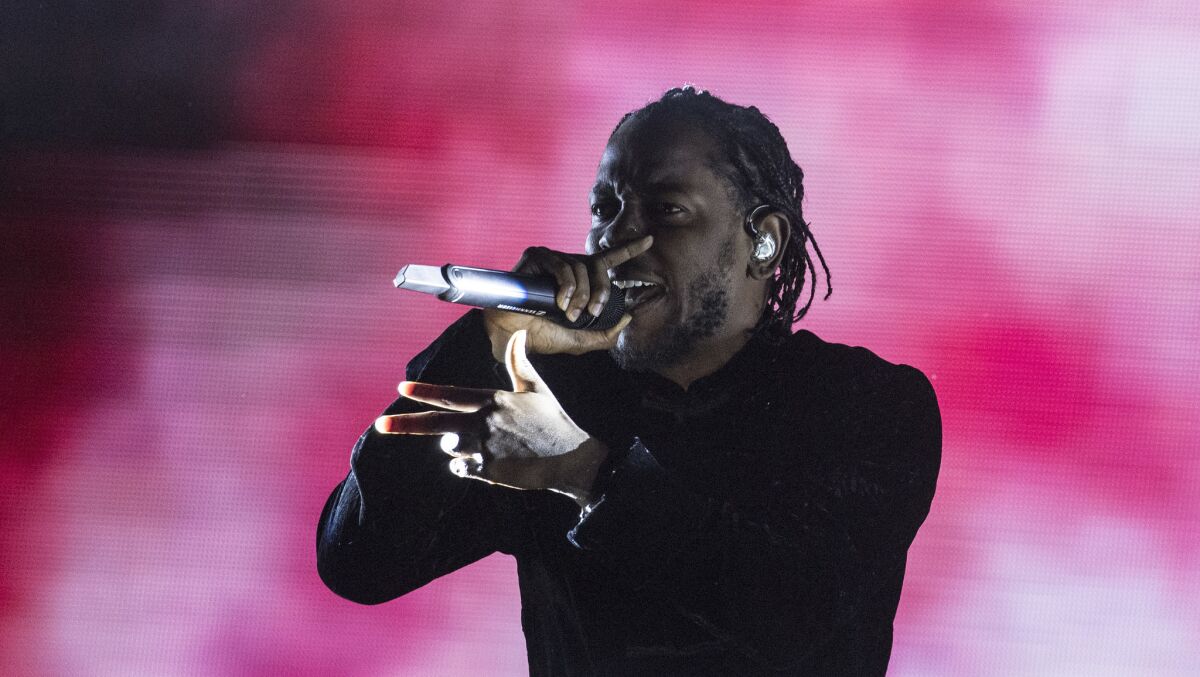 Pop Music Critic
From Frank Sinatra in the 1960s to Paul Simon in the 1970s to U2 in the 1980s, '90s and early 2000s, one set of musicians has long had reason to feel secure in its privileged position at the Grammy Awards.
Well, roll over, white guys, and tell Beethoven the news.
For the first time in the ceremony's six-decade history, a woman and people of color have squeezed the Recording Academy's go-to demographic from among the principal artists in contention for album of the year, the flagship category in nominations announced Tuesday for the 60th Grammys.
Jay-Z's "4:44," Kendrick Lamar's "Damn," Bruno Mars' "24K Magic," Lorde's "Melodrama" and Childish Gambino's "Awaken, My Love!" will compete for the music industry's most prestigious prize on Jan. 28 in New York — a remarkable shift from just a few years ago, when white rockers including Jack White and the Black Keys held down four of the category's five slots in 2013.
That's not the only award whose nominations reflect the change. For record of the year, singles by Jay-Z, Lamar, Mars and Gambino are up against "Despacito," the chart-topping hit by Puerto Rico's Luis Fonsi and Daddy Yankee. Nominees for song of the year include tunes by Logic and Julia Michaels.
And best new artist? That coveted trophy will go to either a woman (Michaels, SZA or Alessia Cara) or an African American man (Khalid or Lil Uzi Vert).
It's about time.
You can look at these nods as a determined effort to repair the Grammys' reputation, which in recent years has been badly damaged by case after case of important black artists being overlooked in favor of less-significant white acts.
Think of Beyoncé losing album of the year to Beck. Or Lamar losing best rap album to Macklemore & Ryan Lewis.
Or Beyoncé losing album of the year — again — to Adele, who in her acceptance speech at this year's ceremony basically tried to correct the academy, saying she couldn't take the award from the singer responsible for "Lemonade."
Indeed, the perception that the Grammys don't properly value work by people of color led Frank Ocean last year to withhold his acclaimed "Blonde" album from consideration.
The institution, he told the New York Times, "just doesn't seem to be representing very well for people who come from where I come from."
Yet it's not right to view these fresh nominations as a kind of politically motivated affirmative action (though that's undoubtedly how some guitar-toting conspiracy theorists will take Ed Sheeran being snubbed for the big awards).
Rather, they constitute an encouraging sign that academy members are actually paying attention to the culture, recognizing the music that had the most to say in a year roiled by examinations of how race and gender play out in art and media and government.
More to the point, they did so without gumming up the major categories with the usual white-guy stuff — music by John Mayer, for instance, or Foo Fighters — that might not matter hugely but that provides a reassuring connection to the old way of doing things.
So what's the new way of doing things? The nominees employ a gratifying variety of approaches.
For Jay-Z, who with eight nods had more than any other artist, "4:44" represents his successful attempt to remake hip-hop as a form for middle-aged concerns. The album addresses marital troubles — presumably with Beyoncé, his wife, who sang about a cheating husband on "Lemonade" — and the meaning of black achievement in Donald Trump's America.
Lamar took up the latter as well on "Damn," which looks unflinchingly at the temptations and responsibilities of fame. (It's the Compton rapper's third straight studio album to be nominated for album of the year.)
Yet each project has its own sound, Jay-Z's soulful and intimate — thanks to sample-heavy production by No I.D., nominated as producer of the year — and Lamar's slick and hard-hitting.
On "24K Magic" and "Awaken, My Love!" Mars and Childish Gambino (the musical alter ego of actor Donald Glover) burrow deep into R&B and funk styles plucked from the last few decades.
But while going retro is a proven Grammys strategy, both men use the familiar sonics to air themes and anxieties that feel up to the minute, be it Mars' pride in wearing "Inglewood's finest shoes" or Childish Gambino's admonition to "stay woke" — one reason his song "Redbone," up for record of the year, was featured prominently in Jordan Peele's racially charged horror film "Get Out."
As the only title by a woman in the album category, Lorde's "Melodrama" is being asked to shoulder quite a lot — too much, really. Still, this young New Zealander packs an impressive number of complicated ideas (about love and creativity and growing up) into sleek electronic tunes throbbing with sensation; the music reminds us that great pop can universalize even the most personal of emotions.
The same went for the Spanish-language "Despacito," a song about a seduction that became something of a self-empowerment anthem at a moment of uncertainty for many Latin American immigrants, and "1-800-273-8255," Logic's suicide-prevention track that's nominated for song of the year.
The unusual acuity of this year's nominations doesn't mean the academy has shed all its blind spots. For starters, women are even more underrepresented in record of the year (with zero female nominees) than they are in album of the year — a truly grim statistic that makes clear Hollywood isn't the only business with a profound gender imbalance.
And although "Redbone" deserves all the recognition it can get, it's not hard to conclude that many Grammy voters got behind Childish Gambino's album on the strength of that one tune — and because they know Glover from his high-profile FX series "Atlanta" and the upcoming "Solo: A Star Wars Story."
Instead of clinging to a familiar face, academy members should have given that fifth album of the year slot to Miranda Lambert's moving country opus "The Weight of These Wings" or the audaciously globe-tripping "More Life" by the Canadian singer and rapper Drake.
Except, wait: Like Ocean in 2016, Drake reportedly declined to submit "More Life," presumably as a means of protesting the Grammys' infamously fusty value system.
Maybe these smart, surprising nominations will draw him back next time.
GRAMMY NOMINATIONS 2018: Live updates »
Twitter: @mikaelwood
Get our L.A. Goes Out newsletter, with the week's best events, to help you explore and experience our city.
You may occasionally receive promotional content from the Los Angeles Times.