'Despacito' is on the verge of Grammy history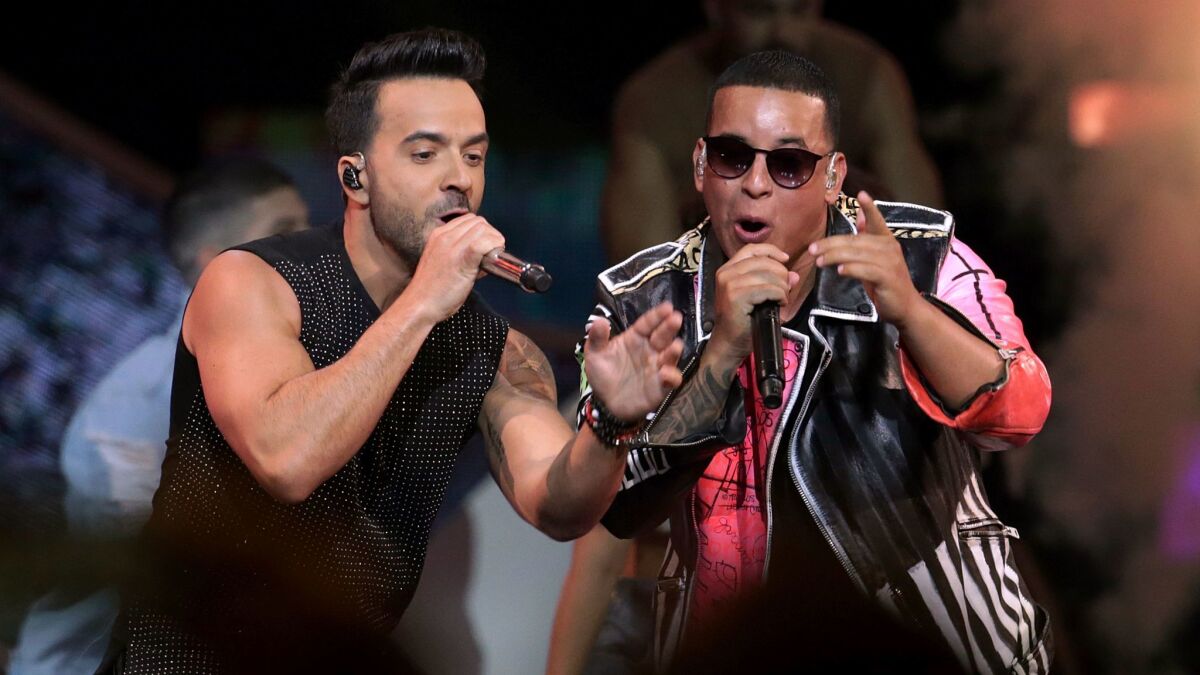 The last time a non-English-language composition won the Grammy for song of the year, Dwight D. Eisenhower was President.
The song was "Volare," a jaunty Italian crooner from singer Domenico Modugno and co-writer Franco Migliacci, and the Grammys in 1959 were a brand-new awards show. Now the Grammys have the strongest contender for a non-English-language winner for song of the year (and record of the year) since Ike was in office.
That song, of course, is "Despacito," the consensus pick for "song of the summer" 2017. The tune — performed by Puerto Rican singer Luis Fonsi and rapper Daddy Yankee, with a remix guest-verse boost from Justin Bieber — spent 34 weeks on the Hot 100 and tied for the longest stint atop that chart ever at 16 weeks.
GRAMMY NOMINATIONS 2018: Live updates »
Its video broke records to become the most viewed YouTube clip of all time (for a version without Bieber in it), and it dominated streaming services, which today can provide the sort of universal outlet previously unavailable to non-English songs.
The song's success with audiences and at the Grammy nominations proved that Spanish language pop songs — not just Latin pop with bilingual flourishes — are now a force with a potentially deep influence at the Grammys and beyond.
"I believe that we are in a global world right now, and it's amazing that the U.S. opened its doors, its ears and its heart for a song mainly in Spanish," said Erika Ender, the Panamanian songwriter who wrote "Despacito" with Fonsi, Yankee, Bieber, Jason "Poo Bear" Boyd and Marty James Garton.
"I also believe that it has to do with the universal language of music," she said. "It's a confirmation that it doesn't matter the language, what matters is the energy, the way something makes you feel, how it moves you."
Much has been written about "Despacito" heralding a summer of Spanish-language Latin pop on the U.S. charts. Hits from J. Balvin and Willy William ("Mi Gente") and Maluma ("Felices los 4") all made Hot 100 impacts this year as well. But if "Despacito" takes home song or record of the year, it would be a major statement, one not just about the appeal of Latin pop but the language audiences listen in.
As a reggaeton song, "Despacito" was fairly accessible. Luis Fonsi and Daddy Yankee were established stars (and a Bieber guest verse never hurt any record's popularity). Compared to, say, Yankee's own breakout 2004 hit "Gasolina," it's a smooth pop track with enough Anglicized top-40 pop tricks to translate anywhere.
But the interesting thing is that, in terms of language, it didn't have to. If it wins, it would be the first song since "Volare" (and, if one must split hairs, the Beatles single "Michelle," which contains some French passages), to beat a language barrier in the Grammys' top songwriting category.
So does that mean it truly overcame a barrier? Or does it mean that the walls are starting to crack in the language of pop music in America?
"I sure hope so," said Robin Moore, a professor in the music school at the University of Texas at Austin who studies Latin music and specializes in the Hispanic Caribbean. Latinos "have long been underrepresented in mainstream and institutional music," he said. "Ever since the '90s there have been all these discussions about demographic trends that were all true but didn't change institutional music. Maybe this does represent a new engagement."
Despite its runaway success, the song will have some serious competition for song of the year, facing off with Jay Z, Bruno Mars, Julia Michaels and Logic with Alessia Cara and Khalid (their anti-suicide anthem "1-800-273-8255" would be a potent winner as well).
But even now, Ender believes it's already opened doors for writers who work outside of English or in addition to it.
"I think it would be an amazing before and after," Ender said. "I think that it does open the world within the U.S., being as I said, a land of immigrants. Because the whole world embraces English music, whatever happens in the U.S. is part of the whole world. It's amazing for us to be able to show our culture and our language within the US borders."
There are political ramifications to that as well. Moore cited California's Prop 187, a controversial 1994 ballot measure to deny public services, such as public education and healthcare, to people whose residence in the country is undocumented, as a flashpoint to energize the Latin community as well as the music's growth in the U.S. (many of the ballot measure's provisions were struck down in court).
Additionally, he believes the 2016 election — with all its xenophobic undertones — might have led to something similar in "Despacito." "A lot of people did read it as a reaction to the Trump era and anti-immigrant sentiment," he said.
Additionally, as Puerto Rico remains devastated by Hurricane Maria and a slow-to-come response from the U.S. government, "Despacito" could be a way for the Grammys to highlight the territory's ongoing struggles even after the media spotlight has drifted.
"It has been a tragic year for Puerto Rico, but at the same time I think that things like this do unite people and make a difference," Ender said. "Puerto Rico has a marvelous culture and amazing things to give. And I think it's the right time for us to give back to Puerto Rico, so that Grammy would be such a big embrace and such a big lift for Puerto Rico, Puerto Ricans and Latins in general."
Get our L.A. Goes Out newsletter, with the week's best events, to help you explore and experience our city.
You may occasionally receive promotional content from the Los Angeles Times.