Creativity oozes at L.A.'s Grilled Cheese Invitational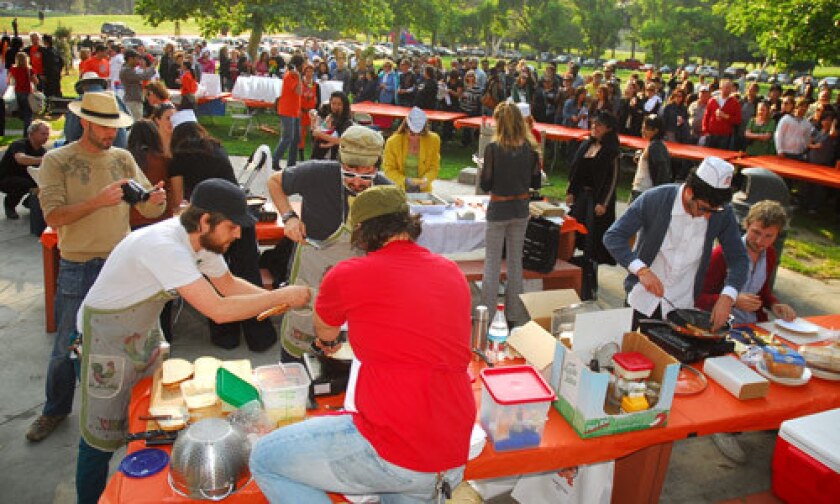 More than mac 'n' cheese, meatloaf, burgers or cupcakes, the grilled cheese sandwich is the ultimate comfort food. A staple of bachelor kitchens everywhere, it's the first meal many of us learn to cook. But unlike most gentrified comfort foods, elevating this pinnacle of pragmatic American cooking into the realm of haute cuisine doesn't require a culinary degree. That's the appeal of the Grilled Cheese Invitational: It allows amateur cooks to unleash their inner "Iron Chef."
Held during National Grilled Cheese Month, this weekend's annual cook-off is expected to draw nearly 300 sandwich makers and 1,700 sandwich eaters to Los Angeles State Historic Park near downtown L.A., where would-be champions can compete in three categories: Missionary Position (only bread, butter and cheese); Kama Sutra (a free-for-all of savory ingredients); or Honey Pot (dessert sandwiches).
"One of the things I'm most happy to see is people considering grilled cheese as a dessert item. It's by far the most creative category in the event," says the event's founder, comedian Tim Walker. Last year's winning dessert sandwich was a cannoli-inspired concoction of rum-flavored ricotta on banana bread grilled in banana-infused butter and drizzled with caramel sauce.
Anyone who pays the $5 tasting fee can vote for the winners, but you have to earn your samples by screaming, dancing or somehow drawing the competitors' attention. If you prefer a tamer tasting, Kraft will be on hand dishing out free sandwiches.
Evan George and Alex Brown, founders of the Hot Knives blog and champions of past invitationals, try to unite the freaky with the gourmet. "Some people go for fancy cheeses and some go for freak show ingredients. We try to combine the two," George says.
Concoctions like the Drunken Goat (aged goat cheese with a red wine-coated rind and cipollini onions reduced in red wine and balsamic vinegar) and the Italian Stallion (Taleggio with fresh oregano, thyme and rosemary on Parmesan-crusted bread) have earned them five trophies in the last three years. But like Pelé, they've retired at the peak of their game. This year, they'll be hosting a grilling demo and offering advice.
"Anyone can be competitive at sports or business," says Walker, "but it takes a certain kind of person to be a grilled cheese champion."
7th Annual Grilled Cheese InvitationalWhere: Los Angeles State Historic Park, 1245 N. Spring St., L.A. When: Noon to 6 p.m. SaturdayPrice: $5 to judge; $10 to competeContact: www.grilledcheeseinvitational.com
---
Your essential guide to the arts in L.A.
Get Carolina A. Miranda's weekly newsletter for what's happening, plus openings, critics' picks and more.
You may occasionally receive promotional content from the Los Angeles Times.