From the Archives: Hugh Hefner's life pushing boundaries started with comics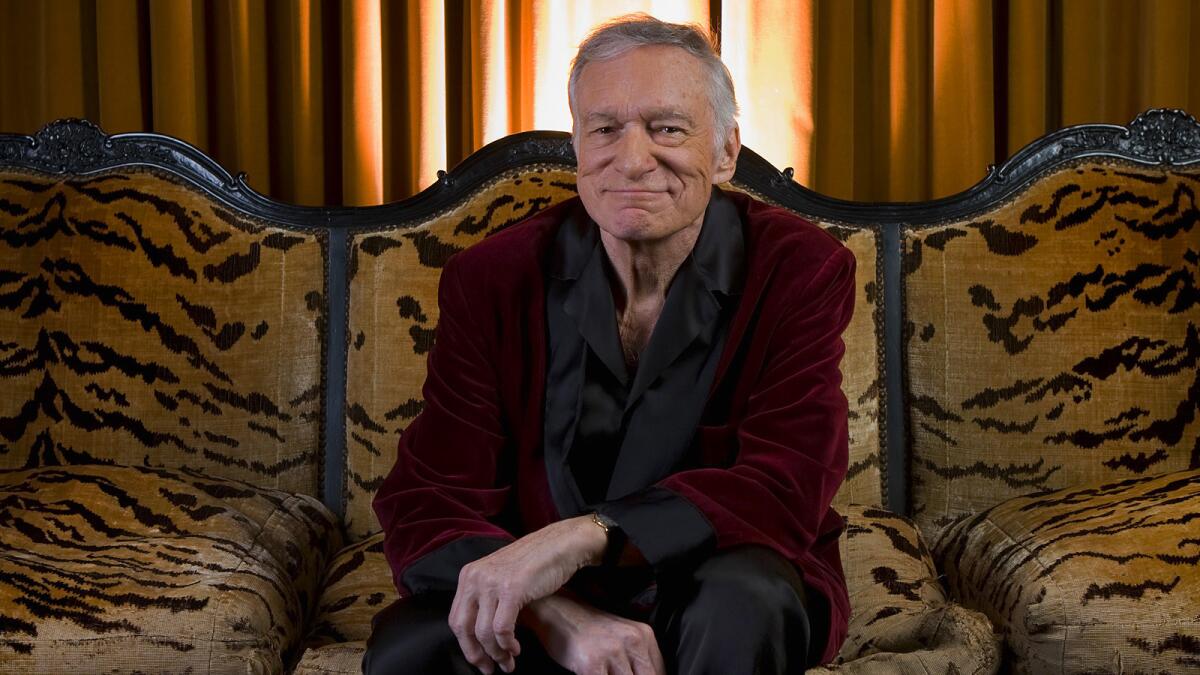 Playboy founder Hugh Hefner died on Sept. 27. Reporter Amy Kaufman spoke with the publishing mogul in 2009.
Hugh Hefner didn't get a lot of hugs as a kid. He grew up in a repressed Midwestern Puritan home, and his parents were strict. He couldn't ask them about the things he saw at his favorite movie theater in Chicago -- like the confusing censorship codes, or why an adult married couple in a film had to sleep in separate twin beds. So he began questioning these ideas on his own -- through comic books.
During his junior year in high school, Hefner began his own comic autobiography, documenting the events of his life through drawings. "What I was doing, in effect, was putting myself in an imaginative world where I put myself center stage," he recalled.
It's hard to imagine a time when Hefner, the impresario of Playboy, wasn't the center of attention. But it was through his early comics -- which are being published for the first time in "Hugh Hefner's Playboy," released domestically last month by Taschen -- that Hefner first began to cement his identity.
"To really tell my story in an interesting way, the part that I wanted to include in the book -- the part that intrigued me -- was what came before. The origins from where the inspiration came from: my creative life as a boy," he said, resting his hands behind his head.
During an interview at the Playboy Mansion last week, Hefner was, of course, wearing his trademark silk pajamas, even in the afternoon. A square of fabric from old pairs of his pajamas is included in the beginning of each of the 1,500 limited-edition copies of the collection, which comes in a plexiglass box, weighs 50 pounds and retails for $1,300. The work chronicles the first 25 years of Playboy, including the most renowned centerfold spreads, Marilyn Monroe's legendary nude portrait and, most surprisingly, keepsakes from Hefner's childhood.
Hefner was seated in his library, his delicate frame barely making an indent in the faded cushions of a red and green striped couch as he sifted through the behemoth six-volume anthology splayed in front of him on a backgammon table. Somewhere within the 3,500 pages there is an image of Hefner on this very couch in the '70s, surrounded by friends and then-girlfriend Barbi Benton, who is strumming a guitar.
"Quite frankly, my early life is fresher in my mind than last Tuesday, but I think that is the way of things," he said. "I think one remembers with delicious detail things from your early years, especially things that have special meaning for you. You will find in my bedroom images from long ago, little photographs and things from when I was a kid. I'm a very happy guy, and part of that has to do with my connection to my childhood."
Sauntering upstairs, Hefner pointed out the relics of his childhood -- personally inscribed art from comic book artist Milton Caniff, Boris Karloff characters, Flash Gordon cartoons. There were artifacts everywhere: pictures that had yet to be hung and gifts sent from fans cluttering the corners of the room. On a round couch rested a mountain of stuffed animals gifted by past girlfriends.
In another wing of the home, Hefner's full-time archivist, Stephen Martinez, works in an attic-like space collating the monthly happenings of his employer's life into binders; there are now more than 2,000. The archives are no doubt reminders of how Playboy's place in the cultural landscape has shifted since he founded the magazine in 1953. Although parts of the Playboy brand remain popular, including the E! reality show featuring Hef and his ladies, "Girls Next Door," the magazine's circulation has plummeted. Instead of worrying about the magazine's future, Hefner prefers to focus on how the project he started on a dollar and a dream became "the single most influential magazine" of the 20th century.
I don't sit around thinking about, 'Gee, what happened to the new generation and they don't read enough and why is the Internet replacing books?'
— Hugh Hefner
"I reflect on that and spend time thinking about that. I don't sit around thinking about, 'Gee, what happened to the new generation and they don't read enough and why is the Internet replacing books?' " he said.
In recent months, reports have been circulating about companies that may purchase Playboy Enterprises Inc. Hefner, who controls approximately 70% of the voting stock, would get the final say on any deal.
"What we're looking for, quite frankly, and what we'll probably find -- we're in negotiations now -- is some kind of partnership that will give us continuity and give us an economic basis of security," he said. "But I promise you, wherever it goes, I will still be editing the magazine until the day of my death and I will still be living here."
Indeed, Hefner still seems sprightly -- the only noticeable signs of his age were a slight tremor in his hands and a round bandage on his nose.
"I was remarking to my friends the other day how the general perception that you have to pay the piper -- if you have a wonderful life, something bad is going to happen to you. But I have been so blessed," he says, knocking on a wood table three times. "I'm 83 years old, and I'm still living like a kid."
At an event held Thursday at the Taschen store in Beverly Hills, Hefner was flanked by his new trio of girlfriends, Crystal Harris and twins Karissa and Kristina Shannon. Playmates wearing bunny costumes served Champagne to guests while Pamela Anderson and Benton wandered the room in low-cut dresses and Hefner signed books or spoke to publisher Benedikt Taschen.
"I'm a great admirer of Hef and have great respect for him as a publisher and a very strong belief that he is one of the central figures of American cultural and political life," Taschen said. "It's certainly much more than the Playboy bunny."
As the evening came to a close, the blond Shannon twins, age 20, appeared bored.
"OK, we can go now," Hefner said jovially, patting them on their backs.
"Yea!" they said, bouncing out of their chairs.
Get our L.A. Goes Out newsletter, with the week's best events, to help you explore and experience our city.
You may occasionally receive promotional content from the Los Angeles Times.