Early starts in a tough business
Jackson began performing with the Jackson Five at the tender age of 7. Years of speculation blame lack of a traditional childhood as the cause for the child-like environment he's created for himself. Hence the inappropriate sleepovers with young boys, the Neverland ranch, etc.
Spears' disturbing behavior has also been attributed to her early start in showbiz. She auditioned for "The New Mickey Mouse Club" at 8, and was ultimately cast when she was 11.
When Spears shaved her head, US Weekly editor at large Ian Drew remarked, "She is a child star unraveling and is the perfect example of when a child star evolves into an adult and doesn't have someone telling them what to do, or giving them the right affirmative advice and the right support."
(Motown / Jive)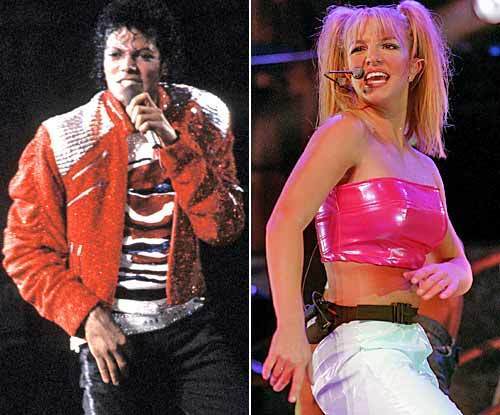 Outrageous success early on
Jackson was 12 when he had four No. 1 singles with the Jackson Five, including "The Love You Save," "ABC" and "I'll Be There." Twelve years later, his solo effort "Thriller" became the best-selling album of all time.
Spears was 17 when her single "…Baby One More Time" went to No. 1. When her debut album was released the following year, it entered at No. 1 and stayed there for six weeks. The album sold 10 million copies the first year.
"Spears is just the latest illustration of how early fame appears to fundamentally corrupt many of the child stars who enjoy it," wrote "Today" producer Noah Oppenheim.
(WireImage / LAT)
Twin unfortunate potential baby-dropping moments
In November 2002, the world recoiled when photos appeared of Jackson dangling an infant with a towel over its head out a fifth-floor hotel room in Berlin as fans watched below. "They were chanting to see my child, so I was kind enough to let them see," Jackson said.
In May 2006, the world watched on the Internet as Spears almost dropped her son Sean Preston while making her way to her car after leaving the Ritz-Carlton Hotel in New York. The incident, coming on the heels of images of Spears driving a convertible with her son on her lap, added to media speculation about her competency as a parent.
(Tobias Schwarz / WireImage)
Interviews to improve public image backfire big-time
In 2002, Jackson agreed to do an interview with British journalist Martin Bashir, which he hoped would clear up his public image. Instead, his admission that he shared his bedroom with young children spawned a public outcry. "Why can't you share your bed? That's the most loving thing to do, to share your bed with someone," Jackson said. Viewers disagreed.
In June 2006, Spears agreed to do an interview with Matt Lauer at her home in Malibu. She said she was "an emotional wreck," and that she knew she was a "good mom." She begged the paparazzi to leave her alone. But it was Spears' gum-chewing, lack of styling and messy hair extensions that probably did the most damage to her image.
(AP / NBC)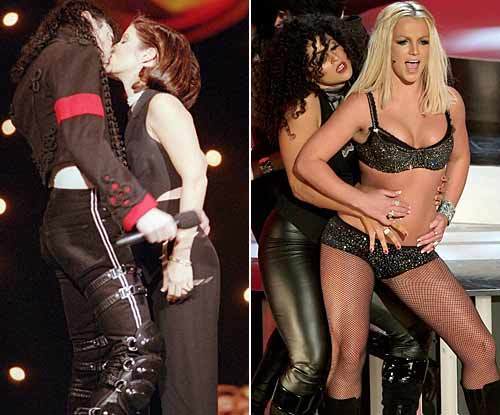 Awkward VMA openers
In 1994, Jackson got to open MTV's Video Music Awards, but not with a musical number. He and his new wife, Lisa Marie Presley, stood on stage to substantial applause. When it died down, Jackson said, "And just think, nobody thought this would last," then grabbed his wife and proceeded to make out with her in a weird, uncomfortable way. (The marriage ended two years later.)
Can anyone who watches television, reads newspapers, listens to the radio or talks to people not know what happened when Spears opened the VMAs with her new single "Gimme More"? In case you are a hermit, she flubbed it big-time.
(Getty Images / AP)
A history with Disney
In 1986, Jackson filmed "Captain EO," a 3-D film that was shown exclusively in Disney theme parks. The film was 17 minutes long but cost $30 million to make. Francis Ford Coppola directed it.
Spears famously got her start in showbiz on "The New Mickey Mouse Club."
(LAT / Disney)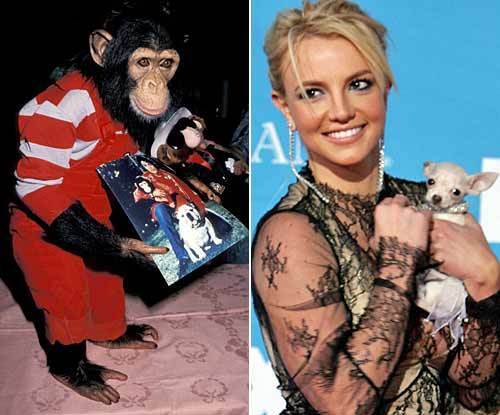 'Animals R Us'
Jackson had a large collection of exotic animals at Neverland Ranch, including giraffes, elephants, snakes, orangutans, tigers and a crocodile.
Before she started popping out babies, Spears was a frequent pet buyer. She had a Chihuahua, Bit Bit, a Maltese named Lacey, a parakeet and a Yorkie. Her former husband, Kevin Federline, kept sharks.
(WireImage / Getty Images)