12 Images
Pictures: On the set of 'Mad Men'
By Meredith Blake, Special to the Los Angeles Times
Over the course of four seasons, "Mad Men" has repeatedly used enclosed spaces -- elevators, closets, backseats -- to re-enforce the themes of secrecy, repression and isolation that are central to the show. But as the show has moved from the twilight of the Eisenhower era into the more permissive mid-1960s, these dark corners have slowly begun to transform. Here's a guided tour of the show's most notable tight spots, with some assistance from "Mad Men" cinematographer, Chris Manley.
RELATED:
In 'Mad Men,' fewer places to hide
(AMC)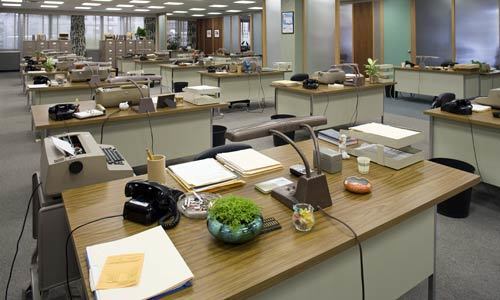 The layout of the old Sterling Cooper office reflected the rigid hierarchy of the American workplace of the 1950s. The women were corralled in the wide-open secretarial pool, while the men carried on as they pleased behind the closed doors.
(Carin Baer/AMC)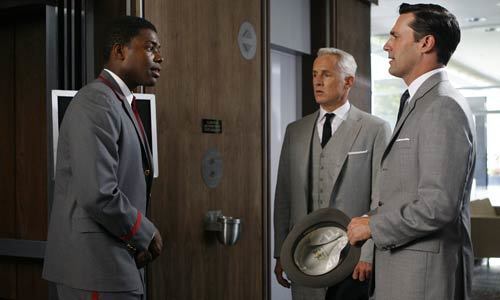 For three seasons, the elevator had one very specific function: It was the only really integrated space in the "Mad Men" universe. In this episode, Don Draper (
Jon Hamm
) bribes African American elevator operator Hollis (LeMonde Byrd) into saying the elevator is out of service in order to get back at Roger Sterling (John Slattery).
(Carin Baer/AMC)
"Elevators are great for storytelling, because they can be a public and a private space," says "Mad Men" cinematographer Chris Manley (pictured above with Becky Stockton, left, Courtney Podraza and Jessica Wrabel). But shooting in cramped quarters is tricky. "If you were shooting a real elevator, you'd have a really wide lens, but that's antithetical to the look of our show. We take the walls out and move the camera back as far as we can without feeling like we've left the elevator."
(Michael Yarish/AMC)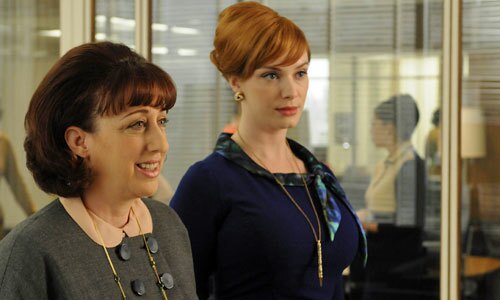 The new offices of Sterling Cooper Draper Pryce are a rabbit warren of interconnected offices, hallways and glass walls. "We tend to shoot lower angles, so you're always aware of the other offices," Manley says. "This gives you an unexpected bonus of depth, but also a feeling of less privacy." Joan Harris (Christina Hendricks) and secretary Caroline (Beth Hall) stand near the reflective glass walls of the new conference room.
(Michael Yarish/AMC)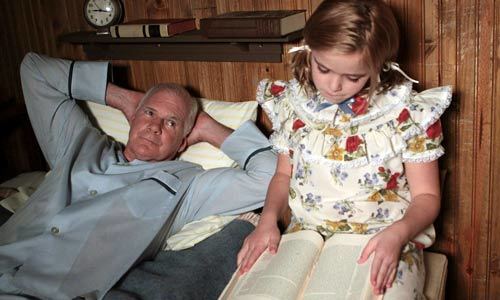 While he was recovering from a stroke, Betty's father Gene (Ryan Cutrona) stayed in the Drapers' small spare room. Young Sally Draper (Kiernan Shipka) spent hours reading to him from "The Decline and Fall of the Roman Empire." After Gene's death, Sally's new little brother -- also named Gene -- moved into the room. Sally was spooked.
(Carin Baer/AMC)
"We like to frame people within doorways, very often it adds to a feeling of isolation," Manley says. It's no surprise that Betty Draper (January Jones), who is probably the show's most repressed character, often appears in these kinds of tableaus.
(Carin Baer/AMC)
The agency bathroom has always been a favorite hiding spot for the teary-eyed women of "Mad Men," but lately it's also been a setting for more pivotal drama. In the episode "The Suitcase," Peggy Olson (Elisabeth Moss) follows a very drunk Don Draper into the men's room. It's an indication of their special bond, but also of Peggy's trailblazing career.
(Michael Yarish/AMC)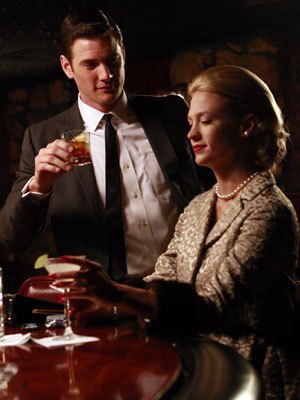 "Mad Men" began in 1960, and part of the pleasure of the show is seeing the gradual move away from the repressive Eisenhower era. For the first three seasons, taboo sexual behavior was largely confined to the show's dark and secretive spaces. In this scene from the Season 2 finale, "Meditations in an Emergency," Betty Draper (January Jones) initiates a tryst with a handsome stranger (Ryan McPartlin) in a shadowy
Manhattan
bar.
(Carin Baer/AMC)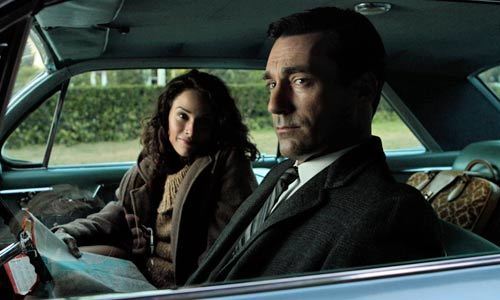 Betty's husband, Don (
Jon Hamm
), prefers cars for his illicit encounters, as in this scene with his mistress (and daughter's teacher),
Suzanne Farrell
(Abigail Spencer).
(Carin Baer/AMC)
In Season 3's "The Wee Small Hours," tobacco executive Lee Garner Jr. makes a pass at closeted gay art director Sal Romano in an editing booth. Sal rejects him, and loses his job as a result.
(Carin Baer/AMC)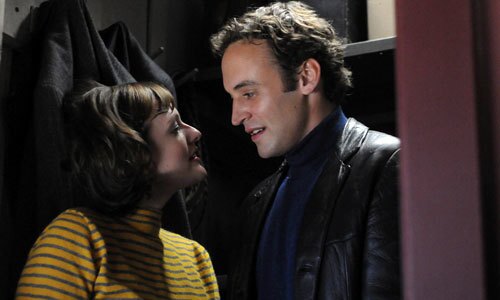 Peggy's romance with Abe Drexler (Charlie Hofheimer) began with a kiss in a closet at an illegal
Tribeca
loft party. "That was my least favorite small space to shoot ever," says Manley. "You want to keep a sense of realism, but these characters would be in complete darkness. In the end, people will believe it, or they won't."
RELATED:
In 'Mad Men,' fewer places to hide
(Michael Yarish/AMC)