Jussie Smollett attacked: Celebs rally around the 'Empire' star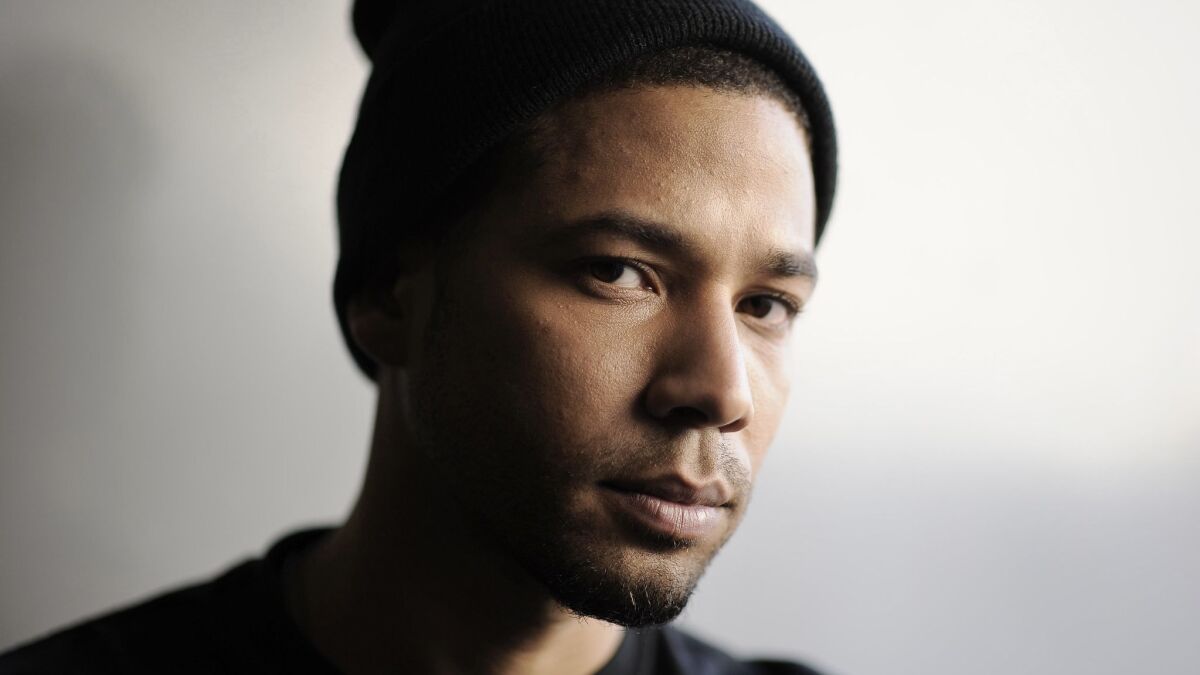 Chicago police are still seeking evidence to help identify the people who attacked "Empire" star Jussie Smollett early Tuesday morning in that city in what authorities are calling a possible hate crime.
"We continue to seek any available evidence/video to identify possible offenders in this case," tweeted Chicago Police Department Chief Communications Officer Anthony Guglielmi on Tuesday afternoon, asking for anyone who might have been in the area around the time of the attack to send information via www.cpdtip.com.
"Thus far we have not found anything to be able [to] put out a description," Guglielmi added.
Smollett, a highly visible advocate for LGBTQ equality, endured a racially charged and homophobic attack, the Chicago Police Department said in a statement to The Times on Tuesday. Police identified him only as "a cast member of the television show 'Empire.' "
Around 2 a.m., two people approached the 36-year-old actor while he was walking in an affluent area of downtown Chicago and got his attention by yelling racial and homophobic slurs, the statement said. They then hit him in the face and "poured an unknown chemical substance" on him, police said.
"At some point during the incident, one of the offenders wrapped a rope around the victim's neck," the statement said. "The offenders fled the scene."
The actor took himself to Northwestern Hospital, where he was listed in good condition, police said. TMZ reported that he was discharged Tuesday morning.
The site also said that the assailants recognized Smollett from the Fox series, poured bleach on him and yelled "This is MAGA country" (a reference to President Trump's slogan Make America Great Again). However, Chicago police could not confirm those details to The Times. TMZ also reported that the FBI had been investigating a racist letter sent to Fox's studios in Chicago.
Detectives are investigating the matter and Smollett is "fully cooperating with investigators," police said. Authorities said they are working to gather video and potential witnesses.
"We are deeply saddened and outraged to learn that a member of our "Empire" family, Jussie Smollett, was viciously attacked last night," 20th Century Fox Television and Fox Entertainment said in a statement to The Times.
"We send our love to Jussie, who is resilient and strong, and we will work with law enforcement to bring these perpetrators to justice. The entire studio, network and production stands united in the face of any despicable act of violence and hate — and especially against one of our own."
Smollett has not yet publicly addressed the attack, which has been condemned by many of his peers, politicians and fans, but the entertainer is still scheduled to perform a solo concert at the Troubadour in West Hollywood on Saturday. On "Empire," he plays a gay character, and the actor came out during a 2015 interview with Ellen DeGeneres.
On Instagram, "Empire" creator Lee Daniels posted an emotional and expletive-laden video about the incident and reiterated some of the unconfirmed details linked to the crime.
"It's taken me a minute to come to social media about this because, Jussie, you are my son," he said in the video. "You didn't deserve, nor anybody deserves, to have a noose put around your neck, to have bleach thrown on you, to be called 'die…,' or whatever they said to you. You are better than that. We are better than that. America is better than that.
"It starts at home. It starts at home, yo. We have to love each other regardless of what sexual orientation we are because it shows we are united on a united front and no racist ... can come in and do the things that they did to you," Daniels added. "Hold your head up, Jussie. I'm with you."
"Empire" executive producer and director Danny Strong was also among the many to condemn the attack. On Twitter, the Emmy winner said he was "deeply horrified and saddened."
"He is a kind and profoundly talented soul whom I respect with all my heart. The terror of racism and homophobia has no place in our society, it is the most indecent way to live," Strong wrote. "[W]hoever did this, do not forget that you are nothing but hate filled cowards while Jussie's talent and activism will continue to shine a bright light on to the world for decades to come."
LGBTQ advocacy group GLAAD told The Times that it reached out to Fox, which broadcasts "Empire," and Smollett's team Tuesday to offer assistance as well as support for him.
"Our hearts are with Jussie Smollett as he recovers from a hate-motivated and repugnant attack in Chicago," said GLAAD President and Chief Executive Sarah Kate Ellis. "Jussie has always used his voice and talent to create a better world, and it is disgusting that anyone, especially someone who has done such good for so many, would be targeted by undeniable hatred."
Ellis added that Smollett's experience is not unique and that "countless LGBTQ and people of color, as well as those who belong to both communities, are faced with hate-motivated violence on a near daily basis."
As news of Smollett's attack spread, an outpouring of support sprang up on social media, with Smollett's colleagues, politicians, fans and social justice organizations tweeting their support for him and their disgust for the crime.
Here's a sampling of what they had to say:
Twitter: @NardineSaad
---
Get our L.A. Goes Out newsletter, with the week's best events, to help you explore and experience our city.
You may occasionally receive promotional content from the Los Angeles Times.