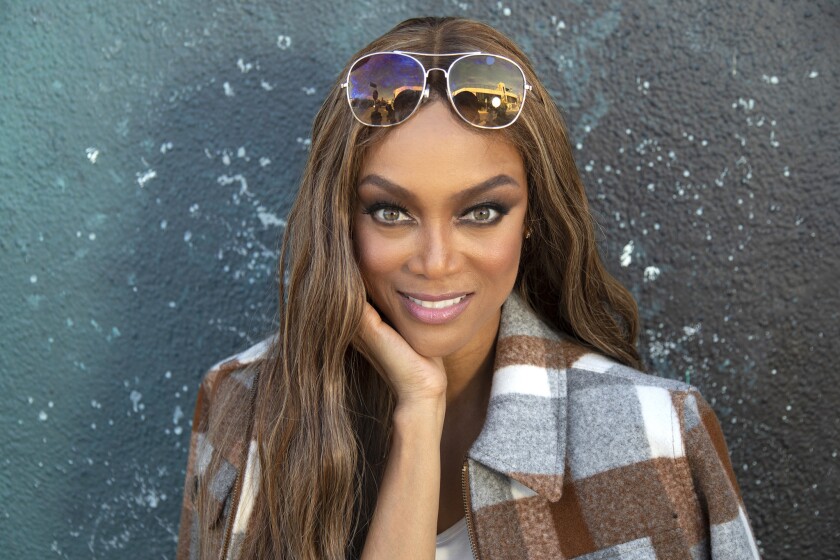 A yellow-string-bikini-clad Tyra Banks proved she's still got it on Wednesday by landing the cover of Sports Illustrated's annual swimsuit issue — for the third time.
The 45-year-old supermodel and mogul, who in 1996 was the first African American model to appear on the cover of the special mag, came out of modeling retirement for the shoot in the Bahamas.
"My first one was 23 years ago. How crazy is that?" Banks said Wednesday on "Good Morning America," which revealed the cover. "I broke ground [as] the first black woman on the cover."
Her reaction when she saw the cover on the show? "I'm like, damn — I'm 45, dog!"
The "America's Next Top Model" star, who has been advocating for more inclusivity in the modeling industry, graced one of three covers this year and said she's changing her professional name to "BanX" for "X-ing out cookie-cutter beauty."
"I'm taking something familiar and making it new. I'm wiser now and thicker," she said. "BanX is me, but she's also every woman. BanX represents rebirth and that beauty boundaries only exist to be broken."
In the magazine, the college professor elaborated on her evolved modeling philosophy.
The Conversation: Tyra Banks on reprising her 'Life-Size' doll, Lindsay Lohan and 'Next Top Model' »
"There is this stereotype that only a 20-year-old woman in a bikini is hot," she said. "Like, once we reach a certain age, we are no longer desirable. But I want to show that modeling has no age. I'm coming out of retirement to practice what I preach."
This year's other two cover models are former Patriots cheerleader Camille Kostek and U.S. soccer star Alex Morgan. The trio were selected because they "embody what it means to shatter perceptions," the mag said.
The 2019 issue features 34 women, including a hijab-wearing model posing in a burkini. The mag is touting it as "one of the biggest and broadest samplings of beauty that we've ever featured."
Follow me: @NardineSaad
---