Live: George Michael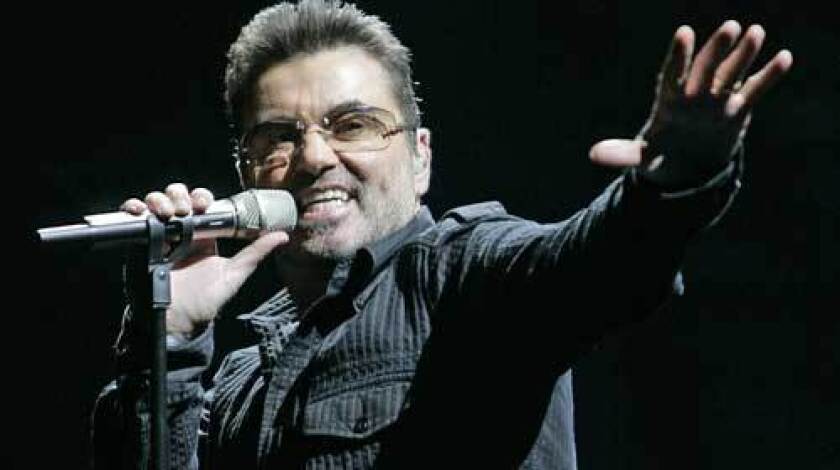 Times Pop Music Critic
George Michael really knows his crowd. When he gave some grief to talk-show shrink Dr. Phil McGraw midway through Wednesday's show at the Forum, it seemed like simple celebrity-on-celebrity taunting. In fact, Michael was nodding to some of his most loyal fans.
"Dr. Phil is here," said Michael. "He's here with his wife, who's having a whale of a time. And he's over there making this miserable face. He's been doing it for an hour. I think maybe you should see somebody about that," he joked.
The McGraws were not just famous fodder for Michael's brash wit; they represented one of three key constituencies at the Forum. Group 1 consisted of thirtysomething women in best-friend clusters -- former teeny-boppers who've loved Michael since his days in the boy band Wham! Group 2 was male, gay and mostly coupled, a growing fan base since Michael came out of the closet in the late 1990s. Group 3, the McGraw faction, featured more die-hard ladies, accompanied by their empathetic if sometimes bored husbands or boyfriends.
Michael's Forum show united everyone present in a celebration based partly on nostalgia and partly on utopian community pride. As he danced and smiled beatifically through a set list that included most of his biggest hits, the English pop star presented his own evolution as a complement to his fans' journey into adulthood. The ballads were sad and lush; the beat-driven songs, a joyful release. Aside from Dr. Phil, even the husbands danced.
A waggish showman, Michael satisfied the crowd and himself in two hours' worth of music, ranging from singalong stimulators such as "Careless Whisper" to less familiar stuff, such as the love song "Amazing," which he dedicated to his partner, Kenny Goss, after praising California's recent legalization of gay marriage. Michael assured listeners they'd catch on to the new songs in no time; in truth, some created a lag in the night's happy flow.
If fans' attentions did stray from the music, they could always watch the light show. A giant curved screen enveloped the stage itself, and images moved and morphed across it, turning this arena-rock shrine into a giant disco. On quieter songs the screened images became more gently atmospheric; during the contemplative "Praying for Time," for example, a red sun shimmered above, while simulated waves lapped at the stool where Michael perched.
This was not a one-man performance, but Michael remained the center of attention; he worked as hard as Kanye West has stalking a similarly huge stage on his Glow in the Dark tour. That Michael can still carry a show like this is impressive; he admitted that his voice has lost some range, but he hit most of his marks.
A full band was tucked away on ingeniously designed scaffolding, and six backup singers provided Michael with both vocal support and a visual foil. The high point of their interaction came on the 1987 ballad "One More Try," when they formed a circle with the star and shared some gospel harmonies.
Michael settled in as the night proceeded, singing with greater flexibility and control. Every arena show must now include a small-band mini-set; Michael's benefited from being jazzy instead of folksy-acoustic. His rendition of Nina Simone's "Feeling Good," which he performed last season on the TV show "Eli Stone," was dynamite. Michael could make a big impact in this interpretive mode, giving Rod Stewart a serious run for his silk cravat.
Yet Michael is a writer as much as a singer, and his propensity for soul-baring will likely not die out. His admirers forgive his every foible, especially when he turns his adventures into song. When he donned a police uniform during "Outside," a reference to his unfortunate encounter with a sting operation in a public park, they roared.
But then, they also roared when he merely took off his sunglasses.
Fans tried several times to sing "Happy Birthday" to Michael, who turned 45 Wednesday, before he finally let it happen during his final encore. Actress Bo Derek (of all 1980s icons) brought out what appeared to be a fake cake, and just like on "Careless Whisper" and "Freedom! '90," everybody sang.
Michael couldn't resist joining in. "Happy birthday to me!" he declared.
Dr. Phil's ministrations weren't necessary for Michael to know he'd fulfilled the No. 1 self-help rule for pop stars: Loving your crowd is the best way to love yourself.
---
Inside the business of entertainment
The Wide Shot brings you news, analysis and insights on everything from streaming wars to production — and what it all means for the future.
You may occasionally receive promotional content from the Los Angeles Times.